Reporters attempting to grill Stephen Harper about the Wright-Duffy affair were heckled and later called "lying pieces of shit" by a supporter at a Conservative Party event in Toronto on Tuesday.
CBC News' Hannah Thibedeau, a veteran journalist covering the Tory campaign, is among those who have asked a number of tough questions lately about Harper's office, his chief of staff Ray Novak, and Nigel Wright's $90,000 cheque to Mike Duffy.
As Thibedeau rose to ask her question Tuesday, a heckler shouted out that she should "ask questions on the topic at hand." Harper was announcing Tuesday that a re-elected Tory government will reintroduce its "Life Means Life" legislation when Parliament resumes.
Harper gestured at the man to stay quiet, even saying, "it's okay."
Thibedeau stated that Wright and others concocted a "deliberately deceptive" tale about Duffy's repayment that Canadians believed.
"You don't want to comment on the ongoing court matter and specifics of the court case. I understand that," Thibedeau said. "So, let's talk about your personal feelings about this.
"Are you embarrassed by the way the Duffy issue was handled by the top people in your office, in the Prime Minister's Office of Canada?"
Harper responded by saying he was told years ago that the role of a leader is "not to go around expressing … feelings" but to take action. The Tory leader said he did just that by telling Duffy to repay his unjustifiable expenses.
"Because of the actions of Mr. Wright, he did not repay those expenses. And that's why these two individuals have been held accountable by me and are being held accountable by the system."
After Harper finished up, an irate Tory supporter let Thibedeau, CTV News' Laurie Graham, and other reporters have it.
CBC News has video of the exchange:
Thibedeau later took to Twitter to highlight Teneycke's apology.
The outbursts also sparked a rebuke online from Andrew MacDougall, Harper's former top spokesperson.
The playful "exemption for Milewski" jab was related to an incident in 2011 in which CBC News' Terry Milewski was also heckled at a Tory event.
Milewski repeatedly asked Harper if he would respect the right of a Governor General to call on a second place party to form the government if Tories failed to win a majority. Tory supporters tried to drown out the journalist by clapping, but Milewski pressed Harper to answer the question.
"Defund the CBC," someone shouted, to applause.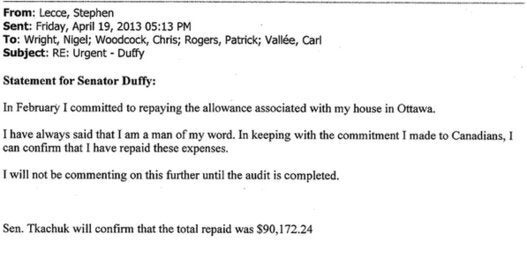 Nigel Wright Emails In Mike Duffy Case