Alissa Golob went to her first anti-abortion protest when she was 13. A pen pal invited her to go on tour with Show the Truth, a group that displays photos of aborted fetuses outside of schools.
"Even though I don't advocate for all 13-year-olds to see these images, it was both motivating and shocking to me," Golob, now 30, told HuffPost Canada in an interview. "That was the beginning of my involvement."
Today, Golob runs RightNow, an anti-abortion organization that she says will bring the movement into 2017. Its ultimate goal is to fill Parliament with abortion opponents, so that laws can be passed to restrict the procedure, make it easier to adopt, and provide more support for parents.
"Women often feel like they have to choose between having a baby and their career," Golob said. "So equal pay, equal opportunities in the work force, flex time, proper child care ... all of these things can help advocate that women don't need to choose between being parents and having a career."
RightNow's first fight: voting in a Conservative leader who is against abortion. Or, at the very least, one who won't quash debate on the issue.
Before going on tour with Show the Truth, Golob had heard the term "abortion" but didn't understand what it meant, she said. Her mother said that when she got pregnant — as a 19-year-old first-year university student — it was the first thing the doctor suggested.
"She didn't want to tell her parents right away so she went to the nearest hospital and the doctor came in and said, 'Yes, you are pregnant.' And the very next words out of the doctor's mouth were 'I'm pro-baby and everything, but I can schedule you an abortion,'" Golob said.
"I realized there was a void in the pro-life movement. Much of what they were doing was things that they were doing 30 years ago."
"I think it's really important for women to have all the facts about their pregnancies, and to be part of the decision … The very first reaction shouldn't be 'Let's have an abortion.'"
Golob grew up in Sarnia, Ont. and attended Our Lady Seat of Wisdom Academy and Redeemer University, two post-secondary schools that focus on Catholicism and Christianity. After working for Campaign Life Coalition for six years, Golob left to start her own organization in 2016.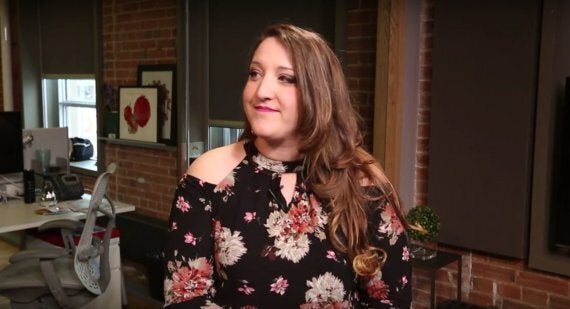 "I realized there was a void in the pro-life movement. Much of what they were doing was things that they were doing 30 years ago," Golob said.
"You shouldn't be able to leave abortion to the individual person. If abortion was really just about a woman's body then she would abort herself — but that's not the case — she's in fact aborting another individual inside of her body," she said. "Those people should have just as equal rights as the woman should."
Laws and technology have changed drastically since a ban on abortion was struck down as unconstitutional in 1988. Canada's anti-abortion movement needed an update, she said.
Thousands of Conservative party memberships sold
RightNow uses Facebook, Instagram, and Twitter to reach out to "pro-lifers" across Canada. Golob said the group sold close to 5,000 Conservative memberships to abortion opponents. That's comparable to what some of the candidates themselves sold, Golob said.
Both Kevin O'Leary and Kellie Leitch claimed they sold more than 30,000 memberships for the party. By comparison, Lisa Raitt and Michael Chong tallied their sales around 10,000. The party has revealed that nearly 260,000 members will be eligible for the leadership vote which began on Friday. Results will be announced on May 27.

"So if we're able to — not meet that — but come close to that, then we're actually making a significant difference and it will show the Conservative Party that pro-lifers are part of this process, you can't shut them out and you have to hear their voices."
RightNow is supplying its supporters with the exact ranked ballot they can vote with for party leader. In the top spot is Pierre Lemieux, a former MP for the Ontario riding of Glengarry-Prescott-Russell; second is Andrew Scheer, the current MP for Regina-Qu'Appelle; and third is Brad Trost, MP for Saskatoon-University.
"First and foremost I think it's crazy that we're one of the only countries in the world with no restrictions on abortion, the other countries are China and North Korea," Golob said, "so I do think that because polls consistently show the majority of Canadians do want restrictions on abortion, that needs to be discussed and that needs to be addressed."
Polls show an unclear picture of Canadians' views
Last year, RightNow commissioned a study from Insights West that found a majority of Canadians support some limits on abortion, including 53 per cent of people between the ages of 18 and 34. Respondents were asked whether they agreed or disagreed with the statement: "There should be some restrictions placed on when women can have an abortion." Overall, 54 per cent said they either strongly or somewhat agreed.
The online survey asked 1,122 Canadians about their views over six days in May 2016. The margin of error was 2.9 percentage points.
Other polls paint a different picture. According to one conducted just three months before the RightNow poll, nearly 60 per cent said a woman should be free to choose abortion whenever she wants. The Ipsos poll, published exclusively on Global News, surveyed 1,002 Canadians between Jan. 22 and Feb. 5, 2016. The online survey was accurate within 2.5 percentage points, 19 times out of 20.
"A Conservative Government will not support any legislation to regulate abortion."

— 2014 policy declaration
In Parliament, the issue is generally considered settled.
Prime Minister Justin Trudeau said before the 2015 election that he wouldn't allow anti-abortion candidates to run under the Liberal banner. And while Conservative MPs are generally allowed to vote as they choose on so-called "votes of conscience," the party has a policy against scaling back a woman's right to abortion.
"A Conservative Government will not support any legislation to regulate abortion," states a policy declaration from 2014.
"We don't want to reopen that particular issue," former Conservative prime minister, Stephen Harper, said of abortion in 2014. "This is my view, this is the view of our party."
But two of the candidates RightNow is supporting — Lemieux and Trost — have indicated that as prime minister, they would do just that.
Lemieux opened his run for Tory leader by coming out against sex-selective abortion.
"I believe that politicians should have the courage to debate these issues in an open and respectful way," he said at the time.
He told RightNow in an interview that, "there are millions and millions of Canadians that would like a discussion on life issues and would like to see it debated in Parliament."
He and Trost both told RightNow that they would support certain types of legislation regulating abortion. They also said they'd allow their MPs to vote freely on the issue. And Trost said he would create advertising campaigns "to encourage people not to have abortions."
"There are millions and millions of Canadians that would like a discussion on life issues and would like to see it debated in Parliament."

— Pierre Lemieux, Conservative leadership candidate
For his part, Scheer said he'd allow MPs to vote their conscience on abortion bills, but wouldn't support restrictive laws himself.
"I've always voted in favour of pro-life legislation," Scheer told RightNow. "I can assure you that I support the right to individual MPs to speak out ... but our party policy is clear on that and I think in order to maintain unity of our caucus it's important that the Prime Minister respects that."
A representative for Scheer's campaign did not respond to a request for clarification.
Electing a Conservative leader who is open to debate on abortion rights is a "small stepping stone" for its opponents, Golob said. "I don't necessarily think that the leader will be the be all and end all of this issue."
"Regardless of whether a government puts forward a piece of legislation, or a backbencher puts forward a piece of legislation, the only thing that matters is whether or not we have enough MPs to vote for it from both parties," she said. Opponents of abortion need to get involved in the political process, so that the next time a law is introduced, "we don't automatically expect it to fail but we actually have enough politicians in the House of Commons to allow it to pass."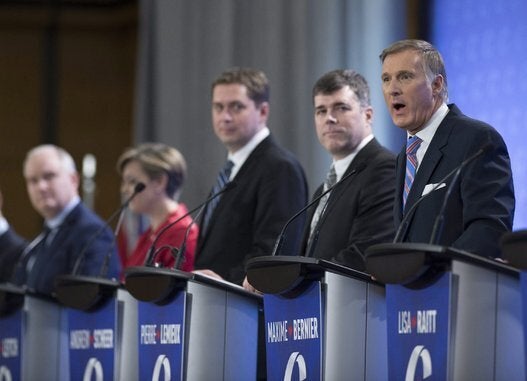 Conservative Leadership Candidates
Popular in the Community