Infamous Toronto politician Rob Ford has died at the age of 46.
Ford served one term as Toronto's mayor from 2010 to 2014, and was representing Etobicoke North on city council at the time of his death. A site has been collecting thousands of messages of support since mid-March after Ford's family released a statement thanking supporters during a "difficult time."
His family released a statement Tuesday announcing his death, with "heavy hearts and profound sadness."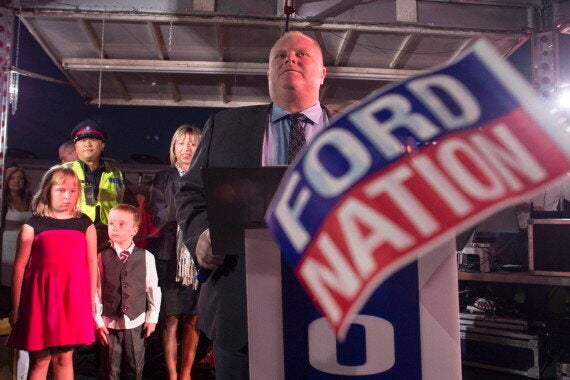 Toronto Mayor Rob Ford addresses the crowd at Ford Fest, as his wife Renata, and children Stephanie and Doug look on in Toronto on Sept. 27, 2014. (Photo: Chris Young/The Canadian Press)
He became a household name three years ago after a video of him reportedly smoking crack cocaine made headlines around the world. Ford later entered rehab in the summer of 2014 for addiction issues.
Ford ran for re-election as mayor but abandoned the race shortly after he was diagnosed with pleomorphic liposarcoma, a rare form of cancer. His older brother Doug took his place in the mayoral race while Rob underwent multiple rounds of chemotherapy.
Ford was easily elected to his old council seat, instead.
Ford was admitted to hospital in 2014 after abdominal pains he had been experiencing for months became "unbearable." He went through an hours-long surgery to remove a tumour, and he recently had additional rounds of chemotherapy to treat tumours on his bladder.
Rob Ford attends a Toronto Blue Jays game on June 28, 2015. (Photo: Facebook)
Ford was a penny-pinching city councillor for 10 years before winning the mayoral seat in a landslide; his unlikely campaign was fuelled by populism and "respect for taxpayers."
During his time in public office, Ford built a reputation as a folksy politician who made himself accessible to constituents and personally returned their phone calls.
On a website set up by the Ford family, hundreds of people have left "get well soon" messages for the still popular politician.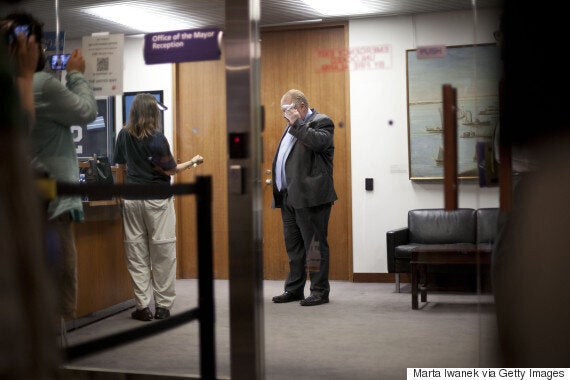 Rob Ford wiped his forehead while chatting with a visitor to his office before returning to council chambers on Aug 27, 2014. (Photo: Marta Iwanek/Toronto Star via Getty Images)
Ford was first elected to Toronto city council in 2000, buoyed by an endorsement by the Toronto Star — the very national paper responsible for breaking news of a damning video of him clutching a crack pipe 13 years later.
"The people said they wanted change and they got change," he said about his election victory at the time.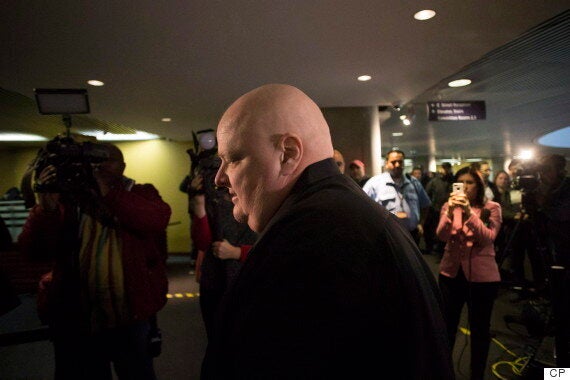 Rob Ford arrives at his office to sign bobblehead dolls in Toronto on Nov. 21, 2014. (Photo: Chris Young/The Canadian Press)
Born May 28, 1969 to Doug Ford Sr. and Ruth Diane Campbell, Rob was the youngest of four siblings. The Ford children all worked at their father's business, Deco Labels and Tags.
In 1995, the senior Ford won provincial seat for the Ontario Progressive Conservatives. While he served as an MPP, his son Doug minded the family's lucrative business and expanded its operations to Chicago. Rob, meanwhile, focused on carving out a career in politics.
Ten years ago, Ford's father died of colon cancer at the age of 73.
Ford is survived by his wife Renata and their two children, Stephanie and Douglas.
Full statement from the Ford family:
With heavy hearts and profound sadness, the Ford family announces the passing of their beloved son, brother, husband, and father, Councillor Rob Ford earlier today at the age of 46.

A dedicated man of the people, Councillor Ford spent his life serving the citizens of Toronto.

The family asks that you respect their privacy and join them in their grieving and their prayers.

The family will not be making any statements to the media or taking any questions.

Information will follow at a later time regarding memorial services.
Listen: How a complicated politician became unstoppable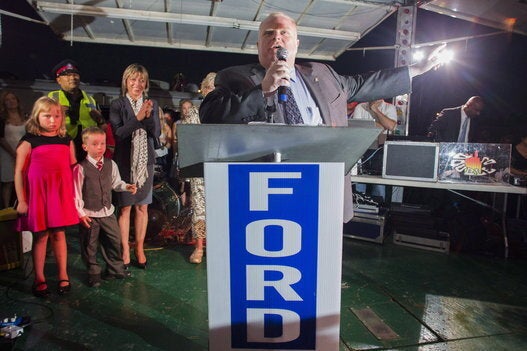 Rob Ford's Cancer Battle