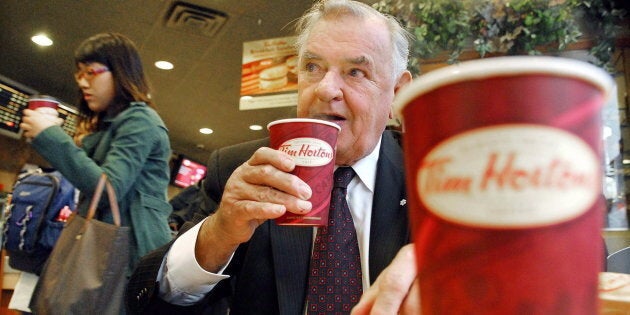 TORONTO — Ron Joyce, the co-founder of the Tim Hortons doughnut chain, has died at age 88.
The cause of death was not immediately clear.
Joyce was born in Tatamagouche, N.S., in 1930 and moved to Hamilton, Ont. as a teenager, where he eventually joined the Hamilton police, serving until 1965.
He got into the fast food game in 1963 with the purchase of a Dairy Queen franchise in Hamilton. He founded the now-ubiquitous Tim Hortons chain with hockey legend Tim Horton.
After Horton's death in a car accident in 1974, Joyce bought his late partner's share of the business and took full control of the company.
Also on HuffPost Canada: What do people want Tim Hortons to improve?
"He was a man capable of enormous acts of charity but also a man of a sometimes troubled personal life," said Ken Wong, professor of marketing at Queen's University's Smith School of Business.
"He was dedicated and loyal to his roots, whether Nova Scotia (Fox Harbour), children's causes (Timmies hockey and camps) or McMaster (University) and the Hamilton area (many donations, including a football stadium). One thing is undeniable: he was a great Canadian success story and built his legacy the Canadian way — hard work and a commitment to his customers."
The Joseph Brant Hospital in Burlington, Ont., and its namesake foundation say in a statement that Joyce's generosity "has been felt across the country''.
Joyce donated $7.5 million to support the hospital's redevelopment and expansion.
HuffPost Canada with a file from The Canadian Press.