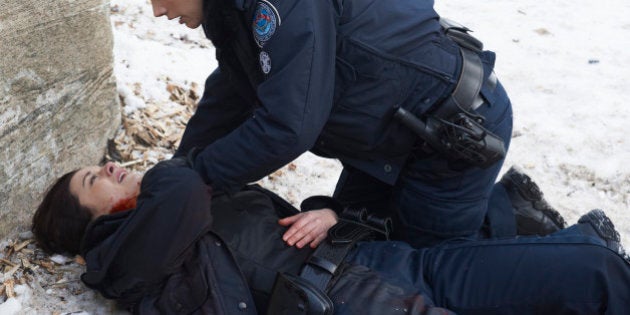 It was a bit of a downer to learn that "Rookie Blue" wouldn't be returning until July. The show has always had a summer premiere and for the past four seasons, "Rookie Blue" viewing parties kicked off after the other shows aired their finales. Well, Canadians, you are in luck because for the first time in the series' run, Rookie Blue is coming to Canada ahead of the States. And it all begins on Monday.
The move by Global is a groundbreaking one. In the past, any of its dramas that have been picked up by a U.S. network have always been simulcast (though "Working the Engels," which currently airs on Global and is co-produced by Shaw Media and NBC, has yet to air on the American network). But enough with the boring stuff. All you need to know is "Rookie Blue" joins Global's lineup sooner than we had hoped.
We last saw the gang from 15 Division in quite the cliffhanger, in which Sam (Ben Bass) and Chloe (Priscilla Faia) suffered gunshot wounds, leaving their lives hanging in the balance. (Without spoiling anything, I think it's safe to assume both characters are fine, as both actors remain part of the cast and have been tweeting from the set.) But aside from the police-y portion of the show, it's the love stuff that "RB" fans can't get enough of. Last season also ended with the "Who will she choose?" quandary?
And who better to be torn than Andy (Missy Peregrym)? With her ex's fate unknown (I know, I know, humour me), she confessed her love to Sam, which will undoubtedly break boyfriend Nick's (Peter Mooney) heart into itty bitty pieces. Meanwhile, Dov (Gregory Smith) learned girlfriend Chloe was actually married, so his love life was also up in the air. (Again, just play along.)
In the Season 5 premiere, "Blink" (directed by David Wellington and written by series creator Tassie Cameron), Andy and Dov are forced to get out of the hospital and take a break from the finale's awful events at an all-night diner. All they want to do for one night is "not be cops," so naturally things go awry when a high, violent couple holds up the diner. Because, of course. Andy and Dov aren't the only ones who are having a rough time as the other officers are trying to piece together what went down and how Sam got shot, all while their new inspector, John Jarvis (Oliver Becker), hovers around like a peskky bug.
If you hated the character in his first scenes, just wait until the end of the episode -- you'll want his head. Also by the end, Andy makes her choice, which will delight many and disappoint some. We don't meet the new rookie, Duncan (Matthew Owen Murray), until the second episode, "All By Her Selfie". Like every newbie, Duncan is fresh-faced, eager, anxious to impress and more than a little annoying. But it reminds me of how Andy, Dov, Traci (Enuka Okuma), Gail (Charlotte Sullivan) and Chris (Travis Milne) were and if I grew to love them, I'll grow to love Duncan, right?
"Rookie Blue'"s fifth season is comprised of 22 presumably awesome episodes, however only the first half will air this summer. The remaining 11 are being saved for a later date (next year, likely) which makes the so-called longer season a little redundant -- but, hey, as long as we get it ahead of the U.S., I won't be complaining.
"Rookie Blue" premieres Monday, May 9 at 10 p.m. ET/PT on Global and moves to Wednesdays at 10 p.m. ET/PT beginning July 2 on Global. The series premieres on ABC on Thursday, June 19 at 9 p.m. ET.