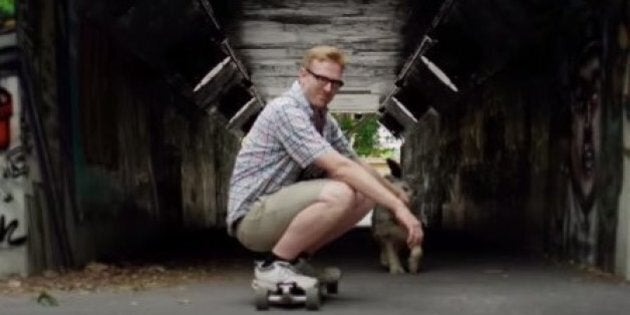 A Toronto cartoonist who found himself trapped inside a wet skate bowl with his dog is surprised a solution crowdsourced through Twitter got them out.
"I thought my situation was ridiculous, but when people started asking about what I was carrying in my inventory and giving suggestions for getting out, it became a lot of fun," Ryan North told The Huffington Post Canada.
North first slid into the graffitied bowl to get a picture of his loyal companion, Chompsky, on its floor. But after the photo was taken, it dawned on him two hands are needed to climb out of a skate bowl. And because he'd have to carry Chompsky—he only had one.
He made a few attempts to get out using one arm, his dog under the other. All were unsuccessful.
"My first thought was 'Man, ain't no way I'm actually trapped in this hole,'" said North. He could get out himself, but didn't want to leave Chompsky behind. So he turned to Twitter to ask for help.
Calling 911 seemed excessive, and he said he didn't want to bother emergency responders who may have had more pressing calls to attend to.
Asking friends to leave work to rescue him was also out of the question. So Twitter seemed like the best solution that offered maximum entertainment and minimum inconvenience.
North said he loved how the umbrella-on-leash answer actually worked.
"It's a crazy, nonsensical solution that you'd see in an adventure game and think 'That's ridiculous' but, turns out, those ideas totally work in real life!" he said.
When asked about the lesson he's taking away from the whole ordeal, he wrote in an email in all caps, "NO HOLE CAN DEFEAT ME; I DEFY ALL HOLES." North gave his real-life adventure game a cheeky name, "Hole Quest."
"We live in an era where a man can fall into a hole and tweet his way out of it," North said. "I think that's pretty great."
As for Chompsky, North said his buddy didn't seem bothered at all over their brief dilemma. "I stayed calm so Chompsky stayed calm too and figured we were just having a hole party for a bit," he said.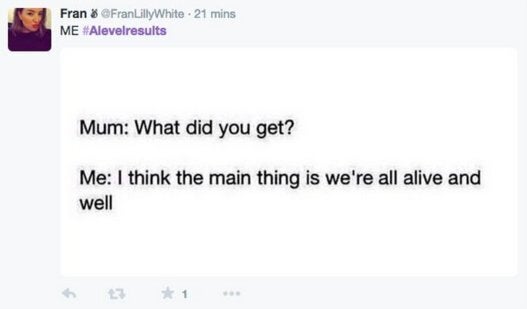 Funny A-level tweets