Nothing prepares you for the emotional tumult that comes with an Olympic medal win.
Especially if the parents who you haven't seen in months decide to surprise you in-person in the middle of an interview.
Canadian swimmer Sandrine Mainville told a CBC News reporter in Rio on Sunday that she had yet to celebrate her win with her parents since she won bronze less than 24 hours earlier.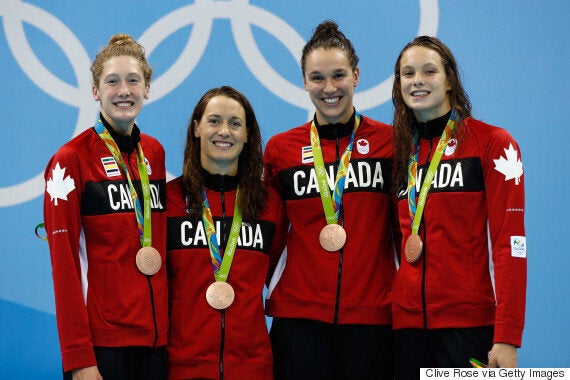 Bronze medalist Sandrine Mainville, Chantal Van Landeghem, Taylor Ruck and Penny Oleksak of Canada pose during the medal ceremony for final of the Women's 4 x 100m Freestyle Relay at the Olympic Aquatics Stadium on Aug. 6, 2016 in Rio de Janeiro, Brazil. (Photo: Clive Rose/Getty Images)
At that point, the Boucherville, Que. native had been separated from her family for months, according to the broadcaster.
"It's been a tough past two years training in Toronto away from my family, but I knew I had to make those sacrifices," Mainville said.
The interview was interrupted when she felt a familiar hand wrap around her arm as her parents showed up by her side, beaming with pride.
Warning: You may watch this CBC clip multiple times:
Mainville, along with teammates Chantal Van Landeghem, Taylor Ruck, and Penny Oleksiak won bronze Saturday in women's 4 x 100-metre freestyle relay.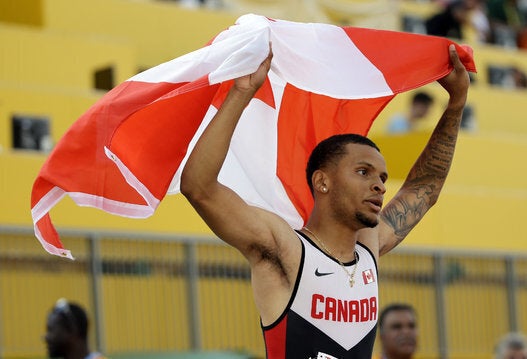 Canadian Athletes To Watch At Rio Olympics 2016