Hilary Gauld-Camilleri only had three days to complete an incredibly important project: to photograph 52 individuals ranging in age from newborn to 44. Each one of them has Down syndrome and insight to share.
"I had a vision earlier this year of classic black and white portraits taken in my studio," the Ontario photographer explained in an email to Huffington Post Canada. "I wanted to focus on each person's eyes and how they spoke to me. I wanted the public to push themselves to look a little closer and to challenge their own feelings toward people with disabilities."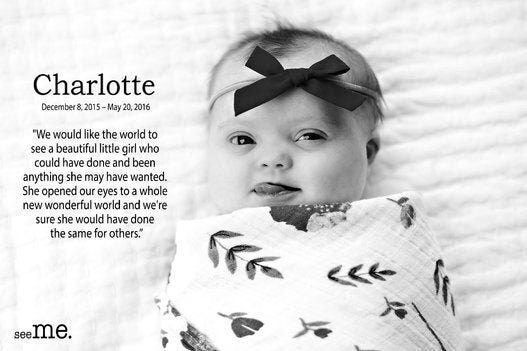 Stunning Photos Open Our Eyes To Reality Of Down Syndrome
The parents were asked: "What do you want the world to see in your child?" And their insightful answers are included with each image.
"Ashlan wants to feel like an equal... She doesn't see herself as different, but is often frustrated when the world does," wrote one parent.
Another said: "We want the world to see that having Down syndrome is a big, important part of who Desmond is, but that it is still only a part."
The photographer says she was really moved by all the families she met. "The generous spirit of the families touched me deeply. They shared their children with all of us and it drove me every day to give each of these children their moment in the sun."
And the parents deeply appreciated participating in "See Me."
"As a parent of a child with [Down syndrome], I wanted to say thank you... It's such a nice change to have someone on our side. With all the battles we fight for our kids, it touches my heart to see there are people out there who can see our kids have so much to offer," one parents wrote to Gauld-Camilleri.
While the project has so much positive energy and messaging, there was one tragedy. "It is important to recognize that many children born with Down syndrome struggle with major health challenges," explains Gauld-Camilleri.
The photographer met baby Charlotte last spring for a commercial shoot. Sadly, the five-month-old passed away just four weeks later of heart failure, leaving the photographer stunned.
Charlotte's family still wanted their baby to be part of the calendar. "I admire the strength of her parents and siblings to stay strong during this project as they show the world their daughter and sister."
She is also amazed at the response to her photographs, especially from young children. "If we can teach our children these important messages, we set our society up for greater compassion and acceptance in the future."
And that is the whole purpose of "See Me."
"I hope there is a day when we don't need a project like this to remind people to look beyond just the outside of another human being to see that inner light that shows us that we are more alike than we know," Gauld-Camilleri says thoughtfully.
If the black and white photos aren't arresting enough, these colour outtakes will further capture your heart.