It appears that dogs really do have heightened senses, especially for the ones they love.
Cedar Rapids, Iowa, resident Nancy Franck was at Mercy Medical Center following complications due to cancer-related surgery on Saturday, while her husband Dale was home caring for their dogs Sissy and Barney, KCRG-TV reported.
Between 15 and 20 blocks separates their home from the hospital. But that distance wasn't enough to keep 10-year-old Sissy, a Miniature Schnauzer, away from Nancy.
He received a call from the hospital within four hours, informing him the dog was there, despite never having visited there before.
"We started looking at the tags and it had the address and we saw how far away this dog had lived, as far as going at least 15 blocks to get here," hospital security officer Samantha Conrad told KCRG. "So it was quite an amazing journey that this dog made."
Sissy was caught on surveillance video wandering through the hospital looking for Nancy. Her daughter Sarah Wood eventually came to pick the dog up, and they were both allowed to go and visit their mom for a few minutes.
For Nancy, it was a "big boost" to have Sissy appear, she told KWWL. "It helped a lot, just to see her and talk to her," she said.
Dogs' strong attachment to their owners can often result in incredible journeys to find them.
"Dogs are loyal and he's just really smart," owner Mark Wessells said of Bucky.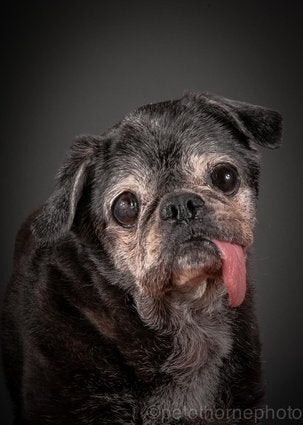 Portraits Of Older Dogs In Toronto
Popular in the Community