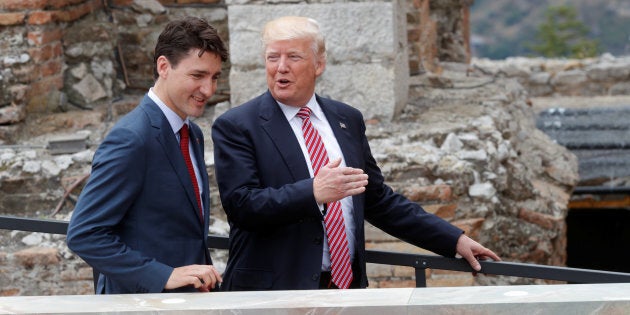 More than half of Canadians want the federal government to halt plans for a national carbon tax if it means it places this country in a competitive disadvantage with the United States, a new poll suggests.
55 per cent say 'hold off'
Conservatives and some premiers have argued any carbon levy will put Canadian businesses in a bind — arguments that only became louder after Donald Trump won the U.S. presidency. A climate change skeptic who has promised to slash corporate taxes and restrictions on the fossil fuel industry, Trump has already withdrawn the U.S. from the Paris climate accord to reduce greenhouse gas emissions.
Fifty-five per cent of respondents told the Angus Reid Institute they agreed that, given concerns about the U.S., Canada should "hold off on carbon pricing."
Forty-five per cent said it shouldn't matter what the U.S. does and that "Canada should implement carbon pricing now."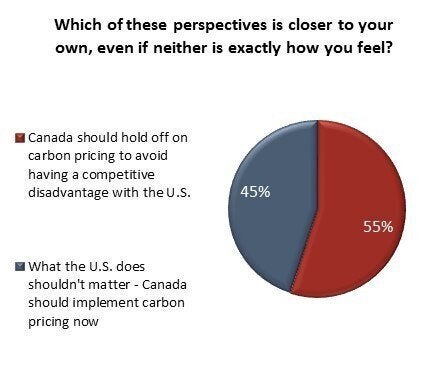 Respondents from the resource-dependent provinces of Saskatchewan (67 per cent) and Alberta (65 per cent) were more likely to support pressing pause on federal carbon plans.
Sixty-eight per cent of New Brunswickers surveyed also advocated for halting carbon pricing.
Saskatchewan Premier Brad Wall, an outspoken critic of the carbon tax, has threatened to take the feds to court over the matter. Last January, the Alberta NDP government rolled out a carbon tax, starting at $20 per tonne.
However, 54 per cent of respondents from British Columbia — where a carbon tax has been in place since 2008— and 52 per cent of those from Quebec — which uses a cap-and-trade system — said the domestic policies of the U.S. should not matter on this issue.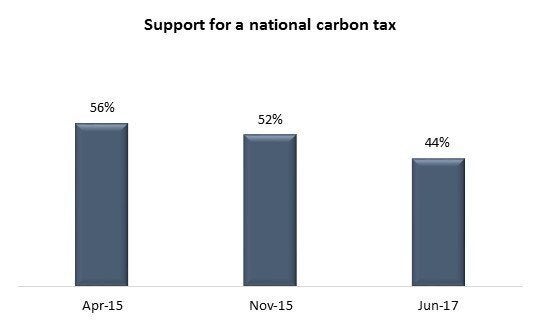 The polling firm found that overall support for a national carbon tax has dropped to 44 per cent from 56 per cent in April 2015, when the Tories were in government and such an initiative was a hypothetical.
In November 2015, shortly after Liberals formed government, support for the tax was at 52 per cent.
The Trudeau government's plan is most unpopular in Saskatchewan, with 71 per cent of respondents telling the firm they oppose the strategy. Only a slim majority of Quebec respondents — 55 per cent — are feeling positive about the tax.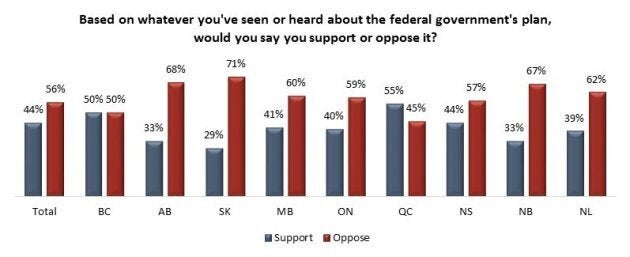 Almost four in 10 Canadians told the firm they would like their province to implement its own carbon plan, while another 19 per cent support doing nothing and letting the federal strategy take hold.
He has also rejected the notion that a Trump presidency means his government needs to pivot.
"Canadian economic and environmental policy will be determined in Ottawa, not in Washington, D.C.," Trudeau told CBC News in March.
While the prime minister has expressed disappointment in Trump's decision to withdraw from the Paris accord, he recently suggested the decision could end up benefitting Canada.
In a panel discussion on Canada-U.S. relations with The New York Times last month, Trudeau said that if the U.S. slows down on fighting climate change, "that could be an opportunity for Canada to step up" with leadership and innovation.
"This is the way the world is going," he said.
The Angus Reid Institute's survey was conducted online between June 5-12 among a representative randomized sample of 5,406 Canadian adults. For comparison purposes, the firm notes a similar poll would carry a margin of error of two percentage points, 19 times out of 20.
With a file from The Canadian Press