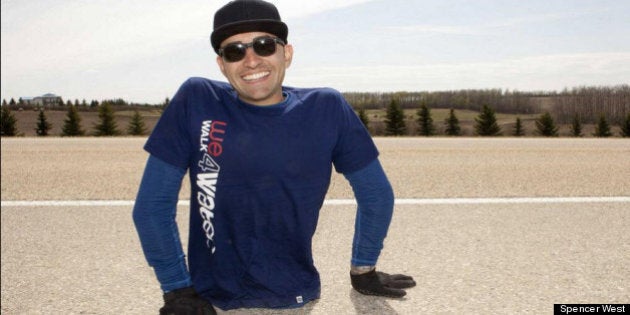 He's been busy walking from Edmonton to Calgary, but Spencer West found the time to call his mom from the side of the highway on Mother's Day.
"It's kind of bittersweet (and maybe ironic) to be doing this walk today, of all days, because we're doing it for mamas around the world, and I do wish my mom could be here," he wrote in a quick update on his blog over the weekend.
"It would have been really nice if she could have joined us on this walk, but I know she's here with us in spirit."
Story continues after slideshow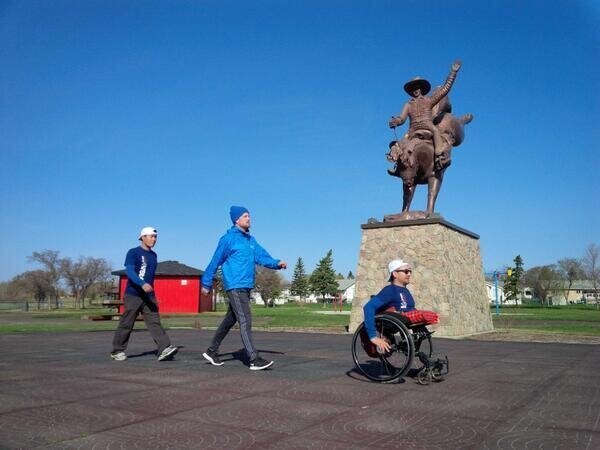 Spencer West's Trek From Edmonton To Calgary
So far West has been joined by Nelly Furtado and Laureen Harper, as well as other Canadian celebrities and roadside fans. Also by his side for the entire trip are two friends and travelling companions, Alex Meers and David Johnson.
The outpouring of support from Albertans has been nothing less than outstanding, the group says.
"There was this cute little kid we passed. We went a ways and then we heard from behind 'Wait, stop.' And there he was, riding down the road waving five dollars in his hand," said West in an interview with the Calgary Herald.
Pushing his body to the limit is nothing new - he climbed Mt. Kilimanjaro last year, raising more than $500,000 for Free The Children - but the 30 kilometre days spent walking are beginning to take their toll.
Johnson told the Herald their time spend in Hobbema was some of the most memorable so far.
"It was absolutely overwhelming," he said.
West was born with a spinal defect that made his legs nonfunctional and had them amputated at age five.
"I had spent so much time trying to fit in and trying to do what society and the world told me I should do to be happy that I'd missed the one thing that was important. That was that I was different, and that I could use my story to inspire other people to not only look at challenges differently, but recognize it doesn't matter where you come from, what colour your skin is, what you gender is or what your abilities are. We all have the ability and the responsibility to lend a helping hand to someone who needs it," West told the Edmonton Journal.
His prairie walk concludes Thursday in Calgary.