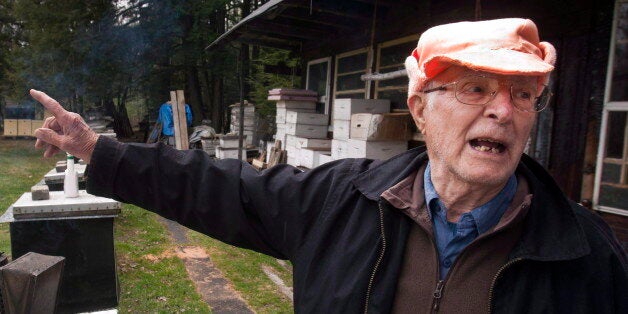 Several Nazi war criminals are living quiet lives in countries around the world, and many have taken refuge in Canada, says a U.S. private investigator.
"It's a stain on the history of Canada," he said.
According to the federal government's most recent report on its War Crimes Program, as of 2011, there were 19 open cases related to the Second World War. But after the government failed to secure convictions in the cases of three suspected Nazis in the 1990s, it decided to focus on barring alleged war criminals from entering Canada or revoking their Canadian citizenship instead of prosecuting them. The person charged would then be sent to the country where the crime was allegedly committed to stand trial.
But most of the Canadian citizens who have been accused of Second World War crimes are now very elderly, and Jewish human-rights groups have been pressuring the federal government to take action on their cases. The Federal Court of Canada threw out an attempt by Jewish group B'nai Brith in 2009 to overrule a decision to let Wasyl Odynsky, who is a former Nazi guard, keep his citizenship.
Another man suspected of being complicit in war crimes, Helmut Oberlander, had his citizenship revoked in 2012, but it's unknown whether the government took action to remove him from Canada.
A third man's case is still in limbo. Vladimir Katriuk, a 92-year-old who, as of 2012, raised bees on a farm outside Montreal, has been accused of participating in the massacre of an entire town in what is now Belarus. In 2007, the federal government overturned a decision to revoke Katriuk's citizenship, citing a lack of evidence. After new information came out in 2012 linking him to the crime, Immigration Minister Jason Kenney and then-Justice Minister Rob Nicholson told Holocaust survivors they would look into the case, but it's not clear if any action has been taken since then.
"People are going to die soon anyway and they'll spare themselves the expense, the embarrassment and the problems — logistically or whatever — of prosecuting one of their own (citizens)."
Steve Rambam is speaking Tuesday in Toronto at a fundraiser for the Jewish charity United Chesed about how he found so many of these alleged criminals, sometimes just by looking them up in the phone book.
In a CBC documentary from 1996, a fellow private investigator, Joe Schacter, said he found it unsettling that Rambam could get ahold of the men so easily.
"These people should not be able to rest easily in their beds at night, and the fact that we can get in and interview them, and talk to them, means they're not the least bit worried. They're not worried about prosecution, about being deported, or going before a judge or jury, for the crimes that they've committed. And that's not right."