A flurry of Canadian resource exploration companies are abandoning the dream of striking it rich in the gold rush in favour of what they see as the next big thing: the green rush.
The Street is starting to take notice of a trend in penny stocks jumping into the medical marijuana industry. A number of shell companies are appearing on the market, while other resource companies in the struggling sector are diversifying in search of greener pastures.
Most of these companies have neither seedlings nor medical marijuana licences, but that has yet to deter eager investors. Their share prices still go soaring at the hint of a joint venture with a pot producer or the arrival of a new board member with a marijuana-laced resumé.
"It's like a Klondike gold rush. It's a whole new industry," said Zachary Stadnyk, whose health care-focused management team recently took over Supreme Resources and renamed it Supreme Pharmaceuticals. Since the company announced in January its new interest in the marijuana industry, its stock has hit a two-year high of eight cents per share.
"Mining companies are used to chasing big gold discoveries, and I guess in that regard this is very similar. It's a brand new start."
The medical marijuana industry is expected to experience massive growth over the next decade, with the number of registered patients predicted to grow to more than 400,000 from about 40,000 currently, generating $1.3 billion in annual revenue.
At least 10 companies listed on small Canadian venture exchanges have announced their intent to enter the sector in recent weeks. This Tuesday marks the cutover to new medical marijuana regulations from Health Canada, which aim to privatize the industry. Ottawa wants all medical marijuana cultivation to be carried out by government-approved commercial producers that sell their product for more than what it costs patients to grow their own -- between five and 10 times more.
The government's plan was dealt a blow by a court injunction on March 21, which ruled that medical marijuana patients who grow their own plants should be allowed to keep doing so, at least until a constitutional challenge is heard over Ottawa's pot plan. Share prices among many of these so-called penny stocks have fallen off since the injunction. The government said Monday it will ask the Federal Court of Appeal to overturn the injunction.
The industry's profit margin and potential for growth (especially if Canada ever decides to legalize recreational use) have already enticed more than 600 players to apply for a producer's licence.
Only 12 have been approved by Health Canada so far, and the injunction is expected to seriously dampen demand for commercially grown medical marijuana for the near future. But junior mining companies are still eager to jump on the bandwagon.
Thelon Capital and Satori Resources have seen share prices quadruple in the past month after appointing a weed consultant to their boards. Their ticker symbols are THC and BUD, respectively.
Alchemist Mining hasn't put out a press release since July and its website is out of order, yet it has seen its share price spike more than 200 per cent this month on mere murmurs that it is overhauling to enter the space.
Terra Firma Resources hit a one-year high of 4.5 cents the day it appointed a medical marijuana consultant, while Next Gen Metals share price jumped from about 5.5 cents to more than 70 cents after sending out a series of pot-related press releases.
The lack of concrete business plans hasn't dented the miners' confidence in their ability to lead in an industry that is as different from their business as rocks are from plants.
"The medical marijuana business is slowly recapitalizing the junior mining industry in Canada," Next Gen CEO Harry Barr said in a press release.
"Who better to build the infrastructure of this new industry than a group of savvy mining execs? That's right, mining execs," he said in another of its releases on its newly green website.
The company cites competitive advantages including management's financial contacts for venture capital, and its track record of negotiating joint venture deals and managing private and public companies.
Lexaria Energy, which has been in the oil and gas business since 2005, told investors this month it is shifting focus to medical marijuana, which it called a more promising growth market than oil. It formed a joint venture, paying grow operator Enertopia Corp. to get involved and appointing Enertopia's CEO to the oil company's advisory board.
The news sent its stock soaring to a historic high, up from one cent a share to 80 cents a share just before news of the injunction.
"The medical marijuana business just might be one of the most recession-proof industry sectors there are," it told investors.
"It's not as big a leap as you might think," the company says on its website, explaining that both oil and medical marijuana are heavily regulated businesses, so its expertise is relevant.
Story continues below slideshow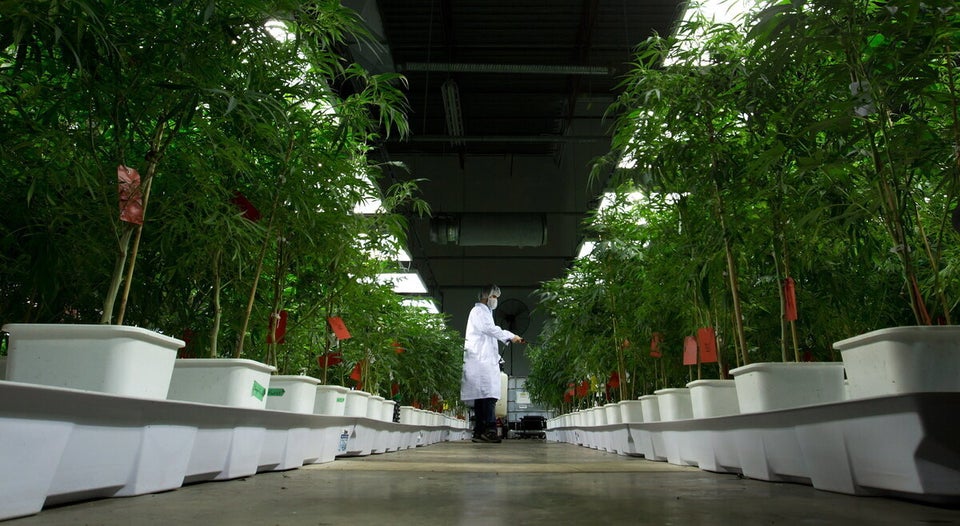 Medical Marijuana In Canada: Commercial Producer MediJean
Cavan Ventures saw its stock spike by 25 per cent in one day after announcing just last week that it was investigating opportunities in marijuana.
For Peter Swistak, president of Cavan Ventures, the decision to expand into marijuana production from mining was a no-brainer.
"The bottom line is I think I owe it to the shareholders to look aggressively into this industry and talk to the experts who can bring us to a fuller knowledge."
It is the first time the company has stepped outside of resource development. Swistak said the sudden jump in his company's stock is similar to the boost a junior would see after the acquisition of a property next to a gold mine – though all the company had to do was express interest in the business to whet investor appetites.
For some, the influx of junior miners into the medical marijuana industry signals the bottom of the market for prospecting, said Kip Keen, managing editor of the mining trade publication Mineweb.
Commodity prices have slumped, reducing profits and the appetite for searching out new discoveries. Junior exploration companies, many of which have no revenue, have been especially battered by a tight financing market and investors' fleeing the volatile sector. The market value of the top 100 junior miners has dropped 44 per cent in the 12 months ending June 30.
Exploration companies don't earn revenue until they sell a property or make a large discovery and rely on investors willing to take a risk for a source of cash flow. That financing has dried up in the past few years.
"Those that can't find cash in mineral exploration to finance them, they're looking elsewhere. … Some have to turn to more exciting avenues to generate interest," Keen said.
Although few of the medical marijuana companies have generated revenue yet, the speculative buzz surrounding cannabis makes the sector ripe for companies accustomed to risk-taking.
"Juniors are very good at existing in an industry where there are no revenues," Keen said.
"They exist on an idea, and sometimes it rewards shareholders enormously because their ideas turn out to be right, but more often than not in the industry, failure is the norm."
Neil Closner, CEO at MedReLeaf, one of just 13 medical marijuana producers licensed by Ottawa, says he has been approached by investors asking it to merge with their publicly listed shell companies.
Fellow licensed producer Tweed Inc. has plans to soon go public through a reverse takeover of shell company LW Holdings, which could make it the first publicly traded licensed medical marijuana producer in Canada.
Closner has faith that patients and physicians will be able to distinguish companies that are in the industry to turn a quick profit and those that care about health.
"They're just saying 'Hey, this looks exciting maybe we should change the name and add pharma to the end of our company name and find some people that know how to grow cannabis and let's get into this business.'"
The hype reminds the former investment advisor of the froth when miners jumped into the tech industry before the dotcom bubble of the late 90s. And if the influx of mining players does create a pot bubble, the more serious players could also get hurt.
"Ultimately when the bubble bursts, its like a pendulum. It swings in the complete opposite and for a period of time no one wants to come near the industry."
Swistak, of Cavan Ventures, sees the similarity to the dotcom days, but his memories of that bubble are more positive. He believes the mining companies that did jump in made their shareholders a lot of money.
"There's a lot of people that are sort of negatively saying (medical marijuana) is a bubble, it's jumping on the wagon, but I'm sure that's what they said in the dotcom days too," he said.
"The question that should be asked by those that are so negative looking is: Did that company actually do their shareholders a service because they made a bunch of money or did they do them a disservice because they entered into something they could?"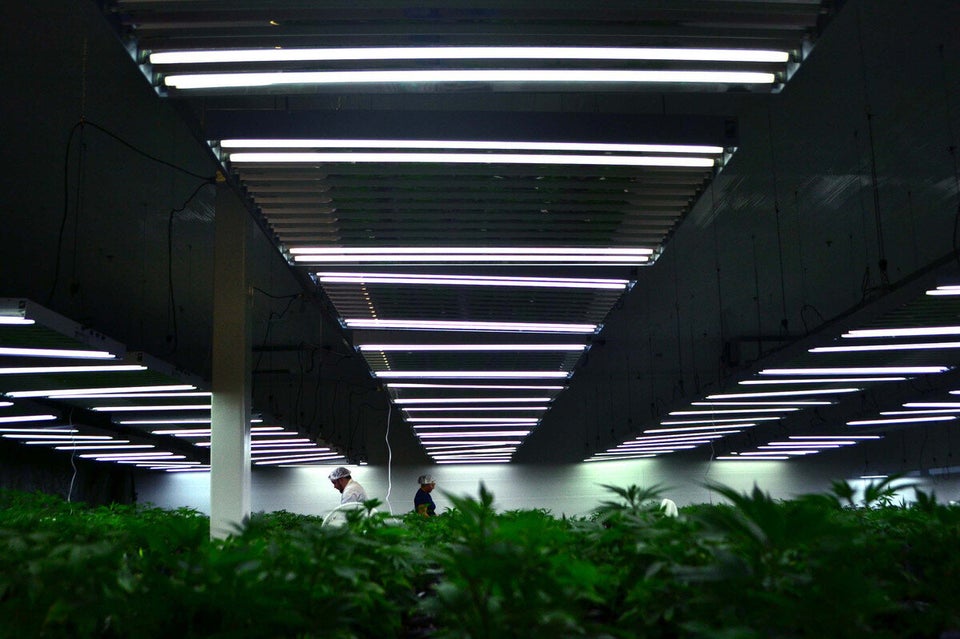 Tweed Inc. - Legal Marijuana Grow-Op
Popular in the Community