Simple steps to protect your stuff
Ever lost your luggage? You know that sinking feeling when the last bag rolls around the carousel -- it's equivalent to coming down with traveller's diarrhea. You know your trip is about to get ugly...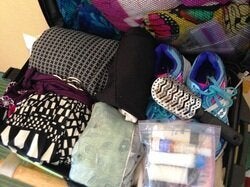 While lost and damaged luggage is an unfortunate travel reality, it's getting easier to track down an errant bag half a world away and get it back to you -- relatively quickly. And if you've identified your bag well and have an inventory of the contents, luck may be in your favour.
Use these tips to help ensure that even if your bags don't arrive with you, you'll be protected.
Before you leave home: what goes inside
Lay out valuable items and snap a picture of them with your smartphone. Keep a list of those items in your carry-on (and a copy at home if you're really worried). If you can include approximate replacement value of the items, even better.
If an item's irreplaceable, leave it at home. Laptops, electronics, medication, jewelry and important documents belong in your carry-on luggage only. If you're asked to gate-check a bag you planned to carry on, remove those valuables and carry them on in your arms.
Print a copy of your itinerary that includes your email and/or phone number and leave it face up in your bag. If the tags are removed from your bag while in transit, this sheet of paper might be the only way your luggage finds its way back to you.
Put the address of your destination on the outside of your luggage -- not your home address (which announces an empty house ripe for pillaging).
Before you leave home: the outside of your luggage
Remove tags from previous trips, especially those tiny white stickers airlines stick to the sides. And avoid travel stickers and decals. They make your bag identifiable on the luggage carousel but can be misread by a scanner.
Remove any straps or locks that get stuck on a conveyer belt.
Forget the Louis Vuitton luggage and opt for the value-priced set instead. Expensive looking luggage is an "open for business" sign to a thief.
Choose a nylon bag instead of a hard shell, which cracks easily and is rendered useless immediately after a mishap.
Consider a TSA-approved lock but remember it's approved because it's easily removed.
When you retrieve your bag from carousel, inspect it as soon as possible to ensure everything's accounted for. If something's missing call the airline immediately and submit a claim. The sooner you begin the process, the sooner resolution will come (hopefully).
Got any suitcase security tips to share? Follow me on Twitter or like us on Facebook and let's start talking!