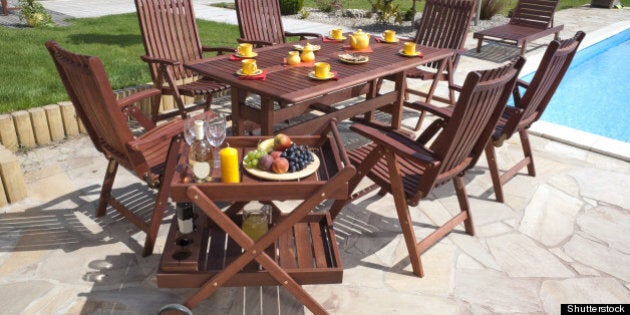 For us Canadians, summer always feels like the shortest season of the year. This year, don't let it pass you by – enjoy the long days in the great outdoors without even leaving your home. Entertaining friends, family and neighbours on your own patio is a great way to bask the warm weather, and even if you don't want to play host or hostess, your backyard is the perfect place to relax with a good book or a refreshing drink. But creating the perfect patio is always easy so we've asked several outdoor designers and landscapers to give us their best advice on setting up an outdoor space you'll love to spend your summers in.
STORY CONTINUES BELOW SLIDESHOW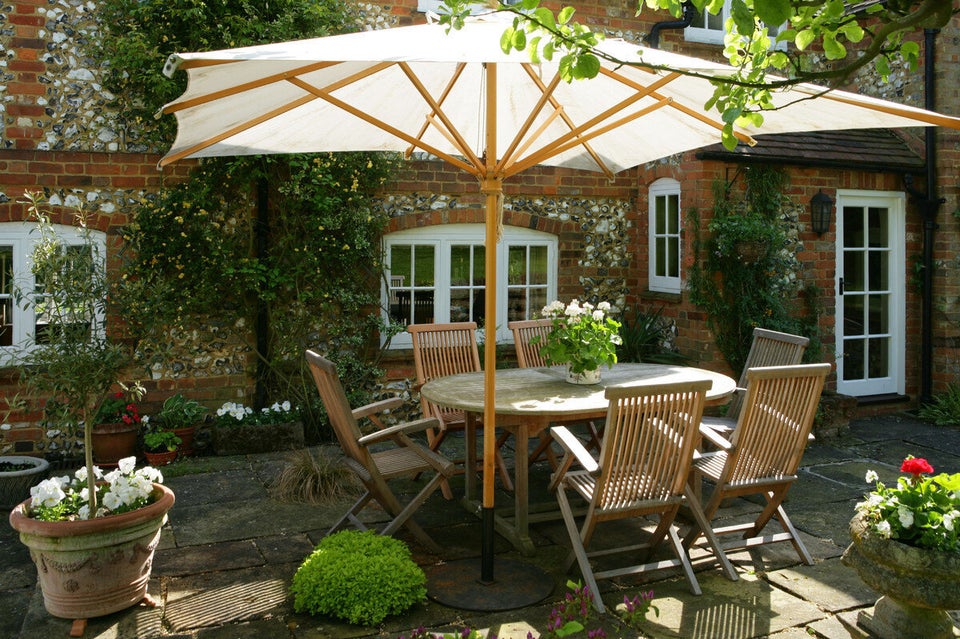 How To Create The Perfect Summer Patio
Nature is the best accessory
Accessorize your outdoor space with stylish planters – think either a few big ones or lots of small ones. "This creates a cozy effect and can also add privacy. Display different sizes in odd-numbered groupings," says Shelby Hallman of Toronto-based landscape company Earth and Sole. Don't have much of a green thumb? Don't panic. "For low-maintenance, use fiberglass containers with hardy plantings like boxwood, grasses, or evergreens and accessorize with things like branches, shells, rocks and lighting." If you want to get festive, change the planters seasonally with different colours and variety.
When it comes to decorating, get creative to make your space personalized and unique. "Mix vintage with new stuff to avoid that showroom/catalogue look," says Beverly Hills-based interior and garden designer Sandy Koepke. "Vintage elements add character. Combine the comfortable new outdoor furniture with salvaged pieces. Mix it up!" Koepke suggests visiting local flea markets and salvage warehouses to find one-of-a-kind accessories, and don't neglect the natural elements when you're building your outdoor space. "Bring nature closer - a small fountain or bubbler sounds lovely and attracts birds."
Most importantly, make sure your patio is a place you and your guests actually want to spend hours on. "Yes, it's got it to fit the space and look good, but most of all your patio furniture has to be comfortable," says Caitlin Black of Aloe Designs in Vancouver. "Lower oversize chairs and sofas with low-but-large coffee tables are a great for putting your feet up and taking a snooze, and they also work great when you're rounding people up at night for family-style dining or beverages."
If you have the space, consider building two outdoor entertaining spaces for your guests. "Outdoor furniture is a growing market and it is so readily available," says Toronto Landscape Architect Joel Loblaw. "Because of this, it's becoming common to have two outdoor spaces – one for dining and one for lounging."
Even though you're outside, your flooring is important. When you're picking outdoor flooring, remember "it has to feel good on bare feet," says Black. You also have to consider the elements – will the surface become slippery? Will it mold in wet conditions? Black's favourite outdoor flooring option? "We use alot of Brazilian hardwood - it ages well and feels great on the skin."
Make outdoor feel like indoor
Carpet isn't just for the inside of your home - consider sprucing up your outdoor room with a rug as well. "Where large paving areas are required, as in the space around a pool, an area rug or Persian rug might define space in a room," says Gary van Eijk, owner and principal designer at Uncommon Ground Design Group Inc. Also, be creative when you're creating the flooring in any outdoor space. "Use different paving patterns to break-up or define a specific dining or lounging space," adds van Eijk.
Add privacy to your space and create nature-inspired ambiance with a living wall, says Vancouver-based garden designer Glenna Partridge. "You can grow plants vertically and save space or create privacy on a tiny balcony garden. Create your own green art to hang above your seating areas."
Give your backyard some sizzle. "One of the hottest trends in patio design is outdoor fireplaces," says landscape architect and HGTV Landscape Challenge winner Kerry Burt. "The smoke and crackle of the fire add new layers of ambiance to a garden." Your guests are guaranteed to love sitting around the fire after dark ... just don't forget the marshmallows! If a fire isn't an option, don't panic. "A group of several pillar candles on a low table will create a similar effect," say Partridge.
Bamboo is the perfect accessory
"Bamboo is in," say Hallman. "Use bamboo plants for in your garden and in containers on your patio." And while bamboo isn't exactly made for our short Canadian growing season, Ontario Bamboo offers a hardy and non-invasive variety that's perfectly suited to our summers. "Water your bamboo deeply in the early morning and freshen up your containers and gardens right before guests arrive to show them off and make them look their best," advises Hallman.
Make your space inviting. "When designing an outdoor space it is important to create an atmosphere," say Loblaw. "Consider an overhead canopy such as an arbour or even trees, this lends to a more intimate ambiance on your deck."
Make sure your space stands out after dark. "Lighting is key, and really fun," says Koepke. "Layering light sources adds a little mystery. Combine hanging pendants or chandeliers with strings of tiny lights hidden in vines, vintage lanterns and votive candles."
Make your own accessories
Exercise your DIY skills to create a unique water feature. "Relatively inexpensive fountains can be made with a glazed urn, waterproof basin, decorative gravel, and a small pump," says Burt.
Give yourself room to grow
Choose your grill wisely. "I tell people to avoid built-in barbecues," advises Loblaw. "Barbecues have come a long way and will continue to change in shape and size, so not building it into your patio will allow you the flexibility to update your space as time goes on."
Don't buy into the latest design and decor fads. "Avoid design trends," cautions Loblaw. "They will inevitably pass, so design a space that reflects your needs and personal taste." And if your ideal dream patio doesn't fit in with the constraints of your property, change your perspective. "It's important to always respect and work with the architecture of the home."
At the end of the day, don't forget that you and your family actually have to live in this space. Your outdoor space should not only be attractive, it should also be safely designed for human use. "Don't forget that chairs around a table need room to be pulled out," cautions van Eijk. "And no matter how many times kids are told not to run, they will anyway so extra space for traffic is always needed."