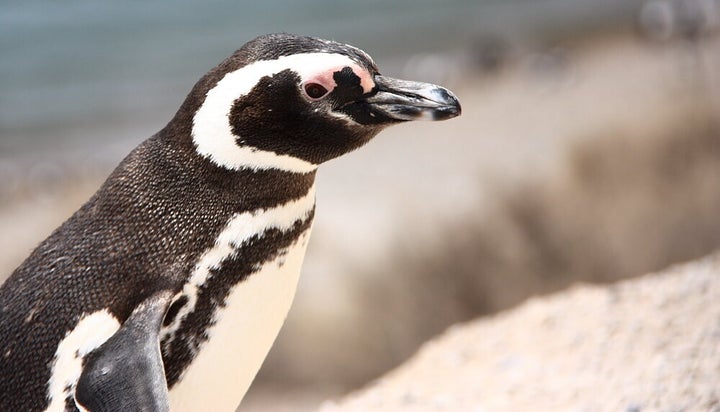 I never thought I'd see penguins in the wild, and I'd certainly never thought I'd see them while wearing shorts and a t-shirt. But, as was explained to me later, there's such a thing as warm weather penguins. This particular species is the Magellanic Penguin who's habit ranges from the Strait of Magellan in the south to as far north as Rio de Janeiro.
I was in Puerto Madryn, smack in the middle of the penguins' range and very close to one of their largest breeding colonies. With its cool sea breeze and small town feel, Puerto Madryn was a welcome break from the hustle and heat of Buenos Aires. This would be my base for exploring the surrounding wildlife reserves of Peninsula Valdes and Punta Tumbo.
After a restful first day, I joined a large tour to Peninsula Valdes and we headed north. Much of my time in Argentina was spent staring out the windows of buses at the unchanging scenery of the Patagonian steppe composed of gravel and scrub brush, punctuated infrequently by villages and towns.
But this drive was a short one and Hugo, our tour guide for the day, talked excitedly about the many species of wildlife we would encounter. The tour did not disappoint as we saw guanco (wild llama cousins) just as we entered the park. The tour continued first to a small colony of Magellanic penguins then onto sea lions and elephant seals, with more guanco along the way. Little did I know how close I would get to some of these animals in the coming days. Back in town I enjoyed a hearty asado or Argentinian barbeque and more Malbec with my new friends from the hostel. Then it was off to bed to prepare for the early rise tomorrow.
The next morning I headed south to Punta Tumbo. To my surprise, Hugo, the tour guide from the day before, arrived to pick me up. And instead of a large tour bus, we'd be taking a car with only a Dutch couple along for the ride. Punta Tumbo is home to over half a million Magellanic penguins. The path for us humans, although marked and restricted, goes straight through the penguin's breeding ground. This means you're surrounded by thousands of knee-high penguins waddling from their dens to the sea and then back again. Hugo warned us not to let them get too close though, as they were known for nipping nosey tourists.
I was strolling through the penguin colony when a herd of guanaco came thundering by. It was a strange and unexpected sight to see these wild llama cousins roaming freely and interacting with the penguins. The herd of roughly a dozen guanaco wandered around the area for a few minutes, before they left as quickly as they came.
Life isn't easy for these penguins. As fish stocks decline, they're forced to travel further and further offshore for food. On average, these penguins travel 150 kilometers over two to three days in order to gather enough food to feed their chicks back on land. The penguins raise their young in dens or borrows dug in gravel under low shrubs. They are largely monogamous, but unsuccessful breeding can often cause a "divorce."
Back at the car I had a lunch mostly consisting of empanadas which were quickly becoming my go-to meal of this trip. Like all late afternoon drives home from adventure, the drive back to Puerto Madryn seemed to stretch on forever. At Hugo's insistence I tried my first maté, the traditional loose tea of Argentina. He informed me that riding shotgun not only included the normal duties of keeping the music going, but also of preparing the maté for everyone else. Between the Hey Rosetta! pumping from the blown speakers and the continuously circulating cup of mate we kept ourselves awake on the drive back to town.
My time in Puerto Madryn was drawing to a close. But there was one more thing I wanted to do before I moved on. If the wind would calm down just a little I might just get to swim with the sea lions off the coast before I caught the 19-hour bus south to El Calafate. The next morning I arose hopeful and got the word that the boat was able to make the trip to the sea lion colony.
We headed off down the coast, donning wetsuits, flippers and snorkels. There were no guarantees, but the chances were good we'd be swimming among the female sea lions as they return from feeding offshore. Our wetsuits would protect us from their exploratory nibbles, but we had to keep our distance from the shore to avoid the much larger and more aggressive males.
We jumped in the water and floated along on our backs, kicking our fins to attract the curious sea lions. They quickly showed up and surrounded us. They bumped and nibbled me as I bobbed awkwardly in the water. And although they were gentle I was clearly in their territory. It was easy to imagine the full strength of these animals as they whipped and whirled around us. It seemed like only a few minutes, but an hour later it was time to head back to shore. I had a bus to catch.
I ran by the hostel and gathered my gear, saying good-byes as I went. I was headed inland to the Andes to explore the glaciers of the Southern Patagonian Ice Field, the largest ice field outside Antarctica.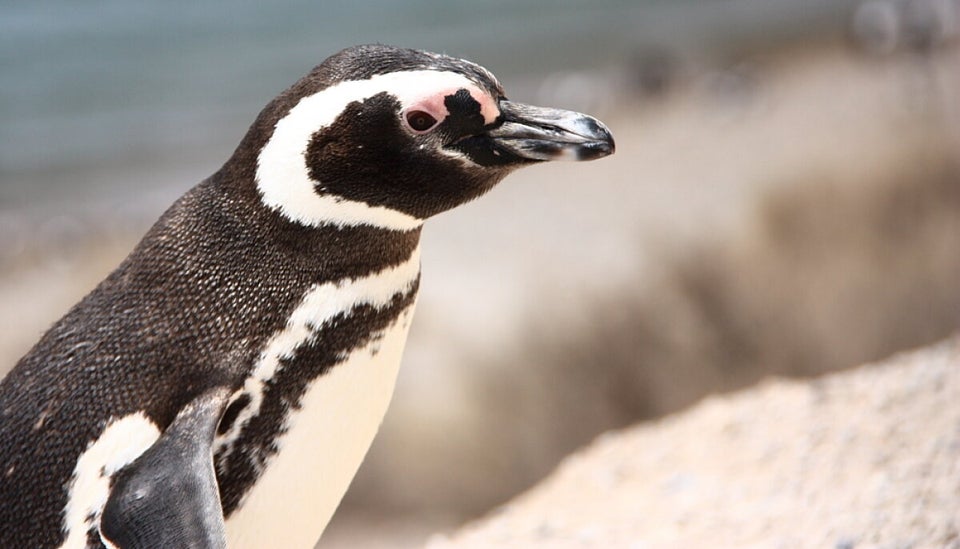 The Many Animals of Argentina
Popular in the Community