Target promises its fledgling Canadian stores will be better stocked as it becomes more experienced in the market.
The discount-chic chain said Tuesday low post-holiday inventory levels on some of its shelves reflect the learning curve of a newcomer in the Canadian market, and not a death knell for the brand's foray north of the border as one analyst suggested last week.
Target Canada spokeswoman Lisa Gibson said the chain — which is in the midst of rolling out its Canadian expansion — is in "post-holiday recovery mode" after carrying strong stock levels going into the holiday season.
However, Gibson said she didn't know when or where the photos were taken.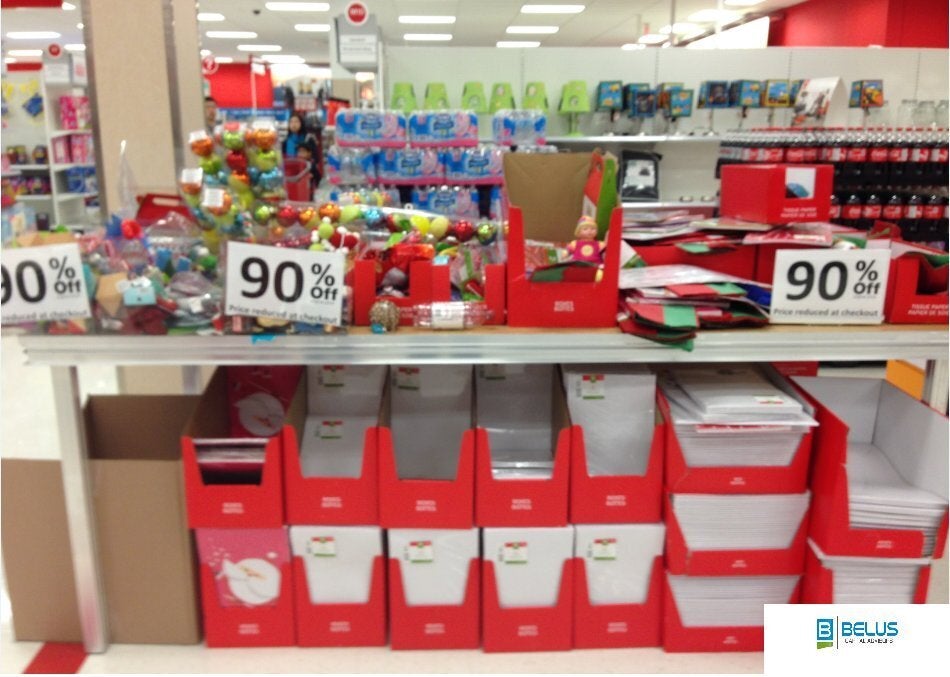 Target Canada's Empty Shelves
"We are in the process of catching up from the holidays and had clearance sales to help sell through excess inventory," Gibson said of the photos that show signage for deep discounting and a dearth of items on shelves.
"This was our first holiday season in Canada and we had a large number of stores open their doors for the first time in November — just a few months ago," she said in an email to The Huffington Post Canada.
"As we have said, with no historical data on which to base our forecasting we continue to learn how our guests shop our stores in order to continue to build a strong knowledge base that will continue to inform our forecasting and replenishment processes."
Her response is in line with what the company explained on its third-quarter conference call — that inventory levels are stabilizing, after customers voiced concerns about the empty shelves as new locations opened across the country last year. The company admitted during that call that initial sales and profits in Canada had fallen short of their expectations.
Target has already learned "a great deal" over the past year and is making improvements with each store opening, Gibson said.
She added that ensuring strong stock levels is a priority and the chain will continue to get better as it builds its "knowledge base" in Canada.
Target spent months researching the Canadian market before announcing it would make Canada its first international venture with the purchase of Zellers locations in 2011.
Its arrival was eagerly anticipated by consumers and feared by other retailers such as Hudson's Bay, Walmart and Loblaws, which were expected to be hardest hit by the new competitor.
But since its arrival, Target has been plagued by consumers complaining prices are higher than in U.S. stores, and the selection is not as good as it is south of the border.
The company opened 124 stores across Canada last year and employs more than 20,000 people in the country.
Target is struggling to recover its reputation with customers in the U.S. after a massive data breach during the holiday season that affected more than 100 million customers, including potentially some Canadians who shopped at U.S. stores.
Popular in the Community