Unfortunately, the volume is beginning to dial down a notch on the recently amplified conversation about violence against women. At its worst we were circulating a celebrity abuse elevator video that no one should have watched. At its best we were actively learning about women's journeys through the #whyIstayed and #whyIleft hashtags. But there was power in that amplified conversation and in the public actively considering that domestic violence is an epidemic in our communities.
Interval House, Canada's first shelter for abused women, has just made a move to reignite and steer that conversation in another direction by releasing an elevator video that is worth sharing. It calls for us all to take action to end the violence and aims for a world where we can help women create more alternate endings:
The video also aims for women to know that when they are ready to leave there are community agencies that are there to help.
But, when a woman is ready to leave, how does she do that safely?
One of the most dangerous times for a woman facing abuse is when she chooses to leave the relationship. The act of leaving -- or even planning on leaving -- shifts the balance of power and control and can lead to escalating and serious violence. It's not as simple as deciding to "just leave".
A critical step for any woman who is considering leaving her abusive partner is safety planning. Safety planning is about identifying actions to increase her safety and the safety of her children and should be a top priority for all abused women, whether they plan on remaining in the home or leaving.
There are many actions that a woman facing abuse can take to increase her safety and the safety of her children including:
- Do not tell your partner you are thinking of leaving
- Telling someone you trust about the abuse
- Create a plan to get out of the home safely and practice that plan with the children. Teach children a code word that can be used when they need to seek help or escape the home.
- Hide your keys, cell phone and some money near an escape route.
- Have a list of phone numbers with you at all times to call in case of emergency (including the number for your local woman's shelter or crisis line) and teach your children how to call 911.
- Open a bank account in your name or in the name of a person you trust. Make sure bank statements are not mailed to your home.
- Have an emergency suitcase packed, if possible and keep it hidden in an easy to access place or at a trusted friend's house. Items to remember include:
- Clothing for you and your children
- An extra set of house keys and car keys
- Special toys and comforts for your children
- Valuable documents: passports, birth certificates, marriage certificates, immigration papers, health cards, SIN cards, bank books and bank cards.
- Prescription medicines for you and your
- Documents that prove you have been living at the same address as your partner.
- If an argument starts to happen, move to space with easy access to the outdoors. Don't go to a room where there is access to potential weapons (kitchen, workshop)
If you are a friend or family member of a woman living with abuse the best thing you can do is to believe her, offer her non-judgemental support and a listening ear and to help her connect with her local women's shelter or similar community agency. Most of all always put her safety first. Never talk about the abuse in front of her abuser and unless she specifically asks for it, never give her materials about domestic abuse or leave information through voice messages or emails that might be discovered by her abuser.
If someone is in immediate danger, call 911 or the emergency number in your community. If you feel you can't call the police, call your local crisis centre or local shelter. You can find numbers at the front of your phone book and have a confidential talk with an emergency counsellor. In Toronto you can call the Assaulted Women's Helpline at 416-863-0511 or Interval House at 416-924-1491.
We must keep this conversation going if we want to create more alternate endings and help women to find ways to move from #whyIstayed to #whyIleft.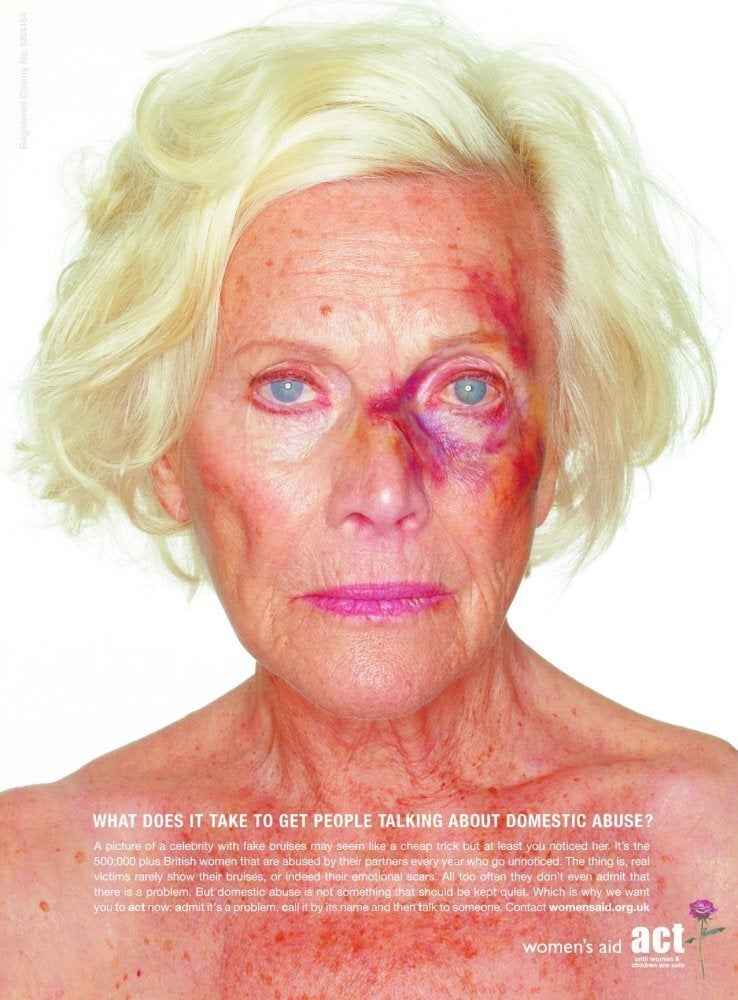 Notable Anti-Domestic Violence Campaigns
Popular in the Community