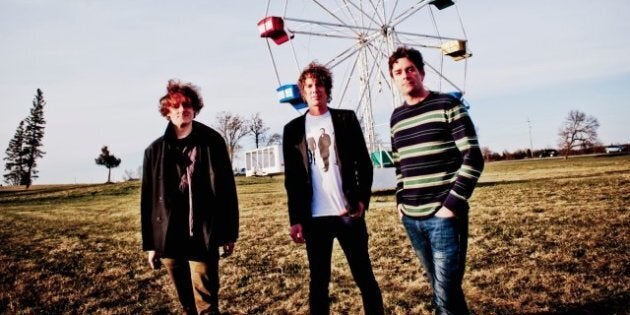 If you lived in Canada in the late '80s it was hard to avoid the jangle-pop sound of Kelowna, B.C.'s The Grapes Of Wrath. The familiar strains of the Beatlesque "All The Things I Wasn't" and "What Was Going Through My Head" emanated from every dorm room, and dominated alternative and campus radio playlists across the country.
The trio released its fourth record "Now And Again" in 1991. That record, which was recorded at musical Mecca Abbey Road Studios, became the group's second platinum-selling release and spawned the top-ten singles "You May Be Right" and "I Am Here." From the outside, The Grapes Of Wrath seemed to be a band performing at the peak of its powers.
So, it came as a surprise when just a year after the record's release the three founding members — singer/guitarist Kevin Kane and brothers vocalist/bassist Tom and drummer Chris Hooper — pulled the plug.
"It is kind of cliché," says drummer Chris Hooper. "We made it to the point where we were realizing all of our wildest dreams, and then we broke up."
HuffPost Canada Music met with Chris Hooper and Kevin Kane between gigs during Canadian Music Week recently in Toronto. The Grapes, as they're affectionately known, were in town to promote "The High Road," the group's first release featuring all three original members in more than two decades.
With soaring harmonies, memorable melodies and shimmering guitar lines, the new record's lead-off single "Good To See You" is so timelessly familiar it's easy to forget the band members spent the better part of the last two decades suing each other instead of making music together.
There's a cautionary tale here. The band formed when its members were barely teens. With success came expanding egos, creative differences, and that special resentment reserved for those you spend endless hours on a tour bus with.
"You hit a point when you see each other more than you see your own family, when the same jokes you've been hearing since you were a child are no longer funny," explains Chris Hooper. "We were adults and we were just trying to find our own space."
The split was so acrimonious that it makes the Gallagher brother's sudden dissolution of Oasis seem like a mutually agreed separation between reasonable adults.
The Hooper brothers, who went on to form Grapes sound-alike act Ginger, fought Kane for rights to the band's name and its back catalogue. For a while, it seemed the great music The Grapes Of Wrath created would be forever lost in litigious limbo.
"We should have hired therapists, not lawyers," laments Kane.
But time heals all wounds, and in 2000 main songwriters, Kevin Kane and Tom Hooper, released "Field Trip" under the Grapes of Wrath banner and reconvened for a reunion tour. It took another decade for Chris Hooper to rejoin the fold.
"I realized it was now or never," Hooper says. "But If you asked me a couple of years ago if we were going to record a new album, I would have answered definitively, no, yet here we are."
Supporting a well-received record during CMW, the band chummed like old mates on and off stage. But one has to wonder, how volatile is the relationship?
Remember, these are the same guys who not long ago only communicated through lawyers and barbed quotes in the press. Can the reunited band really survive the constant companionship and the rigours of the road?
According to Kane, The Grapes Of Wrath are back for good.
"We still get frustrated, but now we have more appreciation for each other and what we have created. We have more empathy and patience, " he says. "We'll never break up again."