Colin & Justin discover how a log cabin can be reinterpreted as a modern 'mini-me' of their existing cottage. Using square cut wood logs...
Finally, after a million and one interior reveals, we're dashing outdoors to reveal our cute as a button bunkie. Yup, following the guidance of our rental agent, we realised it made sense to add a little more space to our rental offering. Sure, the main house has four double bedrooms but the holiday market is crying out for retreats with six. So we did as we were told...
Thrilled by the realisation of our main cabin's conversion, we opted to create a Plan B 'Mini Me', a smaller version, effectively, complete with soaring ceiling lines and complimentary exterior elevations.
Without further ado, Nicole Sokol and Shawn Hunter were summonsed to appraise the opportunity. Having engaged Discovery Dream Homes (http://www.discoverydreamhomes.com) to erect our main house sunroom, we knew both pratagonists would be perfect for the assignment.
Shawn and Nicole didn't miss a beat as they took care of quantity surveying, lumber ordering and planning the 450 square feet structure. To assure all timelines were met, they subcontracted Mason Brothers Construction (http://www.masonbrothersconstruction.com) the same company with whom we'd worked as the aforementioned sunroom came to life. Just as things were progressing, however, a hellish climatic shift occurred. Ain't that always the way?
Dealing with some of the most heinous weather we've ever experienced (across any job in any country on any continent: flooding of almost biblical proportions, hail storms in September and snow flurries in October), the operation continued, nonetheless, as Dave Mason and his team battled steadfastly against all the odds, to deliver outstanding construction results.
Looking back, it's staggering to think the project finished, especially given that everyone had to wait for us to decide upon (and then order) landscaping materials to wrap around the little house. Ah, decisions, decisions. When we visited Bestway Stone (http://www.bestwaystone.com) to select pavers, we only had one problem: which to choose. The collection inventory is astounding and we spent an entire afternoon considering all the options.
Guided by company director Jason Vettese, we settled upon this beautiful grey, lightly textured slab which, arranged in various sizes, sets a regimented grid like pattern as it circumnavigates Plan B's side elevation to reach the front of the bunkie and indeed under the carport. A bed of verdant turf provides lush contrast and, complete, it's hard to believe this was once rough, country terrain.
We don't have a hard landscaping expert as part of our regular team, so Jason recommended we work with Giles Bridgnell of York Durham Interlocking (http://www.yorkdurhaminterlocking.ca) and, even though he and his partner Lorissa were about to have a baby, he committed to the job and worked exhaustively until our project was complete. It has to be said that watching the pavers go down was like watching an operation of army like precision, and the results speak for themselves.
Each and every piece of the paver puzzle was expertly laid onto a sand base and balanced with a spirit level to guarantee a perfectly level top surface. Daddy, you'll be glad to hear, (assisted by Jason from Best Way) finished the job in time to make it back to Toronto before the birth of his baby, a beautiful wee girl named Lillian. We'd like to congratulate the entire family!
Pavers attended to, the following stage of our build (the exterior) started to materialise: constructed from square cut logs stained ebony and complimented by shots of honey coloured wood, we're smitten with the results. Building a relationship to the main house was paramount, and being that Plan B's siding is jet toned, it was a no brainer. Better still - it all ties in perfectly with the jet black metal framed roofing membrane which tops both structures.
Turning our attentions inside, we decreed the logs be colour washed in a milky, washy finish. This done, we furnished the living area with a mix of grey upholstery, wooden chairs and a black rocker. Accessories, for the most part, were rooted out in the local thrift store. Flooring is by Kentwood (available at http://www.metrofloors.com) installed by Taylor Carpet One, Huntsville. To amplify function, we tricked out an Ikea kitchen cabinet (wrapped in worktop) and this serves as a useful station for a Nespresso coffee machine and associated cups and saucers.
Adjacent to the coffee bay is a small but perfectly formed shower room, but for now no spoilers - you'll have to wait until Cabin Pressure airs on Sunday to see the diminutive space come alive! Same goes for the red check double bedroom that lies adjacent to the twin room showcased here. This room comes alive courtesy of a selection of blue textiles dressed indulgently across wood framed beds. Perfect for kids and adults alike!
Next week we're heading back inside the main cottage for our penultimate Season 3 reveal. Jeesh, we can hardly believe that time has flown so quickly. In a fit of designer whiz we'll be transforming Ikea cabinetry into a modern rustic cook zone. We call it our 'Ikea kitchen in drag'. It's a massive (but affordable) mix of store bought staples, carpentry one offs and objets trouvees found in craft stores and garage sales across Canada. We promise you won't be disappointed!
Cabin Pressure airs on Cottage Life, Sundays, at 9 p.m.
Colin and Justin are resident judges on Game of Homes, catch the final episode - Tuesday, W Network, 10 p.m.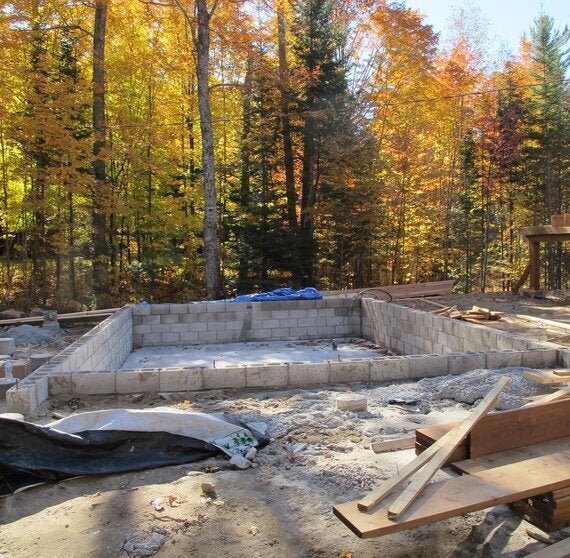 The square cut log structure takes shape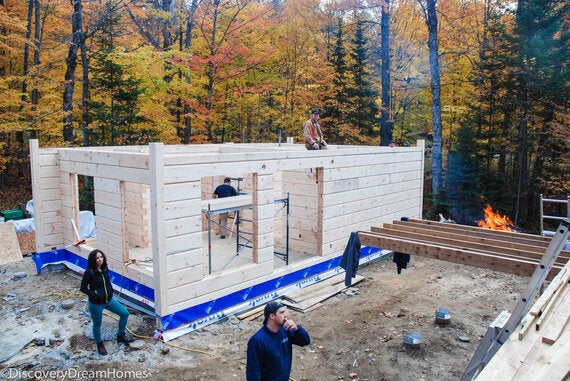 The pitched roof provides height and architectural stature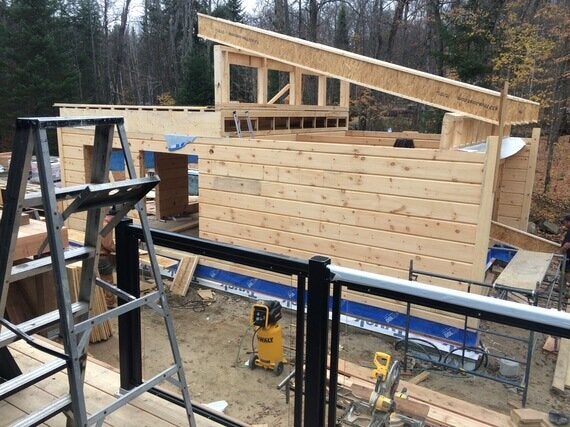 A perfect mix of modern and rustic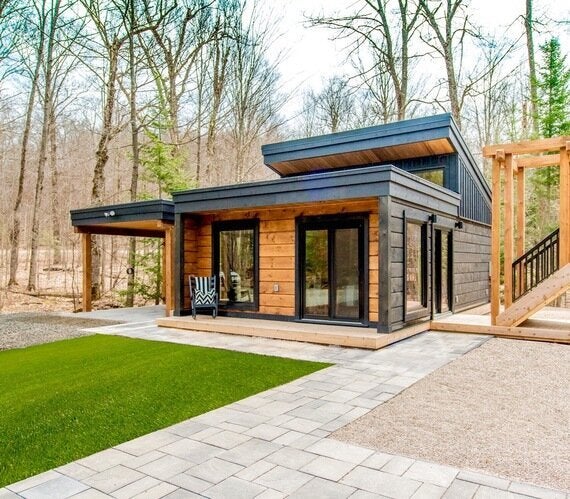 Our 'mini-me' Bunkie echoes the modern style of the main cabin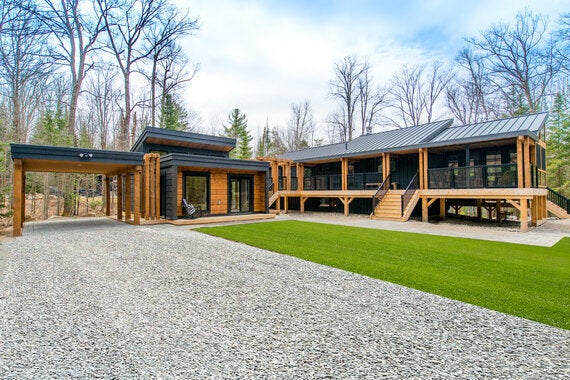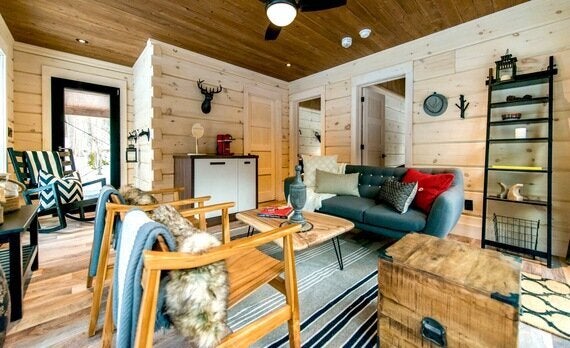 Our Canadian plaid double bedroom