We're living in a golden age of sleep science if you ask Arianna Huffington.
And that's not even the good news. According to the founder and CEO of Thrive Global, employers are smelling the coffee when it comes to the price of sleep deprivation.
"Business leaders are waking up to the high cost of sleep deprivation on productivity, creativity, health care and ultimately, the bottom line," says Huffington.
In Canada, nearly one in four workers have called in sick over sleep-related issues. In the U.S., corporations have attached a price tag to poor sleep.
"2 Minutes To Transform" is your guide to small but meaningful changes for a better you. Experts share their tips to transform your life at home, in the office or while you're on the go -- all in under two minutes.
Arianna Huffington is the former editor-in-chief of The Huffington Post, a website she co-founded in 2005.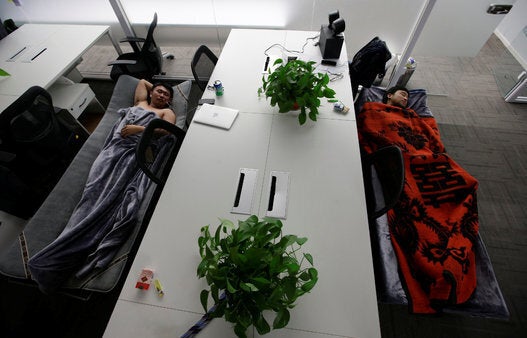 China's Tech Sector Takes Sleep Seriously