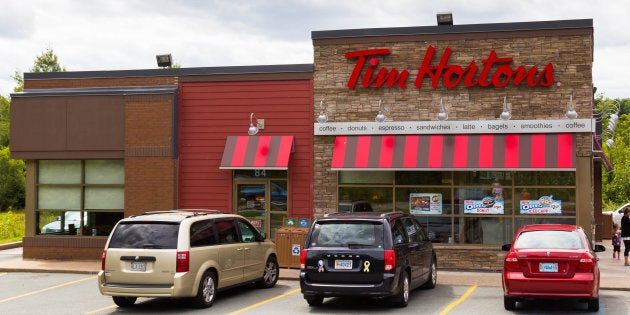 It's a situation dads and male caregivers still find themselves in frequently.
You're out in public or a restaurant with a baby or small child. Inevitably, that child soils itself (probably the moment your food arrives, because babies have a real knack for timing), but when you get to the men's bathroom to change the child's diaper ... there's nowhere to do it.
In a series of tweets to Tim Hortons, Webb said he was "shocked and humiliated" that he had to use the women's bathroom to change his son's diaper in a Montreal-area restaurant. He noted that the staff "went out of their way" to let him use the bathroom, but added that in 2018, both bathrooms should be equipped for changing diapers.
"Getting out the house with my 1 year old and going for lunch shouldn't mean that I have to explain myself to women as to why I'm in the women's bathroom. Bringing this up to the supervisor in the restaurant I was told 'it's ok the women don't mind'," Webb said on Twitter on August 3.
In an interview with CBC Montreal's Daybreak, Webb — who lives in Pincourt, Que. — explained that he'd taken his son Owen out for lunch while his wife was getting a haircut. When Owen needed his diaper changed and Webb realized there were no change tables in the men's bathroom, a supervisor suggested he use the women's bathroom, Webb said.
A woman who walked in while Webb was in there seemed startled to see him, and asked if he was in the wrong bathroom before walking into the stall next to his, then leaving, Webb said.
"Then she turned around and left. She clearly felt awkward," Webb said. "As we left, the lady was outside. I apologized. She said, 'It's OK, I have children too.'"
Tim Hortons will roll out change tables in men's bathroom across Canada
Tim Hortons released a statement on Monday explaining its new restaurant layout will include change tables in the men's bathroom.