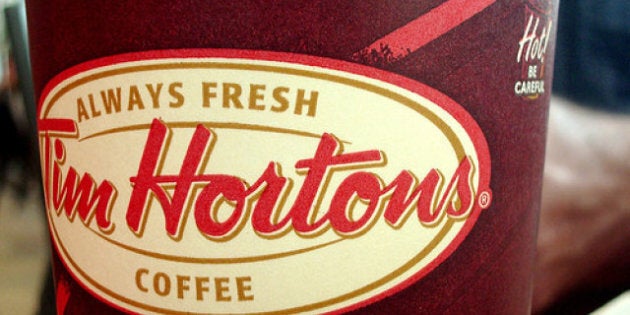 Everyone's favourite summer dessert is teaming up with Canada's favourite coffee.
Available across the country at more than 100 Tim Hortons and Cold Stone Creamery locations, the ice cream joint will offer 'Double Double' ice cream and ice cream cake as part of their signature collection.
""Double Double fans will recognize it right away," Andrea Hughes, Cold Stone Creamery Canada's resident ice cream expert, said in a press release.
A Double Double is a common phrase in Canada for a cup of coffee made with two sugars and two creams.
This isn't first time the two brands have teamed up to launch a frozen product. Earlier this year, they launched the apple fritter doughnut ice cream, inspired by one of the Tim's most popular pastry treats. Coffee competitor Starbucks also has a line of popular drink-flavoured ice creams, everything from coffee to frappuccino -- but fortunately for Tim Hortons these aren't yet available in Canada.
The company will be introducing a new extra-large cups size which holds 710 millilitres (or 24 ounces) and change the names of all their cup sizes according to a Tim Hortons spokesperson. So the large is now a medium and your medium is a small. But a double double remains the same across the board.