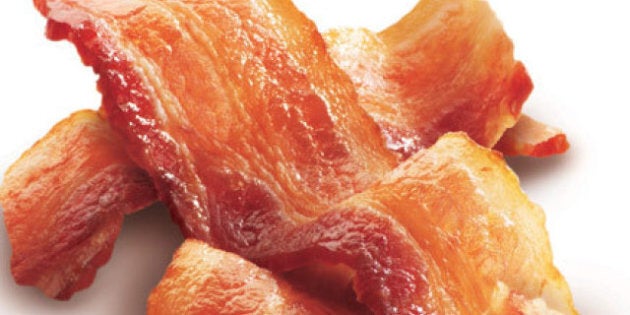 Earlier this week Tim Hortons rolled out its new hickory smoked thick-cut bacon in an attempt to stay competitive in the all-out bacon war sizzling across fast-food outlets, restaurants and kitchens across North America.
"We know our guests love and crave the taste of bacon, so we wanted to give them the best bacon we could," wrote Donna Finelli, Tim Hortons, Vice President Marketing, Food and Merchandise.
We consider ourselves pretty bacon-savvy here at the HuffPost Canada headquarters (or as we call it, the BaconDome) so we thought we'd try out the new Tim Hortons' bacon. To see if it meets our discerning standards, we tried it on the BLT and the turkey club.
"It's better than most fast-food bacon and for that it gets a thumbs-up. It's not better than the stuff I cook up at home on Saturday morning though." - Ron
"It's less crumbly than their normal bacon and they've stacked it on the sandwich differently than they usually do. Is also more smoky and less salty." - Katy
"When I first looked at the sandwich I was kinda surprised. "This is what they call thick cut bacon?" But in the end, the bacon tasted all the same: salty, slightly smoky but in no way different to what I've had from Tim Hortons in the past." - Brian
"Just tastes like regular bacon. Which is inherently a good thing, but there's nothing special about this Timmie's bacon -- it even strikes me as sliced slightly thinner than average, and I thought it was meant to be thicker. I think it should taste slightly doughnut-y. That would be both novel and logical." - Lisa
"Definitely thicker but I didn't notice any difference from the previous bacon." - Brodie
"Tastes like your typical breakfast diner fare. Satly and meaty, yet dry. Almost jerky-like in texture. Meh for mediocre." - Claire
The bacon is now available at Tim Hortons across the country on breakfast and regular menu items.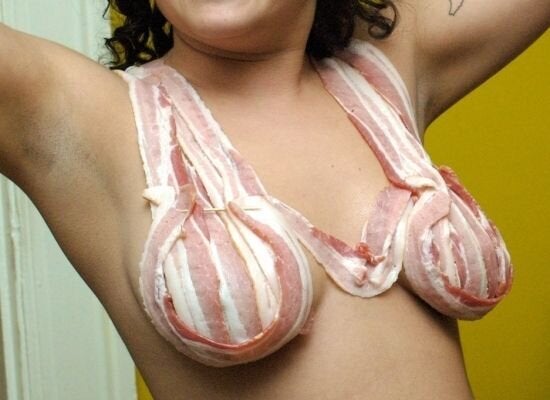 Things Made Of Bacon That Probably Shouldn't Be