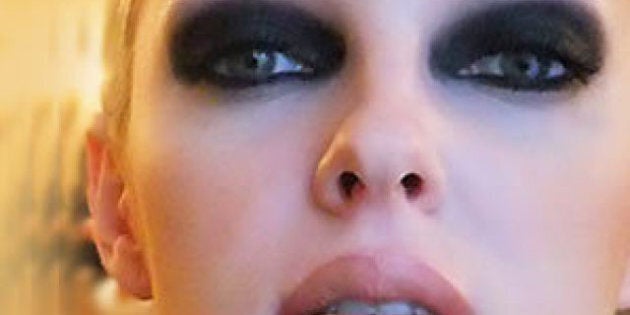 I am sad to see the curtain close tonight on this year's Toronto Fashion Week. I'm so proud of our Canadian talent and what they're bringing for the upcoming fall/winter seasons. Although I'm thrilled that spring is finally here, I keep finding myself thinking about all of the great pieces that I want for fall...
One of my Fashion Week highlights was the Greta Constantine show last Friday night at the Arcadian Loft. Designers Stephen Wong and Kirk Pickersgill are truly among Canada's best. They have a real flare for flattering a woman's frame. I've always loved how their jersey fabrics drape in a way that works for all body types and sizes. Clothing you can wear and still enjoy a burger... with cheese!
This latest collection was powerful and seductive, featuring a jewel-toned palette of emerald green, indigo blue, white and smoky grey. The show-stopper for me was the all-black finale! I almost felt as though the black portion of the collection was designed with me in mind... The skinniest parts of my body are my ankles and waist, and these pieces are a great way to showcase both! They had figure-friendly A-line dresses that still managed to keep their edge and many of the pieces had full open backs. (Which is perfect because my back is also one of my skinnier areas!) Have a sneak peek at their Fall 12 line below...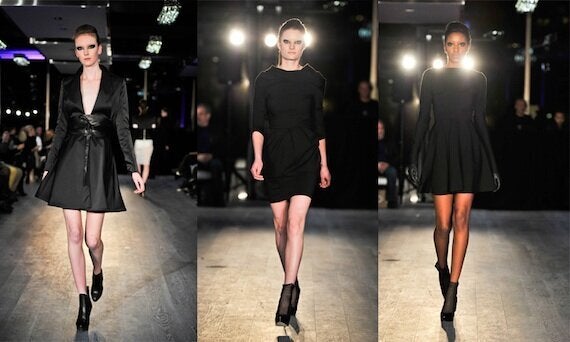 I found myself really paying attention to the beauty at all the shows, the nails in particular! Manicures are definitely having a BIG moment and essie's seasonal shades were all over Fashion Week at Pavoni, Chloe Comme Parris, Soia & Kyo, Matis by Lucian Matis, Ezra Constantine, Pink Tartan and Rad by Rad Hourani. essie revealed their latest nail trends, including new collections: Neon and Bridal. It almost makes me want to get married... AGAIN... just kidding! I'll commit to a weekly polish-change of essie's 2012 "Love and Acceptance" shade instead!!
Not only were the newest essie nail trends revealed at the shows, but I had the pleasure of spending some quality-time with beauty icon and essie founder, Essie Weingarten. (Yes, there is an Essie behind essie). She was backstage at the Chloe Comme Parris fashion show on March 13 showcasing her bold shades and latest colour collections. I really enjoyed chatting with Essie and her lovely husband Max at the show. We share a love of birkins and of being "in love"! Essie and Max were a very sweet example of true love. I also enjoyed Essie's company at the exclusive pop-up essie nail bar we created at our offices on the 14th and 15th. Needless to say... my nails have never looked better!
The fall trend for nails included "gothic glamour" and textured dark nails. In addition to nails, Fall fashion consisted of a lot of studded outerwear, braided hair, tattooed models, chain-strapped shoes, deep purple pouts and smoky eyes to match.
Essie also shared the coolest tip with me -- you can jazz up neutral nude polish shades with a newspaper print! You begin by applying essie's "First Base" base coat, then apply one of their amazing neutral nude shades. Soak a small (approx.. 3") piece of newspaper in rubbing alcohol for a few seconds and press the newspaper onto your nails for about 15 seconds. Apply a quick dry top coat and you're ready to go! Trust essie to bring us the latest greatest trend for nails!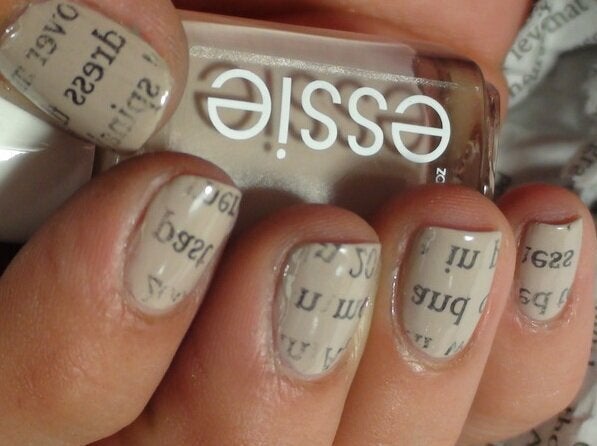 Aside from nails and fashion, I loved seeing some of the most stylish and wonderful people out and about in our city! Stand-out looks of the week included FLARE's Liz Cabral, who brings edge to her chic style and Holt Renfrew's Natalie Lecomte -- always stunning! Susan Chong from SCPR looked effortlessly chic wearing her Greta. Bernadette Morra, editor-in-chief of FASHION Magazine, is always poised and put-together! Monica Schnarre turned heads in a jaw-dropping red Greta Constantine and Sylvia Mantella looked fashionably happy in a floor-length Greta coat. Also loved Anita Clarke's sky-high platform shoes! Editor-in-chief at Zoomer, Suzanne Boyd, looked stunning and fashion-forward -- as far as I'm concerned she is our Canadian fashion icon.
Toronto Fashion Week may not be as frenzied as New York, but the passion for fashion and beauty was running high all week. It's such a thrill to see our country foster such amazing talent and to feel so much fashion in the warm spring air!