OTTAWA — Conservative MPs denied Green Party Leader Elizabeth May a chance to speak Tuesday about Canada's expanded mission against the Islamic State of Iraq and the Levant in the House of Commons.
As the leader of an unrecognized party with two MPs, May needed the unanimous consent of the House to respond to Prime Minister Stephen Harper's address outlining plans to extend Canada's mission in Iraq by as much as a year and to expand airstrikes to include Syria.
May hoped to speak after NDP Leader Thomas Mulcair and Liberal Leader Justin Trudeau had both articulated their parties' opposition to the mission's extension. But she was thwarted by a few Conservative MPs who screamed "no" when Speaker Andrew Scheer asked for unanimous consent.
"That was extremely unusual, and I have to say, little shocks me anymore," she later told reporters.
"I was expecting to be able to speak. I didn't think it would be a question."
Initially, May said a few a Conservatives said "no," and then a lot of other MPs in the chamber, who were shocked that the Tories would try to prevent her from speaking, said "yes" more loudly.
May said it seemed that Scheer was going to give her the floor after he looked down toward Conservative House Leader Peter Van Loan, who was saying yes. In the end, however, Scheer had to rule that the Green party leader could not speak.
"One voice that says 'no' is enough to deny unanimous consent so I was denied the right to speak by the Conservatives," May told reporters.
She said this was the first time in four years she had been denied the opportunity to speak in a similar situation. Last October, she was given a chance to lay out her reasons for opposing the mission against ISIL in Iraq.
The Green party leader also took to Twitter to say Tory MPs were behind the "shocking" snub.
Trudeau tweeted that the move was "petty and disrespectful."
"The Conservative party doesn't like to hear from the voices of opposition members," May told The Huffington Post Canada.
If she had been allowed to speak, May said she would have started off by saying she was gratified to hear that Canada's humanitarian efforts were working and that Canada was helping to feed Iraqi children.
That is exactly what Canada should do, she said, because the humanitarian crisis was sowing the seeds of future radicalization.
Then, May said, she would have raised concerns that actions in Syria would de facto help strengthen Bashar al-Assad's repressive regime.
"This is a place where you don't decide to act like you're a superhero in a comic book. You've got to think it through," she said.
"The road to hell is paved with good intentions," she added. "This is a complicated region… Today's good guys are tomorrow's bad guys. We liked ISIS when they were against Bashar al-Assad, then ISIS turned into this horrific, illegal claimed caliphate."
The Green party leader said she will not support the military mission in Iraq or Syria because it lacks clear goals, it doesn't have the backing of international law and she doesn't trust the prime minister to be truthful with Canadians about the mission.
The Green party's point of view, she added, is that any international mission needs to be sanctioned by the United Nations or it is illegal. She told reporters she could see a peacekeeping role for Canadians, in which Canadian Forces would protect vulnerable aide workers and help secure refugee camps.
May noted that she was the only MP to vote against the bombardment of Libya. She told reporters she did this because she was worried that regime change would bring something far worse than Moammar Gadhafi. "I think now we would say that ISIL is worse than Gadhafi."
The bombing mission in Iraq and Syria also worries her because it carries several risks, she said.
First, it plays into the propaganda potential for claiming that the West is at war with Islamic nations, she said. "The language that Stephen Harper has been flirting with is reckless and unwise."
Second, she said, is the concern that Canada could be drawn into a deeper military conflict. "Syria is a country in the middle of a civil war and we are about to blunder in there without knowing what we are doing."
May told reporters she thinks Harper is purposely playing politics with the mission and is trying to scare Canadians into thinking they are at war so they will rally around the flag and support his Conservative party during the fall federal election.
"I think the prime minister who knows that a country that is at war tends to have more support for a leader than a country that is at peace," she said. "There are other critical issues for Canadians to be talking about but we are not going to be talking about any of them, while we are talking about going to war in Syria, and Iraq and fighting terrorists under every bed."
"It is important to rally around the leader when you are a country at war," May added. "Fortunately, and thank God, Canada is not a country at war. The fact that Stephen Harper wants us to believe it is, I believe, is part of his re-election strategy."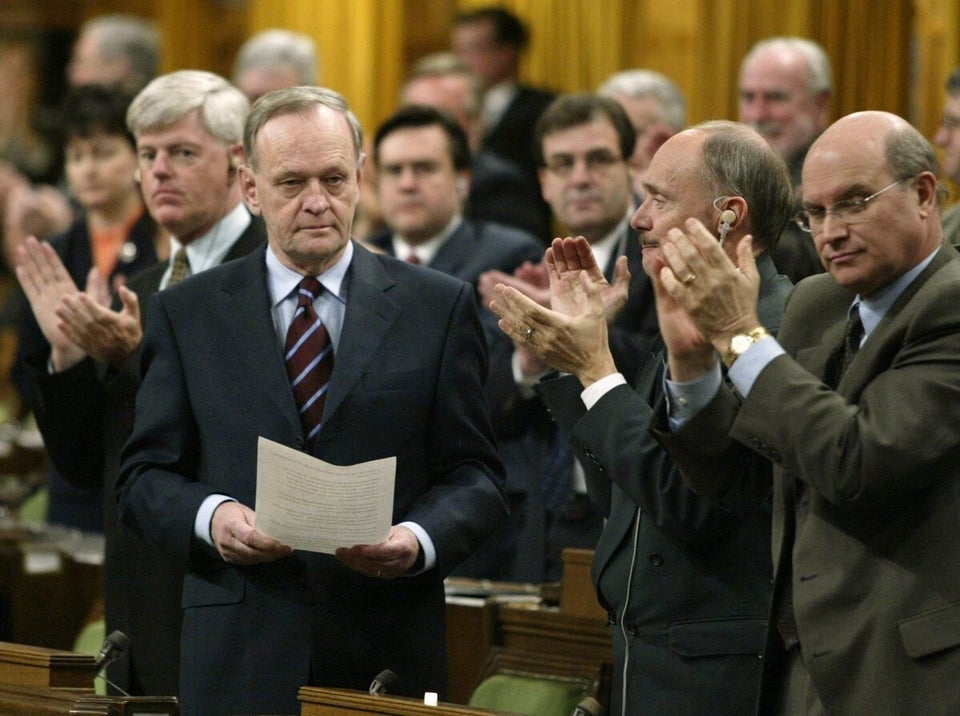 What Leaders Said About Iraq In 2003
Popular in the Community