Conservatives are once again urging Canadians to question if Justin Trudeau has the judgment to be prime minister after the Liberal leader dropped an "f-bomb" at a charity boxing event on Saturday.
But Trudeau says that while he received "a talking to" from his wife, he won't be taking any criticism from the Harper government.
Trudeau used profanity while addressing the crowd at the Fight for the Cure — a fundraiser for The Ottawa Regional Cancer Foundation — in Gatineau, Quebec on Saturday night. Trudeau participated in the event two years ago, famously defeating then-Tory senator Patrick Brazeau and, in the process, giving Grits something to cheer about.
The Liberal leader got animated while discussing what it feels like to step in the ring and fight. His remarks were captured on video and posted to YouTube.
"I'm going to tell you, there is no experience like stepping into this ring and measuring yourself," he said.
"All the — your name, your fortune, your intelligence, your beauty — none of that fucking matters."
The remark drew some cheers and applause, but the Prime Minister's Office wasn't impressed.
Tories have tried to paint Trudeau as a lightweight since he took over as Grit leader last April, suggesting he has little to offer beyond a famous last name.
Trudeau's reference to one's name, fortune, and "beauty" sparked chatter online that he was talking about himself and not, as The Ottawa Citizen's Glen McGregor put it, some "abstract pugilist."
Trudeau spokeswoman Kate Purchase told McGregor via email that the Liberal leader was "speaking candidly as a passionate fan of boxing."
The Liberal leader told reporters Monday that he let his "emotions run a little hot."
But Trudeau added that the Harper government is hardly in a position to criticize anyone over judgment when it is dealing with issues like the Senate spending scandal.
Of course, the incident will remind many of when his dad, Pierre Trudeau, allegedly mouthed the f-word in the House of Commons in 1971. Pierre Trudeau told reporters he was actually saying "fuddle duddle."
And this is not the first time Trudeau has faced criticism for cussing.
In 2011, Trudeau lost his temper during question period and called Tory MP Peter Kent, then the environment minister, a "piece of shit."
At the time, Trudeau offered up a mea culpa in the House after question period concluded.
"I lost my temper and used language that was most decidedly unparliamentary and for that I unreservedly apologize and withdraw my remark," he said.
Trudeau told The Canadian Press in December that he believes Canadians will forgive him the occasional gaffe because he believes they would rather have a genuine politician who isn't afraid to speak without a script, and is willing to deviate from talking points.
"I'm reassured that, yes, even though every now and then I give a little extra fodder to my opponents to try and go after me, ultimately I'm right in trusting Canadians that they will understand that my focus is entirely on trying to serve them in the best and the realest way that I possibly can," he said.
Do you think this incident reflects poorly on Trudeau's judgment? Tell us in the comments.
With files from The Canadian Press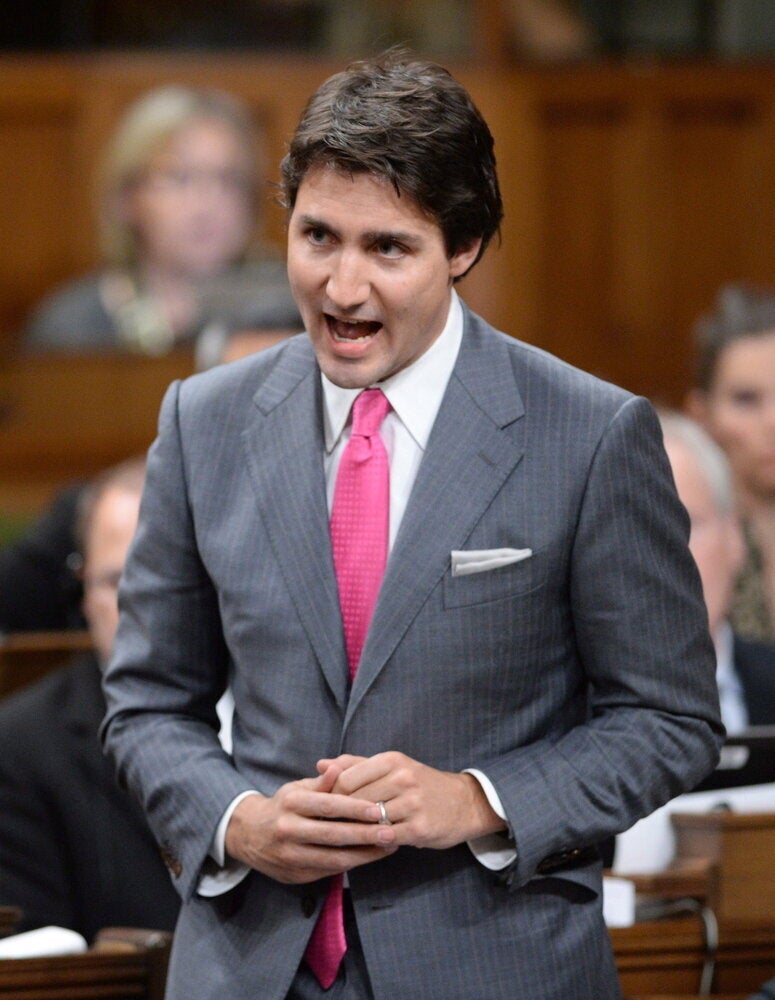 Recent Justin Trudeau Gaffes