Move over trick or treat, there's a new gig in town and it's called trunk or treat. Originally started by church groups with the aim of providing a safer environment for trick-or-treaters on Halloween, trunk or treat involves a community coming together in a parking lot, either on the 31st or shortly before, so that children can trick-or-treat out of the decorated trunks of their cars.
If trunk-or-treating hasn't hit your town yet, odds are it soon will because the door-to-door alternative is gaining in popularity, owing in part to the convenience inherent in condensing a large volume of candy into a small area (read: less walking), but mostly for the opportunity it affords holiday decor enthusiasts, to get creative with their trunks.
Like anything, however, trunk or treat has its detractors. I for one, feel a little uneasy about this threat to good old-fashioned trick-or-treating.
As a kid, I pushed myself on Halloween, knowing that the further and longer I walked (with my dad and sisters), the more candy I got. The physicality of pounding the pavement is more important now than ever considering that only nine per cent of Canadian kids are getting the 60 minutes of heart-pumping activity they need each day.
Trick-or-treating also affords the opportunity to meet or reconnect with your immediate neighbours who you might otherwise never see, fostering an important sense of safety and belonging in your kids.
That being said, I would probably take the kids to a trunk or treat event if an invitation was extended -- for the opportunity to meet new people and for the fun theme trunks -- but you can bet your Original Halloween Kiss, that we'll be roaming the streets of our 'hood on October 31 as well!
Click through the gallery to see some of the amazing thematic trunks people have created for trunk or treat celebrations!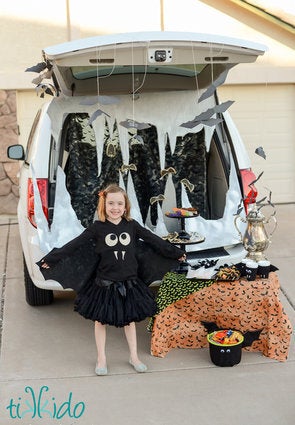 9 Trunk Or Treat Ideas That Will Stand Out In The Lot
Popular in the Community