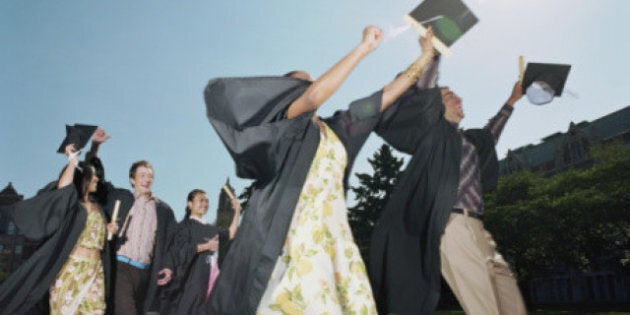 With the kick-off to Ontario's 40th general election on Oct. 6, The Huffington Post Canada kicks off its coverage with lively, ongoing debates between three of the smartest and most plugged-in politicos in the province: John Duffy arguing for the McGuinty camp; Jason Lietaer (@jasonlietaer) in Hudak's corner; and Heather Fraser (@ottawafraser) duking it out for Horwath. Check in with HuffingtonPost.ca every weekday for the freshest and best election coverage on the web.

New topic. Let's talk education.
Today at Ryerson University Andrea Horwath unveiled her plan for post-secondary education. No surprise, Horwath and the NDP think the costs of education are too high -- leaving a post-secondary degree out of reach for too many and debt loads too high for those who go.
An Abacus poll just out says that 72 per cent of parents are worried they won't be able to help pay for their child's post-secondary education. With tuition fees in Ontario the highest in Canada and the lowest per student funding, it's no wonder people are worried.
Horwath's got a plan to freeze tuition fees over the course of mandate and compensate post-secondary institutions for the loss of revenue. The NDP will also eliminate the interest on the provincial portion of student loans.
Meanwhile the Liberal's are running on a plan to reduce tuition by 30 per cent. A likely story. The Liberals have picked a fine time to notice the problem. Just like on other issues, the Liberals want us to believe they'll do something when the record shows they won't. Over the last five years undergraduate tuition has risen by 30 per cent. So with a Liberal government what's to stop us being back here in a few years?
In other news a question for John: Will Dalton McGuinty be joining Horwath and Hudak for a northern Ontario debate? Just wondering how many chairs to put out.

Today was an important day for the NDP campaign, releasing several major planks. Tomorrow, we are told, the party will go to air with a major wave of advertising aimed at positioning Ms. Horwath as a refreshing, apolitical voice. As one paper called it, "Jack Layton lite." So the NDP are seeking to make their move.
Two questions for Heather. First, will the migration away from the traditional NDP offering make it harder for this pitch to resonate by raising the question of just how apolitical Ms. Horwath's party really is? Second, will the optimistic and respectful tone struck by Mr. McGuinty's campaign to date have already occupied some of the space into which the advertising will seek to insert the NDP?

Heather, thanks for starting us off on education. Great topic.
Hudak likes to talk about education as "the great equalizer." When I hear him talk about this, I always get inspired. His parents were both teachers, and he's told me a few stories about his dad being the local principal. Not the greatest situation when you're hanging with your friends creating mischief in high school. Education is the one issue that -- although all the party leaders generally have different ideas on how to get there -- I believe they all have the same goals. We like our post-secondary plan -- 60,000 new spaces and better co-operation between colleges and universities. We're also going to raise the thresholds for OSAP so more middle-class families can get help.
I was a bit floored by John's suggestion that Dalton McGuinty is running an "optimistic and respectful" campaign. Don't get me wrong -- over here in Tory headquarters we don't expect any sympathy, but it I hear this claptrap every Liberal campaign and snort a bit of water out my nose every time. In the past few days, Mr. McGuinty's campaign operatives have handed out Chicken McNuggets, phony gag bracelets to concerned parents, and called those same concerned parents "Tory stooges." Really respectful. Just be honest -- it's a rough and tumble campaign and Dalton McGuinty is right in the middle of it slinging arrows.
The northern debate? Or as Dalton McGuinty calls it: Due South. It looks like there's going to only be two chairs. It's a real surprise that McGuinty is ducking. I would have thought he would have loved to have another crack at his less-experienced rivals. I'm also surprised that he turned our offer down to pay for the videoconferencing link if he wanted to stay in Toronto. We costed it in the platform and everything.
I also see that Dalton is headed to Windsor tomorrow. This is a fascinating discussion that I would like to hear John talk about. Rhetoric aside -- Ontario has lost some of its manufacturing base over the past 8 years. Do we really believe that solar and wind energy is the answer? It seems as though Dalton McGuinty is throwing all of his eggs in that basket. What if it fails like it did in Europe and Texas? What's the backup plan?
Scary thought when you watch the religious fervour of McGuinty on this. He's throwing all our resources into it. What if he's wrong?