OTTAWA — Conservative MP Maurice Vellacott is urging federal party leaders to use the Charter of Rights and Freedoms' notwithstanding clause to delay implementation of the Supreme Court's decision on physician-assisted death.
On Friday, the top court unanimously struck down a Criminal Code ban on doctor-assisted suicide, saying the law infringes on the right to life, liberty and security of the person in a way that is not in accordance with the principles of fundamental justice.
The nine justices gave Parliament one year to draft new legislation that would recognize the right of consenting adults suffering from intolerable physical pain or mental illness to seek medical help to end their lives.
Vellacott told The Huffington Post Canada on Tuesday that he is deeply troubled by the ruling.
"At some point, possibly, you are going to have … involuntary euthanasia or at least, maybe not publicly talked about ... doctors taking it in their own hands to hasten the demise of someone," he said.
The MP for Saskatoon-Wanuskewin said he worried that Canadians would lose respect for medical professionals if doctors became "practitioners or executioners" of even voluntarily assisted death.
Parliament needs more time to draft legislation to respond to the Supreme Court ruling, Vellacott said, in explaining why he believes the notwithstanding clause should be used.
The controversial clause was included in section 33 of the charter as a way of ensuring the supremacy of Parliament over the courts. It allows legislatures to implement laws that breach charter-protected rights for a period of up to five years, after which they can be renewed.
Vellacott said he hopes MPs will draft a very restrictive law while providing more resources for palliative care as a way of ensuring few Canadians seek physician-assisted death. But for now, because of the fall federal election, he said MPs don't even have a year to hear from stakeholders across the country.
"It's not possible to do something of this major importance in a span of about seven or eight months and maybe even less."
"I would think and hope that … people of all political persuasions and stripes would say this is a crucial matter, so we need the time. What we're doing is just buying some time."
If parliamentarians do not respond to the court with legislation, Vellacott said it will create an open season "that would be a very serious state of affairs" and lead to a patchwork of legislation across the country, with different provisions in different provinces.
"Parliament needs to respond…. We need to do that with somberness, sobriety, carefulness and seriousness, and we need the adequate time to do that."
Vellacott urged all party leaders to set aside their partisan differences and unite in support of using the charter's notwithstanding clause. But he refused to say whether the Tories should proceed alone if the opposition parties refused to go along with a plan to keep the current law on the books for more than the year the Supreme Court has allowed.
"This is a trap. It's a trap…. I'm not going to respond to a hypothetical question."
The notwithstanding clause has never been used at the federal level, and the provinces have used it only sparingly, although Quebec has relied on it to renew the French-language legislation beyond the clause's five-year sunset provision.
When asked whether the government would use the notwithstanding clause, Justice Minister Peter MacKay told the Canadian Press Tuesday: "don't count on it."
MacKay said the government is looking at existing private members' bills, plans to consult widely and study what other jurisdictions have done.
The Conservative caucus is deeply divided over legalizing the right of doctors to help patients die. Social conservatives, such as Vellacott and Ontario MP Stephen Woodworth, are vocal opponents of the Supreme Court's ruling, while others, such as paraplegic MP Steven Fletcher, are supportive.
Fletcher introduced and has tried to push forward a private member's bill that would allow physicians to help consenting individuals end their life.
In an interview with Global TV's "The West Block", Fletcher said he thought it was "absolutely not" possible that the Conservative government would overrule the Supreme Court by invoking the notwithstanding clause. But he said he thinks there needs to be some legislation to codify some of the ambiguities surrounding consent.
NDP Leader Thomas Mulcair has said he supports Fletcher's private member's bill. Tuesday, justice critic Françoise Boivin told HuffPost "it would be be wholly inappropriate, and in fact shocking, for the government to use the notwithstanding clause."
She called on the federal government to begin a constructive national conversation on medically assisted suicide.
Liberal spokesperson Kate Purchase also said the notwithstanding clause is not an option for the Grits. Delegates at the Liberal party's national convention last year voted in favour of medically assisted death, although party leader Justin Trudeau has yet to stake out official policy. His office said the caucus would discuss the issue at their next meeting.
– With files from Ryan Maloney and the Canadian Press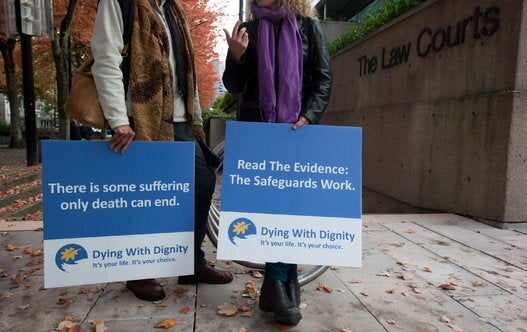 Right-To-Die Laws Around The World