It hasn't been a good week for the Vancouver Canucks. The team limped home after a three-game winless road trip that included a 9-1 drubbing at the hands of the Anaheim Ducks. Well it seems that the foul mood followed the Canucks back home.
The Canucks and Flames decided to begin Saturday night's nationally-televised game with a line brawl seconds after the opening faceoff. The Canucks didn't seem particularly happy that the Flames started the game with their fourth line and coach John Tortorella quickly line-matched. The gloves dropped and before you know it fists were flying.
Two Canucks defencemen got misconducts and both teams racked up more than 140 penalty minutes in the brief exchange. Fortunately goalies Roberto Luongo and Karri Ramo stayed put.
This is what the penalty summary looked like. Yikes.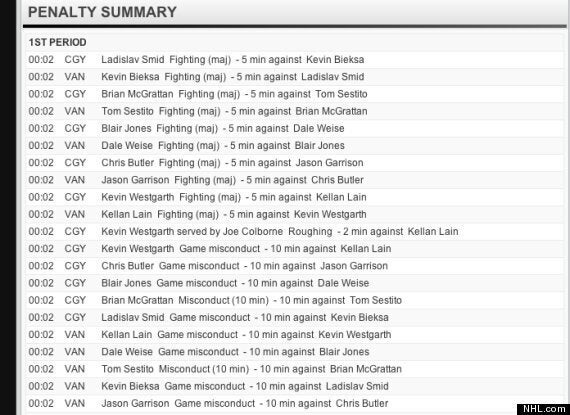 The rest of the first period stayed mean with fights flaring up and misconducts for Vancouver's Zack Kassian and Calgary's Shane O'Brien.
At the end of the first period, Canucks coach Tortorella, ever the voice of calm and reason, went over to the hall outside the Calgary Flames locker room and looked like he was ready to throw a few punches.
Even the Vancouver Canucks' Twitter account was a little chagrined by the fisticuffs.
All the on-ice violence definitely caught the attention of hockey fans across the continent. See some of the reactions below. We get a feeling that the big wigs at the NHL are going to want to have a word with both of the teams after this.