Three years after they met on the SkyTrain, a Vancouver couple tied the knot on it.
Jeff and Nathaly Nairn, 40 of their friends and family, and a band gathered at the Stadium–Chinatown station for the nuptials. According to Metro Vancouver, the wedding took place on a separate track, so members of the public weren't able to join the celebration.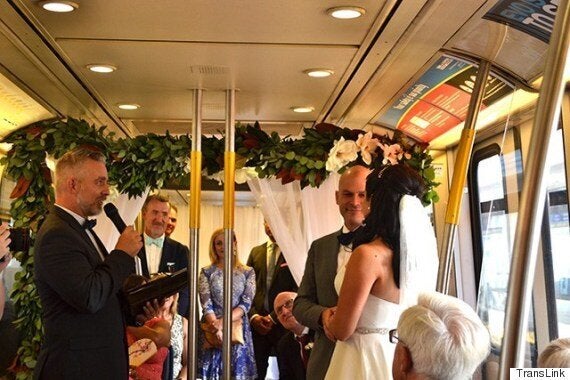 It's the first wedding to be officiated on a SkyTrain.
Jeff and Nathaly's story began in 2013, when the two were commuting on Canada Line. He was coming back from a few business meetings in Richmond, B.C., while she was returning from researching a job opportunity.
Each was aware of how hard it was to connect with people in Vancouver.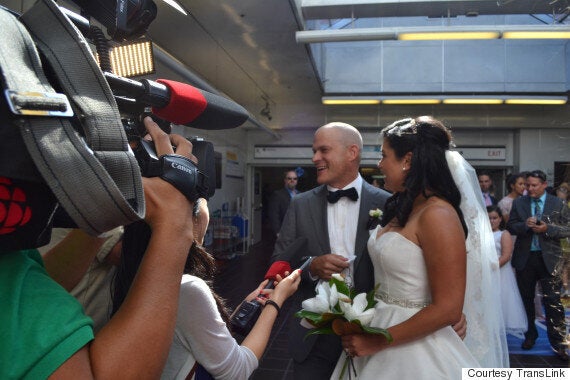 "Both of us had made a decision that day to make sure that we had a looked around, put the smart phones away and become the change we wanted to see in people in the city," they said in a blog post published by TransLink, the city's transit authority.
Nathaly then realized she had seen Jeff before when she had worked at the Four Seasons Hotel.
All she had to do was move forward with a "Hi, I know you." The rest is (public transit) history.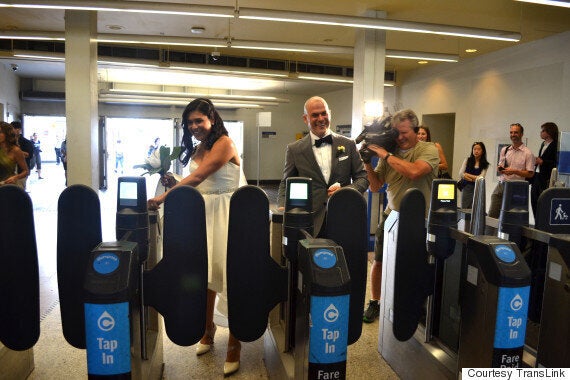 "We didn't dream of getting married on a train," they say in the post.
"The idea came up in very whimsical fashion, way before our engagement, after encountering a group of people that were going to "party" on the train to celebrate Halloween. We thought 'Hey…wouldn't that be fun?' We also thought it would be a lovely way to honour the way we met three years earlier.
Check out more photos of the ceremony in the slideshow below: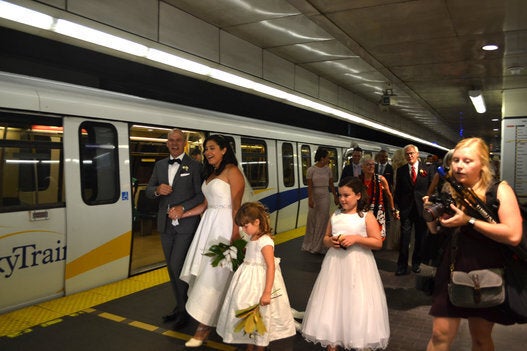 Vancouver SkyTrain Wedding