Perry Ehrlich walks into Vancouver's Norman Rothstein Theatre, passing the 77 kids in the audience. The nervous energy and excitement are palpable.
Immediately one child exclaims, "Hi, Perry!"
He turns and waves, then makes his way to the front of the theatre. It's the first day for this year's musical theatre camp, Gotta Sing! Gotta Dance!
"My name is Perry," he says to the kids, aged nine to 19, and their parents. "If you like me, you can call me…"
He looks into the seats and the kids who've done this before yell, "Uncle Perry!"
He nods. "And if you don't like me, you can call me…"
"Boss!" they respond on cue. But nobody calls him boss.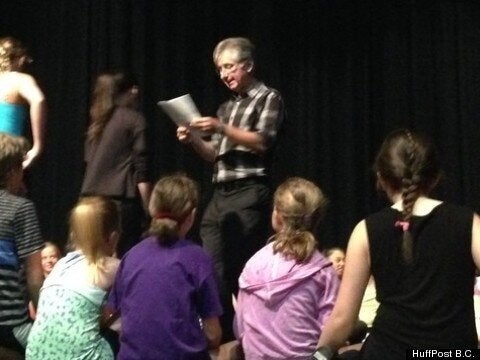 With the beginning of this July session, Gotta Sing! Gotta Dance! marks its 20th anniversary. Ehrlich is its founder, its mastermind.
He is a partner in the Kahn Zack Ehrlich Lithwick LLP business law firm — that's his day job. But in the summer, when the two sessions of Gotta Sing! Gotta Dance! are on, he's better known as Uncle Perry.
Each program runs for three weeks — during which kids shape their singing, dancing, and acting skills — and ends with the performance of a 2.5-hour show, complete with an original script written by Ehrlich and songs from both musicals and the radio. Gotta Sing! Gotta Dance! functions almost like a high school, with participants split into groups based on age and going through the five-hour day by switching from one class to another, each with a different instructor.
"I see the difference [theatre] makes in kids' lives," Ehrlich, who will be 61 next month, tells The Huffington Post B.C. "Because the ability to get up on stage with confidence and to relate with other kids on a team, those are life skills.
"People ask me about the success stories, but those aren't the ones who are on Broadway or touring — they're everybody; they're international lawyers, doctors, teachers … They're all success stories. So that's what it is, it's the ability to use musical theatre to really foster and nurture self-esteem and build self-confidence."
Story continues below slideshow: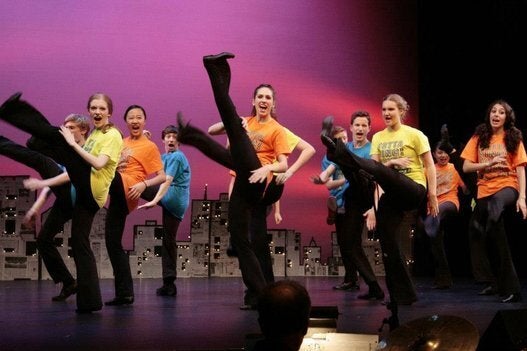 Gotta Sing! Gotta Dance!
Kids must audition for the $750 program, a requirement that allows Ehrlich and his staff to tell who is serious about the opportunity.
Ehrlich is at the theatre every morning to take attendance — that's "poifect attendance" when everyone is present — and returns at the end of every day to wrap up. In between dress rehearsals and script read-throughs, though, he's still a full-time lawyer.
"I don't cut back at my office at all — I just work harder," he says. "It's like I have two jobs."
_____________________________
Back in the theatre for his introductory spiel, Ehrlich is full of chutzpah. When he's with these kids, they have his full attention; they are his world.
He goes through some basic rules (black pants mean black pants, not dark grey pants) and introduces a handful of kids who performed in professional shows and donated some of their earnings to fund the camp's scholarships. Past participants have come from as far away as Israel; a girl from Alabama is here this year.
When his talk is done, Ehrlich asks the parents to leave. It's time for the fun to begin.
He splits the kids up into their groups and starts an icebreaker game where they have to create short skits that incorporate a nursery rhyme.
As they break off and excitedly get to work, Ehrlich slips out, leaving the rest of the day to his trusted staff. It's off to job number two.
_____________________________
Born in Yorkton, Sask., Ehrlich moved to the Vancouver area after finishing law school in Saskatoon. He has short, grey hair and an energetic demeanor; he's soft-spoken and yet brimming with passion to the point that you think he might burst.
He's always loved music; he started playing piano at a young age and spent a summer running a youth musical theatre camp with Vancouver's Arts Umbrella.
Ehrlich originally started Gotta Sing! Gotta Dance! as a place for his daughter Lisa to train.
"I was looking at various musical theatre programs around town and I liked them, but I saw things that they were missing," says Ehrlich, who lives in Richmond with his wife Marilyn. "And I thought, 'I think I could do this.'"
He found a space at the Jewish Community Centre, which is where the program has been run since it began (though it has no religious ties). He gathered the best instructors he could find — all of them work in theatre professionally — and launched what may have began as something for Lisa, but quickly grew into much more.
"I couldn't imagine not doing it [now] because I get so much from the kids," says Ehrlich, whose younger daughter Mandy was also in the program.
"Every year I'm amazed at what kids can accomplish when they're on task and they're pushed not to be the best, but to do their best. It's unbelievable."
And the kids love him just as much as he loves them.
Story continues below video:
Jayme Armstrong, now a professional actress, was in the program for three years, including the summer when she did her first show at Vancouver's Arts Club theatre at age 15. The company's strict agenda led her to miss much of the camp, but Ehrlich made it work.
"I missed [Gotta Sing! Gotta Dance!] so much that Perry let me come back and created a role in the final performance that I could just perform once because of my conflicting performance schedule."
But there's much more to the camp than developing theatre skills.
Perry has the "ability to give feedback firmly yet in a way that always comes across well," says Lianna Philipp, 24. She attended Gotta Sing! Gotta Dance! for five years and is now an accountant. "The work ethic and team building skills I developed from [the program] have been a large part of my success in my professional life."
It's a sentiment echoed by David Connolly, a choreographer and director who worked at the camp for two years.
"I'm in awe of Perry and his commitment and his intention," says Connolly, who couldn't teach this year because he's choreographing a show bound for Broadway. "His intention isn't to produce stars, although that is a byproduct. His intention is to give those kids life skills that they bring with them wherever they go, in whatever they pursue."
_____________________________
At the end of every camp day, when Ehrlich has once again switched from lawyer to loveable Uncle Perry, he gathers his participants in a circle for one last morale boost.
The entire group stands together and, on his command, yells in unison: "We! Are! Fabulous!"
Their hands meet in the middle of the circle and punch down with emphasis on each word, ending with a final fist bump into the air. Ehrlich plants the seed in their heads: they can succeed. They can be great.
The kids chant this every day, and thanks to dear Uncle Perry, they all know it's true.


Popular in the Community