There are times when we fashion enthusiasts have to defend our love for the industry as something more than a frivolous interest. Fashion has the capacity to boost your confidence, to get you that job, to have fun with and, occasionally, to move you. (Don't try to convince The Guardian's Charlie Brooker though.)
However, until recently, that wasn't always good enough for some people. Now, fashion has managed to give itself a purpose other than just making you look darn good. Meet wearable technology: the latest invention of innovative designers and retailers looking to create hybrid products that seamlessly meld our obsession with tech and fashion.
While the design side of things need a little (or a lot) of finessing, we definitely see some potential in the following wearable tech products.
Story continues below slideshow: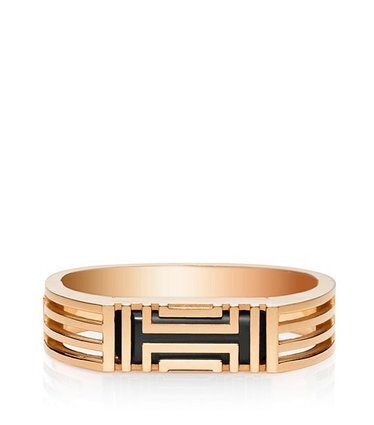 Wearable Tech
Womenswear designer Tory Burch collaborated with Fit Bit to make the clunky Fit Bit Tracker a trendy accessory that can be worn with any outfit. The metal-hinged bracelet comes in gold, silver and rose gold and incorporates her signature design.
Rebecca Minkoff unveiled her wearable tech collection at New York Fashion Week, which included the gold chainlink notification bracelet. The device looks more like a piece of jewellery than a tech device (which we like), discretely notifying you when you have calls and messages.
Ralph Lauren's biometric shirt is one of the first wearable tech products that take the form of clothing rather than an accessory. A conductive thread is woven throughout the shirt which monitors your heart rate, breathing and stress levels. In turn, these can be projected onto your smart device.
Intel and popular high-end retailer Opening Ceremony joined forces to produce the MICA First Bracelet. MICA stands for 'My Intelligent Communication Accessory' and features semi-precious stones and a sapphire touch-screen. You would never guess this chic bracelet does anything more than just serve as great arm candy.
The always charismatic designer Diane Von Furstenberg partnered with Google to reinvent the Google Glass so it would look, um, less dorky. The new incarnation with DVF at the creative helm manages to produce a sleeker design that the fashionable sect may actually want to be seen in. Currently, the product is sold out on Net-a-Porter, which speaks volumes to the improvement.
The Q Bracelet, created by Q Designs, makes a valiant attempt to be stylish while charging your smartphone. The company's goal is to blend beauty and tech to the best of their ability. The Q bracelet is definitely design-forward but could use a little finessing to truly work as jewellery.
These adorable stylish rings manage to overcome what most people have struggled with: create a tech product that's legitimately stylish. These 18K matte gold rings sync with your smartphone to deliver notifications ranging from calendar reminders to emails. They also come in four great colours. We especially love it in onyx.
Dutch designer Pauline van Dongen's Wearable Solar collection includes dresses and jackets that look like they came right out of "The Matrix's" Neo's closet. The structural designs are undeniably cool but again, they require some finessing to really be ready to wear. At this point, we may only wear the futuristic dress if we were in dire need of a battery boost.
It doesn't look these sleek crossbody bags are available yet but we're hoping they will be soon. Everyone loves a GoPro camera and Rag & Bone decided to utilize the technology to film their runway show in a unique way. Models were equipped with very stylish black leather pouches that housed their GoPro cameras perfectly.
The Apple Watch was developed with the help of Burberry boss Angela Ahrendts who was brought on board to lead their retail team and ensure the watch is as utilitarian as it is stylish. Although the watch still looks decidedly techy, it's a vast improvement from past iterations of tech watches.