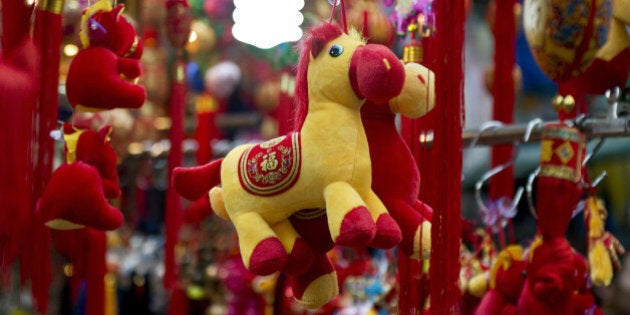 Goodbye, year of the water snake, and hello, year of the wooden horse. The Chinese New Year, or Nónglì Xinnián, is coming up on Jan. 31, the first day of the first month of the Chinese calendar.
The Chinese animal signs are a significant part of the new year, with this year ushering in the horse, an animal signifying unexpected adventure and surprising romance, according to astrologer Susan Levitt. These characteristics are the most pertinent to those born in the year of the horse: 1918, 1930, 1942, 1954, 1966, 1978, 1990, 2002, 2014.
An additional astrological factor that isn't as universally recognized is the element put together with each year: either metal, wood, water, fire or earth. These distinguish the year even further, with 2014 known as the year of the wooden horse, or the green wooden horse, as wood is associated with greenery and nature. (You can find out your specific animal and element using this tool at ChineseAstrology.uk.)
Celebrations for the Lunar New Year include parades, wearing red (it's considered a lucky colour) and enjoying time off work. Modern times, however, seem to have changed the traditional holiday within China, with many disappointed to discover the government had not granted an official holiday on Lunar New Year's Eve, Jan. 30, in the western calendar. According to the Guardian, this is usually a time for families to gather together and have dinner, but due to the modernization of the economy, it was changed.