It had initially planned to depict the "Famous Five," a group of women that fought to see females recognized as persons under the constitution, and Thérèse Casgrain, a feminist and the first woman ever elected to lead a political party in Canada.
As of 2014, no women appear on any Canadian currency, save for Queen Elizabeth II.
The Victoria, B.C.-based creator of Heroines.ca, a website dedicated to highlighting outstanding Canadian women, started a Change.org petition last year calling on the Bank of Canada to display women on the country's money.
And now Forster, whose petition has gained over 48,000 supporters (including prominent author Margaret Atwood), is stepping up her campaign.
She is preparing to launch a website, Women on Canadian Banknotes, in which people are encouraged both to sign her petition, and to come up with their own suggestions for who should appear on Canadian bills.
The tool is simple: you simply go to the website, hit "Generate your Suggestion," upload a photo, and voila, you have a Canadian $100 bill with a prominent woman's face on it.
Forster told The Huffington Post Canada that the intention isn't to suggest who should just appear on the $100 bill, but "any of the next bank notes."
"[I] just hoped that this would be a fun, interactive tool for people to get involved with the Canadian women on bank notes campaign," she said in an email.
Forster was surprised when informed by The Huffington Post Canada last Friday that the site has already drawn heavy interest before it's been officially launched.
Indeed, users have submitted dozens of ideas for women who should appear on Canadian currency, from astronaut Roberta Bondar, to former prime minister Kim Campbell, to country-pop singer Shania Twain.
Some users even tweeted their ideas last week.
One thing is certain: there is no shortage of outstanding Canadian women to choose from.
Check out suggestions that people have for women who could appear on Canadian banknotes: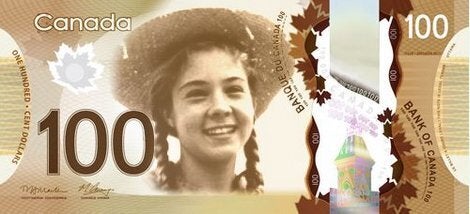 Women Who Could Be On New Canadian Bill