Ladies and gentlemen, meet Shyan Ranje, the man Zayn fans are freaking out over on Instagram for his incredible similarities to the British pop star.
Over the past few weeks, Ranje, a junior editor and stylist at Canada's very own Vulkan Magazine, has gained thousands of followers in thanks to a collection of selfies and #OOTDs that resemble the 23-year-old ex-One Direction member's style. From the platinum blond buzzcut to the well-maintained beard, leather jacket to ripped jeans and pouty camera gazes to drool-worthy black and white photos, the L.A.-based fashionisto is a spitting image of Zayn.
"The Zayn comparisons! It's crazy right now isn't it?" Ranje tells HuffPost Canada Style in an email interview. "I had no idea to be honest until my editor sent me a screenshot of the ELLE magazine posting something about him and I. I was like, 'Wow, this is nuts.'"
But contrary to belief, the new social media sensation, who says his style is "based on his mood," wasn't really shocked by the comparisons to Malik.
"I somehow wasn't surprised much because I went to that GQ Grammy party and literally every friend of [Malik's] thought I was him. I think its even funnier that we have mutual friends that find it hilarious."
As for his newfound fan base, Shyan, who despite working for a Canadian magazine has "never even been to Canada," has welcomed over 2,500 followers over on his Instagram in "about six days."
"Zayn, is that you?" Many Instagram comments read. "ZAYN?!" others ask.
And Twitter users are fans too:
And let's give it up for this fan who noticed the #twinning comparisons all the way back in 2013:
When asked about his new fan base, the stylist, who had no plans of working in the fashion industry prior to him meeting his editor at an event (he was offered a job based on his impeccable style), said he hopes they can appreciate his work.
"That's all that matters to me. I hope their ready to see more fashion and less selfies... I'll drop the occasional one though."
But would Ranje work with Malik? Definitely.
"Yes, I absolutely would. I think he's a very talented individual. I've actually heard some of his new music, it's dope.
He's a hard artist to get a hold of right now but let's just say... we may have something to come one day."
You heard it here on HuffPost Canada Style first, everyone!
So, now lets take a closer look at Zayn and Shyan: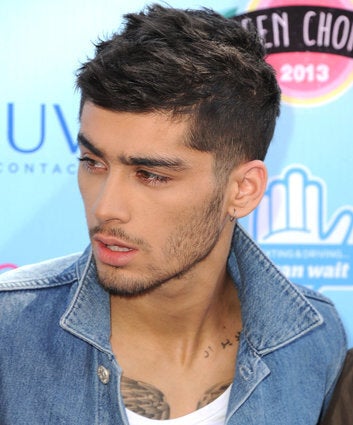 Zayn Malik's 100 Hottest Moments