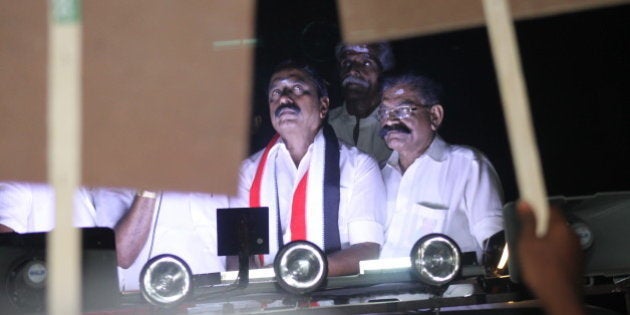 Nestled at the foot of the Western Ghats in western Tamil Nadu is a scenic little town called Gobichettipalayam, locally known as Gobi. This area is famous for its rice fields – rolling green with the misty Ghats providing the backdrop. The natural beauty of this area is such that it has been immortalised on celluloid by the Tamil film industry, earning it the sobriquet of "mini Kodambakkam". Kodambakkam, an area in Chennai, is the hub of the Tamil film world where studios and production houses are concentrated.
It is summer and KA Sengottaiyan is doing the rounds of this constituency in a Mitsubishi Pajero, kicking up dust in his wake as he speeds along. His windows are rolled down and a smile in place, with hands folded in the traditional Tamil 'vanakkam' greeting to people along the roadside.
"Does our leader have to campaign to win?" asks one man to another at a bus stop as Sengottaiyan zips by. Their leader Sengottaiyan is a powerful leader of the All India Anna Dravida Munnetra Kazhagam (AIADMK) and the party's candidate in the Gobichettipalayam seat. A former minister, Sengottaiyan has formidable clout not just in his constituency, but in the entire Kongu region. What locals in Tamil Nadu call the Kongu region consists of the entire western belt of the state – around 50 Assembly constituencies fall within this region.
Sengottaiyan belongs to the Kongu Vellala Gounder caste, a sub-caste of the larger Gounder group of castes, categorised as Backward Classes in the state since 1975. The state's Backward Class category is equivalent to the Other Backward Classes (OBC) category designated by the Central government.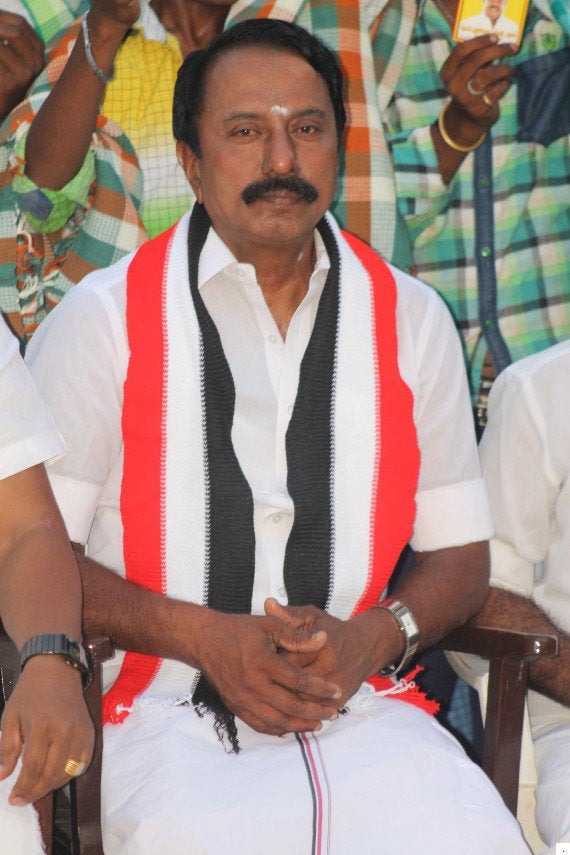 A region dominated numerically and socially by the various Gounder sub-castes, looks at Sengottaiyan as their own. Births, deaths, weddings or pregnancy bangle functions in the area and KAS, as Sengottaiyan is better known, is always present. Sorting out local issues, like getting roads laid, building small bridges and settling disputes have earned him enormous goodwill in the area.
His caste is his ticket to acceptance. In Tamil Nadu, it is common for members belonging to the same caste or group of castes, to refer to each other as relatives, despite there being no familial ties of any sort. Add to that a clean track record – there are no corruption charges against Sengottaiyan – and the picture that emerges is of a powerful local leader whom even rival parties respect.
"You can ask anyone in this constituency, no one will say anything bad about him," said a senior administrator of the ruling AIADMK in the area, Manoharan. "Even the people of the Opposition will first say that he is a good man and only then speak," he added.
The goodwill among the people is evident. Sengottaiyan began his political career in 1975, as Erode District Secretary of the party when he was just 23 years old. A six-time MLA and thrice minister, Sengottaiyan is an old hand. But his political career has not been without challenges.
"I am a diehard fan of the Revolutionary Leader MGR (MG Ramachandran, founder of the AIADMK and former Chief Minister)," stated Sengottaiyan at his home in his native Kullampalayam village. "It all started with fan club work for MGR."
That was in 1972, when popular cine star MGR split from the Dravida Munnetra Kazhagam (DMK) to form his own AIADMK party. Sengottaiyan's devotion to MGR pushed him to join the new party, grabbing the post of Panchayat Secretary of the AIADMK. Later he stood for the local body elections in Kullampalayam and became the Panchayat President.
Whenever MGR visited the Kongu region for electioneering, it was Sengottaiyan who made all the arrangements. Loyalty was rewarded with a ticket to the Sathyamangalam Assembly segment in 1977, where he won, becoming an MLA for the first time. He would subsequently contest from Gobi and consolidate his position.
MGR passed away in 1989, splitting the AIADMK into two factions – one led by MGR's wife Janaki and the other by Jayalalithaa. Sengottaiyan stood by Jayalalithaa, contesting under the 'cock' symbol and won. Both factions would unite shortly after, installing Jaya as the leader. The loyalty to MGR was transferred now to MGR's protégé Jayalalithaa.
Sengottayan is laughingly called "Route Sengottayan". "Whenever Amma (moniker for Jayalalithaa) travels by helicopter to various places for rallies, he is the one who plans the entire canvassing for her," said Manoharan, AIADMK administrator. "The route for travelling, rallies, where to start from and where to end the campaign, all these happen according to his plan," he added.
He entered the Jayalalithaa cabinet for the first time in 1991, taking charge of the Transport and Forests portfolios. Come 1996 and an anti-Jaya wave swallowed Sengottaiyan too. He lost his seat to the rival DMK, his first electoral loss. He was then arrested on charges of maladministration during his tenure as Transport Minister, of which he was acquitted in 2002. These charges meant that he was unable to contest the 2001 Assembly polls. His trusted aide SS Ramani stood in his stead and won the Gobi seat thanks to Sengottaiyan's campaign. 2006 brought with it his next electoral win from the same constituency.
And Then Came The Downfall
In 2011, when the AIADMK formed government, Sengottaiyan was made a minister again. This period would prove to be crucial in his political career. 2011 was also the year when AIADMK supremo Jayalalithaa publicly disowned her close aide and confidant Sasikala, sending her out of her Poes Garden residence in disgrace. Sengottaiyan and his followers, along with some other AIADMK leaders, celebrated Sasikala's departure publicly, bursting fireworks in great glee.
In June 2012 though, Sasikala returned to Jayalalithaa's home and favour. Sengottaiyan's celebrations were not forgotten and he was quickly stripped of his minister's post as well as party post, banished in ignominy to the ramparts.
"A senior leader like Sengottaiyan did not like the rising influence and interference of the Mannargudi family (Sasikala's family which hails from Mannargudi in central Tamil Nadu) in the party," said a close aide of Sengottaiyan on condition of anonymity. "The situation was made worse because some relatives of Sasikala in Coimbatore were instigating people in the Kongu region against Sengottaiyan in an effort to dent his popularity. Enraged by this, an angry Sengottaiyan went straight to Jayalalithaa and complained to her. He also told her that Sasikala and her family were plotting against Jaya, submitting proof of the same," he recounted.
Another reason bandied about for Sengottaiyan's ouster was an alleged affair. AIADMK circles say Sengottaiyan's wife Eswari and his son Kadir complained to Jayalalithaa about an alleged affair. Jayalalithaa, who is known to insist on "purity in personal life" as a slogan for her partymen, is said to have taken swift action on this complaint.
Undeniably though, the clout that Sengottaiyan had in the party was a hindrance to some. His flag was flying high over and beyond the Kongu region, for instance, in the southern districts too when he attended party review meetings. Sengottaiyan's car had a convoy of 160 cars with AIADMK flags fluttering in front. Alarm bells went off in the seat of power at this display of loyalty, a perceived threat to the mighty. "Sengottaiyan's growth in the party was itself a hindrance to him," said his close aide.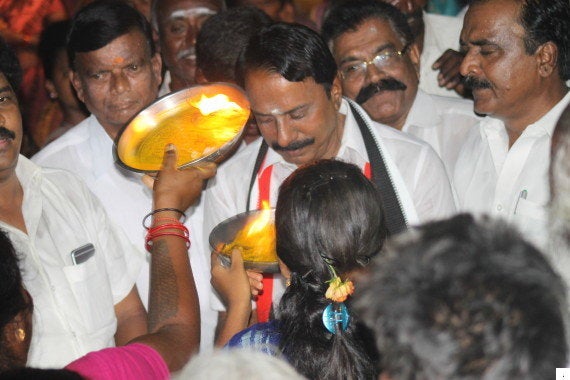 But come election time and Sengottaiyan could simply not be ignored. A man who could win his constituency even without campaigning, is nothing short of an asset. Sengottaiyan was brought back by Jayalalithaa after three and a half years spent in political wilderness.
Palanivel who hails from Kullampalayam, Sengottaiyan's native village, told Huffington Post - "When Sengottaiyan was removed from the minister's post and from all party posts, long queues of people, especially women, went to his house to comfort him. This is the kind of affection that people here have for him. In this constituency there is not a house that he has not visited," he said. "He is a good spiritual man, who never says no to temple functions and donates money generously," he added.
Sengottaiyan will go head to head with Congress candidate SV Saravanan, the candidate for the rival DMK alliance. He is not particularly worried though – he zips across only two areas per day, unlike his rivals who are slogging it out in the heat. Sengottaiyan believes Gobi is his. As it may well be once again in May 2016.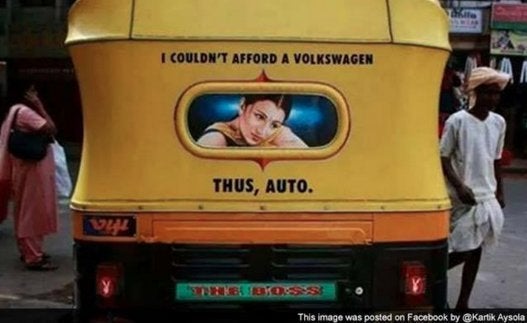 Bumper Stickers In India