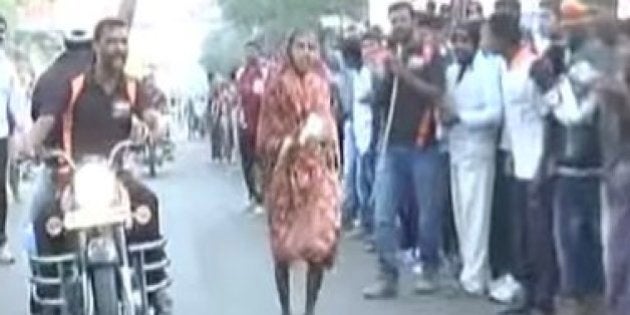 Picture a marathon runner: a woman or a man in running shoes, running shorts or track pants, sweat absorbing vests, making his or her way through a crowd of cheering onlookers. How about a woman in her 60s, running barefoot in a printed cotton saree hitched just a few inches above her ankles? Lata Bhagwan Kare may not come across as your regular marathon runner, but the 67-year-old from Baramati, Maharashtra has been a regular face at some events in the state.
This was the third time she has won the first prize in the senior citizen category in the Sharad Marathon, organised every year in the district. However, Kare took to running neither for the glory, nor for the love of running. A poor farm labourer, whose husband works as a security guard and son has no permanent employment, the sexagenarian figured that running and winning a marathon may earn her the much needed money to run her household.
She tells DNA, that she has always run marathons to pay for needs of the family. Last year, she participated so that she could pay for her husband's expensive heart medicines. The prize money of Rs 5,000 may not be much compared to rewards associated with other marathons, but it's a lot for Kare.
"That time, his head used to spin and he used to have heart pain. That is now under control but he still requires medicines," Kare told DNA.
This time Kare ran the marathon to start pooling money for a house she wants to build.
She ran her first marathon in 2013. "I used to go for morning walks daily, but I had never run. If I had even tried to run, people would have found it strange and they would have asked me uncomfortable questions," Kare said back then, adding that she initially felt awkward running barefoot in a nauvari (traditional Maharashtrian saree drape), but she started to gain confidence soon after. She added that she ran barefoot because she is scared she may trip if she wore her chappals.