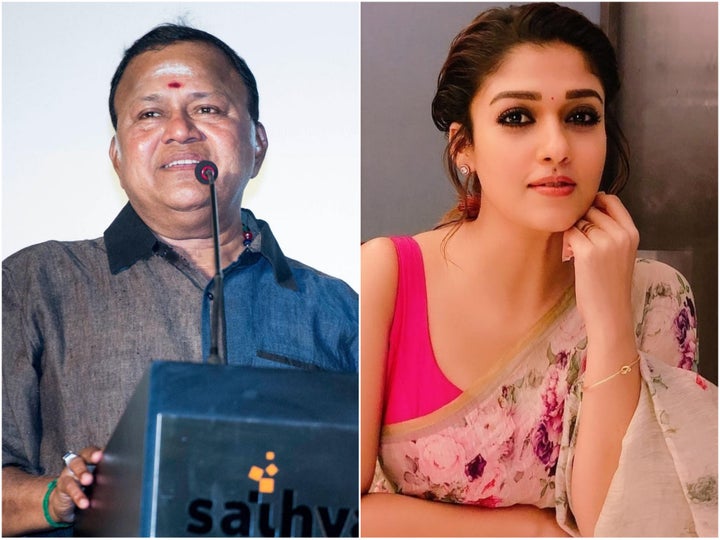 Actor Radha Ravi was temporarily suspended from the Dravida Munnetra Kazhagam after he made sexist remarks about actress Nayanthara and joked about the Pollachi sexual abuse case, NDTV reported.
In response to his comments, which drew outrage from the Tamil film industry and from politicians, Nayanthara released a sharply worded statement.
Ravi made the comments on Saturday at the trailer launch for the film Kolaiyuthir Kaalam in which Nayanthara plays the lead role. The actress was not present at the event.
Nayanthara slammed Ravi's "male chauvinistic" speech but also called people in the audience who laughed at it.
According to The NewsMinute, Ravi had said, "Nayanthara acts as a ghost, and then she goes on to act as Sita as well. She acts as Sita! Earlier, to play the role of a goddess, they would look for [someone like] KR Vijaya. Now, anyone can be cast to play a goddess. They can cast someone who you want to pray to when you look at them, they can also cast someone you want to call towards you when you see them!"
In another comment, Ravi also referenced the Pollachi sexual assault case "What is the difference between a big film and a small film? If you rape one girl at once, it is a small film. If you rape 40 people at once, like in Pollachi, it is a big film," he said, quoted TNM.
"Radha Ravi's comments are unacceptable in DMK which puts women's rights in the forefront. Party cadre should express without indignity and action will be taken on those who violate," DMK president MK Stalin tweeted.
The actor was first called out by singer Chinmayi Sripada on Saturday.
On Thursday, in an interview with the Indian Express , she asked, "Where are those men who fight against rape, while delivering heroic dialogues in films? Where are those heroes who have shifted from movies to politics? What have they done to clean up the film industry?"
Director Vignesh Shivan, who is in a relationship with Nayanthara, had on Sunday said no one from the Nadigar Sangam, the union for film and television actors in south India, would take action against Ravi.
On Monday, actor Vishal, Nadigar Sangam general secretary, said the union had sent out a letter condemning Ravi's remarks.
DMK general secretary K Anbazhagan said Ravi was temporarily suspended "from primary membership of the party and all party posts for breaching party discipline and acting in a manner that brings disrepute to the party."
The party's MP Kanimozhi called the comments "unacceptable".