MUZAFFARPUR, Bihar — The Primary Health Centre (PHC) in Motipur has an air-conditioned Acute Encephalitis Syndrome (AES) ward, oxygen cylinders, a ready supply of medicines, two neatly made beds, but no patients and a skeletal staff of doctors.
Forty kilometres away, the Muzaffarpur district hospital, known as the Sadar hospital has eight beds ready to treat AES patients, but these are empty too.
"We have the equipment and medicines, but we don't have the doctors," said the lone doctor on duty.
The district hospital, this doctor estimated, had vacancies for almost 25 more doctor and nurses. "We only have one pediatrician. Our cardiologist, our surgeon, even our eye specialist, are looking at AES cases," the doctor said.
Five children who were admitted here, he said, had themselves discharged almost immediately. "Their parents did not believe that they could get proper treatment here."
A mere 6 km from the Sadar hospital, children dying of AES are sequestered two to a bed at the Shree Krishna Medical College and Hospital (SKMCH), where doctors, nurses and ambulance drivers work night and day to save as many as they can.
On Monday, June 17, the Bihar government confirmed that over 100 children had died of AES in Muzaffarpur district this summer, 83 of whom died in SKMCH.
Many of these children could have been saved, doctors and nurses told HuffPost India, if the patients had first visited primary health care centres, like the ones in Motipur, or secondary care centres like the district hospital, rather than rushing to already overwhelmed tertiary care centres like SKMCH. These doctors and nurses spoke on the condition of anonymity, fearing reprisals from the state government.
An empty eight bed hospital amidst such a crisis was nothing short of criminal, the doctor from the district hospital said, noting that doctors could be deputed from elsewhere in Bihar, or sent from Delhi, until the worst of the AES outbreak was over.
"There are only around 2,700 regular doctors working against a sanctioned strength of 11,393 in health services," Dr Ranjit Kumar, general secretary of the Bihar Health Services Association told the Hindustan Times in January this year. "As per WHO recommendation, there should be one doctor per 1,000 of population. However, in Bihar, there was one doctor for a population of over 50,000."
Much of the blame for this crisis lies squarely at the door of Nitish Kumar, who — barring a brief interregnum in 2014, has served as the Bihar Chief Minister since 2005.
On Sunday June 16, Kumar's ally in the Centres, Union Health Minister Harsh Vardhan of the Bharatiya Janata Party (BJP), visited Muzaffarpur and promised to build a 100-bed pediatric ward to fight AES, but as the empty beds across the state prove — right now Bihar needs trained doctors more than it needs empty hospital buildings.
Meanwhile on Sunday, Harsh Vardhan's counterpart in Bihar, state health minister, Mangal Pandey (who is from the BJP) tweeted about India's victory over pakistan in the cricket world cup.
10 patients in 4 years.
An animated movie on Acute Encephalitis Syndrome played on a screen at the Primary Health Centre (PHC) in Motipur, 40 kilometre from Muzaffarpur city, only to get stuck at the scene where two villagers awaken to find their son convulsing in the early hours of the morning.
The security guard, who was watching the movie, shrugged and said he did not know how to fix it.
"That happens all the time," said Mingu, the nurse, who was on duty on the weekend. offering to show this reporter the AES ward which was set up in 2015.
In the past four years, the Motipur PHC had received only 10 AES patients, including four in June this year. Over the years, these facilities have garnered a reputation for being a waste of space, lacking in both manpower and resources.
"We are doing our best to tell people to come here first, but people still believe that they will only get treated in Muzaffarpur," she said. "It is difficult to convince them."
PHCs, set up in each block of a district, are meant to be the first port of call for those living in the hinterlands to seek medical treatment.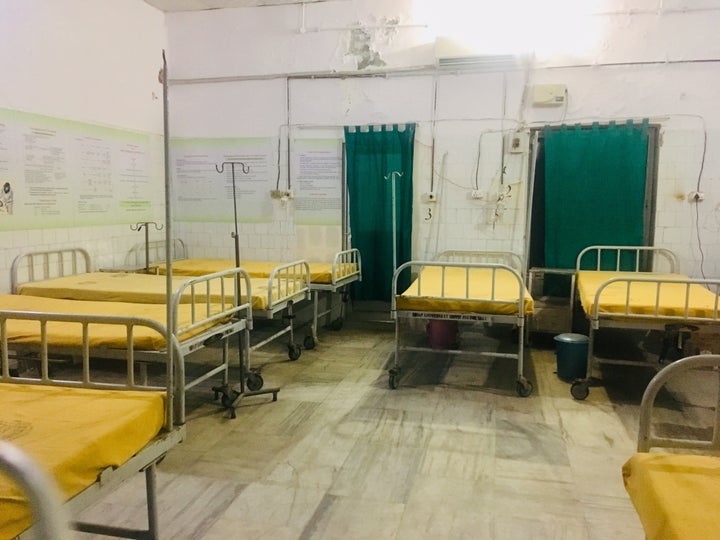 It has taken more than two decades for the PHCs in Muzaffarpur to establish a "treatment protocol" for AES since the first major outbreak in 1995.
This "protocol" involves "stabilising" patients before referring them to a more sophisticated facility like SKMCH. In rare instances, patients are treated and discharged from the PHC itself.
The three PHCs — in Motipur, Mushahari and Kanti — which HuffPost India visited, had an air conditioned AES ward with two beds, stocked with oxygen cylinders and medicines.
These rooms, however, were empty.
At a Community Health Centre (CHC) in Muzaffarpur district, which is bigger than a PHC, the doctor on duty said that government rules required CHC have provided for have 13 doctors, but it had only three.
Speaking on the condition of anonymity, the doctor said, "We are under so much stress."
The lack of manpower, this doctor said, was at every level, from the doctors to the ASHA (accredited social health activist) workers who were vital in spreading awareness about AES and how to guard against it.
Stopping at a PHC could make a difference between life and death, this doctor said, pulling out his mobile phone to play a video of a child who was convulsing when he was brought in.
He then played another video which showed him sitting up in bed.
"We did this here. He was okay in an hour," the doctor said. "If more people trust us, there will be less crowding at the medical college. More lives can be saved."
Fixing PHCs
"This happens every year. Children die, every year," said a nurse at SKMCH as she ran from one dying child to another. "Why does the government let this happen? Why are we never prepared?"
As the AES toll mounts, health department officials are pushing PHCs and ASHA workers to explain basic safety measures to parents: Stop children from playing in the sun, don't let them sleep on an empty stomach, and boil drinking water.
"This needs to be done all the year around, especially at the start of the summer months," the doctor said at the Community Health Centre. "The government needs to take this seriously."
This doctor gave four suggestions:
An ambulance to be provided at the Panchayat level, anganwadi
ASHA workers should distribute Oral Rehydration Solution and ensure children eat before sleeping
School classes should be held in the evening instead of the day to keep children out of the heat and eat in the evening
Immunising all the children against Japanese Encephalitis.
Official data revealed that the highest number of AES cases and fatalities were from Kanti and Mushahari, the two blocks in Muzaffarpur district, which were closest to the Muzaffarpur city, where SKMCH is located.
Records showed that 14 patients had been made their way to the PFC in Kanti in the first two weeks of June, while only five had gone to Mushahari.
Doctors blamed the proximity to the city.
"People don't have the confidence that they will get treated here," said Upendra Chaudhary, the doctor in charge of the PHC at Mushahari. "The government needs to do more to make them aware."
As the state-run medical system falters, most private hospitals in Muzaffarpur have closed their doors to AES patients. The only the exception is the charitable Krishnadevi Deviprasad Kejriwal Maternity Hospital, which is still taking patients.
"The medical facilities in India exist only on paper" the doctor from the CHC said.