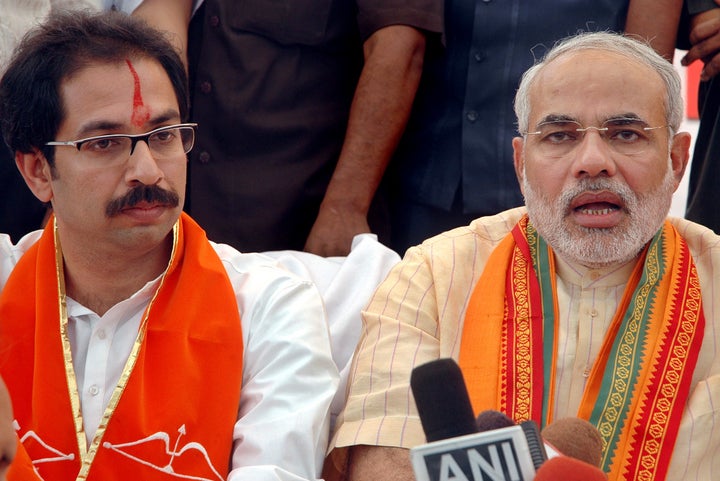 Shiv Sena chief Uddhav Thackeray on Monday borrowed Congress president Rahul Gandhi's jibe to attack Prime Minister Narendra Modi. Addressing a rally in Maharashtra's Pandharpur town, Thackery said "Chowkidar chor hai (the protecter is the thief)."
"A farmer told me that such is the pest attack on crops this time around that even the Neem plant, which is usually used as an antibiotic, is facing pest attack. He told me that he was witnessing this for the first time. I told him this is what is happening everywhere and even those, tasked with protection, are stealing these days," Thackeray told a gathering of Shiv Sena workers at the pilgrimage town exactly a month after his visit to Ayodhya.
Continuing his tirade against his alliance partner in Maharashtra, the BJP, and Prime Minister Narendra Modi, the Shiv Sena chief called the BJP "a sleeping Kumbhakarana".
Thackeray said that the illusion created by the BJP, that the party was invincible, had been destroyed after the recent five-state assembly elections. Taking a dig at the BJP for losing the elections in Chhattisgarh, Thackeray congratulated the people of Chhattisgarh for "cleaning dirt" from their homes.
"Everywhere else people talk of options when it comes to counter the BJP but the people of Chhattisgarh, which is a tribal dominated state, did not think of options or leaders on the other side. They gave priority to cleaning their home first. I am proud of these tribals. It is time for the people of Maharashtra to think on the same lines," he added.
Thackeray, has been a critical of the BJP on various issues, also announced that he would travel to Varanasi if needed, but Hindus of India will not sit peacefully until the Ram Temple was built in Ayodhya.
He attacked the Modi government on the Rafale scam and alleged that the crop insurance scheme was a bigger scam
"If you are giving contracts of planes to Reliance then give bullet manufacturing contracts to Self Help Groups of women... Thousands of rupees have been paid as EMI for crop insurance but the benefit is meager. Senior journalist P Sainath has already said that it's a bigger scam than Rafale. The companies, who have no relation with crop insurance, have been given work of crop insurance. The promise made by the PM to double the farmers' income has also turned out to be a jumla (scam)," Thackersay said.
He indicated that his party might take a pro-farmers line especially after the recently concluded assembly elections in which farmers are perceived to have voted against the ruling BJP.
Thackeray, however, refused to clear his stand on a possible alliance with the BJP in the upcoming elections in Maharashtra.
"I don't want to speak on whether to go into an alliance (with BJP) or not at this point in time. The people of Maharashtra will decide that. I am not a BJP or NDA opponent. They (BJP) remember Ram only at the time of the election. The Hindus may be simple but they are not fools. Now they (BJP) are talking of court decision. Why didn't you go to court before destroying Babari (Masjid)? You carried out bloodshed by destroying it and assumed the throne and then slept like Kumbhakarna...Who has stopped Yogi (Adityanath) from constructing the temple?" Thackeray questioned.