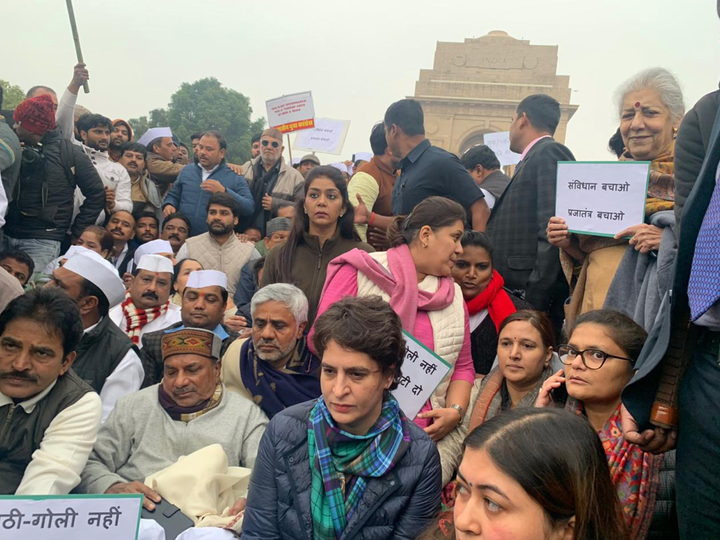 5:00 pm: Priyanka Gandhi, Ghulam Nabi Azad At Congress Protests At India Gate
Even as the Delhi police defended their action against students in Jamia and the Modi government claimed that the Citizenship Amendment Bill will not affect "any citizen of India", protests continued across the country.
The leaders of the Congress party, including Priyanka Gandhi, Ahmed Patel, AK Antony and Ghulam Nabi Azad, among others, assembled at India Gate in Delhi to protest police action against the students.
Here are some photos from the protest:
4:55 pm: Entry Exit Gates To Patel Chowk, Central Secretariat and Udyog Bhawan Shut
3:10 pm: Delhi Police Claims They 'Maintained Restraint'
The Delhi police meanwhile reiterated that they "maintained" restraint at the Jamia Millia Islamia University protests on Sunday. "There are lot of rumours going around over this incident (violence near Jamia), I appeal to everyone especially students to not believe in rumours. Action will be taken against whoever is involved in this incident."
Contrary to Randhawa's claims, videos from the incidents have shown students being brutally beaten, tear gas shells being lobbed at them before they were taken to Kalkaji police station.
2:54 pm: As India Burns, Modi Says Citizenship Act Won't Affect Anyone
Amid massive protests against the Citizenship Amendment Act Prime Minister Narendra Modi has said again that this act won't "any citizen of India of any religion".
He took to Twitter and said, "The need of the hour is for all of us to work together for the development of India and the empowerment of every Indian, especially the poor, downtrodden and marginalised. We cannot allow vested interest groups to divide us and create disturbance."
PM Modi spoke of peace and brother hood a day after the police brutally cracked down on students. "This is the time to maintain peace, unity and brotherhood. It is my appeal to everyone to stay away from any sort of rumour mongering and falsehoods," he said.
1:50 pm: We Condemn Violence By Police On Jamia Students, Says Ghulam Nabi Azad
Congress leader Ghulam Nabi Azad condemns police violence in Jamia Millia Islamia University. In a press conference by Opposition, Azad said, "Agitation has always been a part of student life. The police cannot enter the campus without permission of the VC."
"The country must be told that the police reports to the Centre and isn't not under the state government. We condemn this violence by the police," Azad said.
He said, "There are massive agitations against the Citizenship Bill across the country, irrespective of religion."
1:35 pm: Maoists Separatists Getting Into Student Protests, Says Nirmala Sitharaman
Finance Minister Nirmala Sitharama said she was unaware of what happened on Sunday even as Delhi burned.
She also said that "Maoists" had gotten into the protests to make protests worse,
1:26 pm: Mamata Banerjee Leads Massive Rally In Kolkata
Television visuals showed West Bengal Chief Minister Mamata Banerjee leading a massive on the streets of Kolkata against the NRC and Citizenship Amendment Act.
1:20 pm: Arvind Kejriwal Seeks Meeting With Amit Shah
Delhi Chief Minister Arvind Kejriwal on Monday said he was seeking a meeting with Home Minister Amit Shah over the worsening law and order situation inn Delhi.
"To ensure peace returns to the city immediately, I have sought time from Home Minister Amit Shah for a meeting," Kerjiwal said.
1:04 pm: Will File FIR Against Entry Of Police In Jamia Campus, Says VC Najma Akhtar
Hours after the brutal police crackdown at the Jamia Millia Islamia University, vice chancellor Najma Akhtar said that the administration will file an FIR and said while the college could be rebuild, the mental effect on the students could not be compensated.
Akhtar also dismissed claims that two students had died on campus.
12:45 pm: Maulana Azad National Urdu University Protest In Solidarity With Jamia
In Hyderabad, students of the Maulana Azad National Urdu University protested against the Citizenship Amendment Act and in solidarity with the students of Jamia Millia Islamia University.
12:12 pm: Protests Near Gate 7 Of Jamia Millia University
Students of the Jamia Millia Islamia University protested on Monday morning after a night of violent crackdown by the Delhi police on Sunday. The studetns wore black bands as a mark of protest.
12:11 pm: Mamata Banerjee To Participate In Mega Rally In Kolkata Against CAB
In West Bengal, Chief Minister Mamata Banerjee has said that there will be a "mega rally" against the Citizenship Amendment Act at 1 pm on Monday. Banerjee said on Twitter, "A mega rally will be held today in Kolkata to protest against unconstitutional CAB Bill & NRC. It will begin at 1pm near the statue of Babasaheb Ambedkar on Red Road and end at Jorasanko Thakurbari."
West Bengal governor has criticised the rally, calling it unconstitutional.
12:00 pm: Plea On Citizenship Amendment Act To Be Heard By Supreme Court On Wednesday
Senior Congress leader Jairam Ramesh has challenged the Citizenship Amendment Act in the Supreme Court and his plea will be heard on Wednesday.
Ramesh has challenged the new law in his personal capacity. He had filed the petition on December 13.
"Given the urgent situation that has developed around the rushed and insidious Citizenship Amendment Act, I approached the Hon'ble Supreme Court to hear my matter urgently.
"The Hon'ble judges have agreed to list my challenge to the same on Wednesday i.e. day after tomorrow," Ramesh said on Twitter. (PTI)
11:45 am In Lucknow's Nadwa College, Students Stand Off With Cops
Meanwhile, in Lucknow students had a stand off with the police. NDTV reported that protesters resorted to throwing shoes and stones at the police.
SP of Lucknow Kalanidhi Naithani told ANI that stone-pelting happened only for 30 seconds and students had now gone back to class.
11:35 am: NRC, Citizenship Amendment Act Weapons Of Mass Polarisation By Fascists, Says Rahul Gandhi
Congress leader Rahul Gandhi took to Twitter to criticise the NRC and the Citizenship Amendment Act and called them "weapons of mass polarisation unleashed by fascists on India."
Gandhi also called for a "non violent Satyagraha".
10:51 am: Supreme Court to hear petition against police crackdown tomorrow, 'if violence stops', says CJI Bobde
Senior advocate Indira Jaising sought suo motu cognisance of the police action on students. CJI Bobde said that the court "first wants the rioting to stop". "We have enough experience of knowing how rioting takes place, we know what the rights are. Just because people are throwing stones outside, it is not the reason for the court to decide. Let the rioting stop first," he was quoted as saying by Bar & Bench.
He said that the court will "decide in a cool frame of mind", adding, "prima facie I don't think court can do much. It's a law and order problem".
CJI said that the court will hear the petitions tomorrow, if the violence stops, according to Live Law.
10.40 am: Kerala is opposed to Citizenship Act, says Pinarayi Vijayan
Kerala Chief Minister Pinarayi Vijayan and Leader of Opposition in the state assembly, Ramesh Chennithala, organised a joint protest against the Citizenship (Amendment) Act.
Vijayan had earlier termed the Act as "unconstitutional" and said it will not be implemented in Kerala.
10.24 am: Curfew eased in Assam
Curfew has been relaxed in Guwahati from 6 am to 9 pm, Assam Police Chief Public Relations Officer Rajiv Saikia told PTI.
Night curfew, however, will continue to be in force, he added.
10.15 am: Mamata Banerjee announces rally in Kolkata against CAB and NRC
In a tweet, West Bengal Chief Minister Mamata Banerjee announced that a mega rally will be held in Kolkata today at 1 pm against the "unconstitutional" CAB and NRC.
10:03 am: Planned Attack On AMU, Jamia, Says Jignesh Mewani
9:35 am: AMU To Be Evacuated, UP DGP Says, 'We Maintained Restraint'
The Uttar Pradesh DGP has told NDTV that they will evacuate Aligarh Muslim University on Monday. "We will evacuate Aligarh Muslim University campus today and send everyone home," the DGP told the newschannel.
The DGP also said the police "used a lot of restraint" and "we could have used force; the VC had authorised us."
9:25 am: IIT Madras Students To Protest At Noon On Monday
Students of IIT Madras have called for a protest on Monday at noon in solidarity with students of AMU and Jamia Milia. The protest will happen at the Gajendra circle inside the IIT campus in Chennai.
9:00 am: Jamia Milia Islamia Student Says 'You Attacked My Home'
"I do not feel safe in this entire country, I do not know where I will go and be lynched. I do not know if my friends will be Indian's anymore," the student said to NDTV.
"They have ruined my home, you will understand when your home is attacked like this... Is this democracy?"
Visuals showed students leaving their hostels with their luggage. The student said that she was returning home.
8:55 am: SC Lawyers To Decide Next Legal Course, Says Indira Jaising
Supreme Court lawyers Indira Jaising said on Monday that lawyers of the apex court will decide what legal recourse can be take after the police assault on students last evening.
8:53 am: Metro Services Restored In Delhi
Amid the violent police crackdown on Jamia Milia Islamia university protests, the exit gates to several metro station were shut on Sunday night. However, on Monday reports said that services had resumed in all stations.
The vice chancellor of the Jamia Milia Islamia University, Najma Akhtar condemned the police brutality in a video message saying, "I am deeply hurt by the barbarity with which the police treated my students. The police entering the library and lathicharging innocent students who were studying is not acceptable to me."
"You are not alone in these difficult times," she said.
Videos from the university showed students being marched with their hands up in the air on Sunday evening in the national capital.
Meanwhile in Aligarh Muslim University, police were seen vandalising two wheelers parked on the roads, this was after they tried to crackdown on students trying to march in solidarity with their counterparts in Jamia.
A university official told Scroll.in that the police also beat up staff members and students.
Waseem Ahmed Khan, chief proctor of Jamia Millia Islamia University had told ANI, "Police have entered the campus by force, no permission was given. Our staff and students are being beaten up and forced to leave the campus."