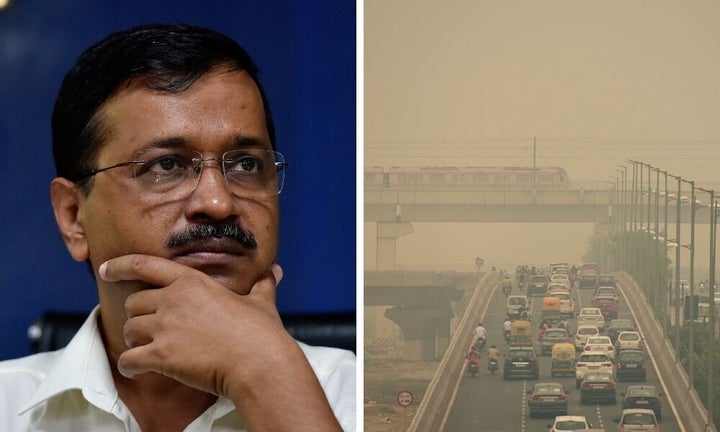 Delhi continued to look dystopian for a third day in a row after Diwali as the thick haze of air pollution continued to block out the sun.
At 1:30 pm on Wednesday the National Air Quality Index showed the AQI in Delhi's Anand Vihar at 459, ITO at 406 and 418 at Lodhi Road.
PTI reported that according to the Central Pollution Control Board, the overall air quantity index of the city was 416 at 11 am.
On Tuesday, the overall air quality index was 414 at 8 pm, worse than Monday's AQI of 397.
As citizens choked, Chief Minister Arvind Kejriwal on Tuesday passed the buck to the Punjab and Haryana governments.
He "pleaded" on the behalf of Delhi's citizens asking them to control crop burning.
The Delhi government has also in the past blamed the government of the neighbouring states for failing to stop crop burning, which is only part of the problem.
People took to Twitter to complain about how their eyes were burning and called the city a "gas chamber".
Some others were just frustrated with inaction from the government, and questioned Kejriwal about what he was doing.
Some threw snark at the people who burnt crackers on Diwali.
AQI is considered to be in the 'good' category when it's 0-50, it's considered 'satisfactory' between 51-100, 'moderate'101-200 , 'poor' 201-300, 'very poor' 301-400, and 401-500 'severe'. Above 500 is 'severe-plus emergency' category.
The AQI takes into account five chief pollutants ― particulate matter with a diameter less than 10 micrometres (PM10), PM2.5, ozone (O3), nitrogen dioxide (NO2), and carbon monoxide (CO).
The higher the AQI value, the greater the level of air pollution and the greater the health concern.