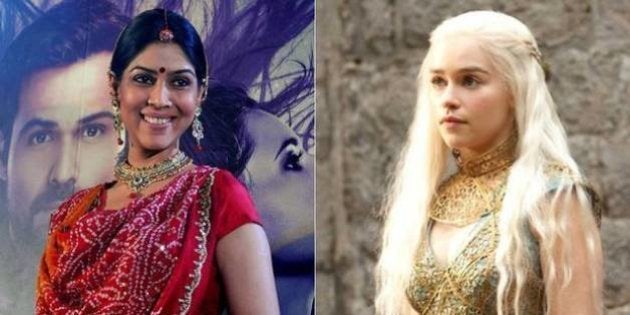 The Internet is full of unfiltered information and conspiracy theories. In such an environment, web journalists, pressured as they are with insane deadlines and unrealistic expectations, are bound to make mistakes.
But one story went unchecked further than it should have. Last Thursday, Pakistan-based news website Ary News had reported that TV channel Sony Entertainment Television was developing an Indian adaptation of 'Game Of Thrones', titled 'Rani Mahal'.
The report further claimed that the role of Daenerys Targaryen (referred to as 'Mother of dragons' in the show) would be played by popular TV actress Saakshi Tanwar (they actually wrote "Sakshi Thanvar" and then "Sakshi Thanvi", but whatever, we got the point). Tanwar is best known for her roles in shows such as 'Kahaani Ghar Ghar Kii' and 'Badey Achhey Lagte Hain'. It also claimed that the show would feature Anita Hassanandani as the Indian version of Cersei Lannister and Parth Samthaan as Jon Snow.
Social media too reacted with a mixture of outrage and mirth, with several listicles, memes, and Photoshopped pictures being generated in reaction to the news.
When HuffPost India called up the Mumbai office of Sony Entertainment Television to get an official comment, they denied the entire story. "Yes, it's true that we are working on a period drama starring Saakshi [Tanwar] set in the mid-1800s, but it is not at all connected to 'Game Of Thrones'," an official source from the channel told us, on condition of anonymity. "We don't know how this story even came to be." The source, however, admitted that 'Rani Mahal' was a working title they were using for that show that could be changed in the near future.
The show, which is being developed by Lost Boy Productions, is said to be the 'biggest' show Sony has ever done. "It is a show about a king and his 11 queens, and it has a number of twists and turns that are similar to those in Game Of Thrones, but it is completely original," confirms Vikas Gupta, CEO of Lost Boy Productions, in a phone conversation. "It would be impossible for us to remake such a show with the kind of timelines and budgets we have in Indian television."
When asked why Sony didn't put out a statement denying the story earlier, the source said, "We are used to speculative stories about our ongoing projects and our policy is usually not to comment on them."
Move along, Internet. Nothing to see here anymore.



Popular in the Community