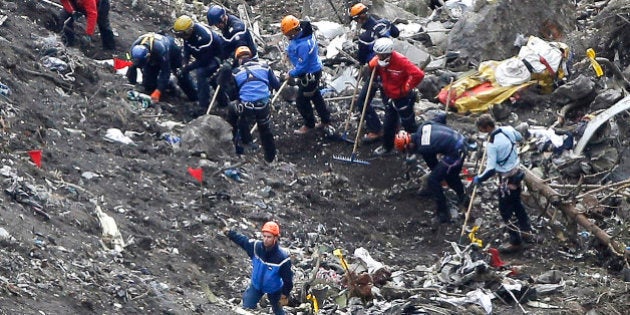 Disturbing footage capturing the last moments of the passengers of that ill-fated Germanwings flight 9525 has reportedly been recovered. The video, shot by one of the passengers on their mobile phone, captures the passengers screaming, "Oh god" over and over again, reported Daily Mail.
According to Business Insider, the footage was recovered from a mobile phone dug out of the plane wreckage.
The video, which has now been obtained by French magazine Paris Match and the German tabloid Blid, reportedly is too shaky and full of disturbances to be able to see anything clearly. But Paris Match reported that all the voices are distinguishable, and that it is full of passengers taking God's name in their own languages. It added that the screaming intensified toward the end, after a heavy shake.
Bild wrote that "even though the scene on board is chaotic and completely shaky, and no individual person can be identified, the accuracy of the video is beyond question."
Both periodicals reported that the video was found on a memory chip that could have come from a mobile phone.
But the authenticity of the footage is yet to be determined. Even the AP wrote that they could not independently confirm the reports.
The French officials, however, told NBC News that the video is fake.
French authorities tell NBC News: "The video claim by Paris Match is false. It is a fake. There is no such video."

— Bradd Jaffy (@BraddJaffy) March 31, 2015
CNN also reports that a police official told them that the accounts were "completely wrong."
Marseille Prosecutor Brice Robin, overseeing the French criminal investigation into the crash, told the AP Tuesday night that no cell phone video has been found from the plane.
(With inputs from Associated Press)