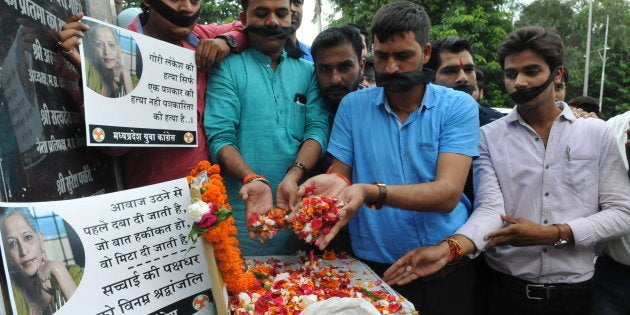 When people allow themselves to be guided by blind hate, their brains turn to mush. Not only do they lose their better judgment (if they ever had any), they also often end up sabotaging their own case.
The latest illustration of this phenomenon comes, unsurprisingly, from the cesspool of vileness that is right-wing social media.
Shortly after journalist and activist Gauri Lankesh was shot dead by unknown assassins in front of her home in a Bengaluru suburb on Tuesday evening, the usual suspects crawled out of the woodwork to defame and cast aspersions on a woman who had been murdered in cold blood.
Amid the thousands of voices that condemned the dastardly killing was an unmistakable clamour justifying her end. Proud foot soldiers of the ultra-right took up arms against Lankesh, who vocally criticised their ilk. Some of these "trolls" happen to be followed by none other than Prime Minister Narendra Modi on Twitter. One claimed to be working with the ministry of information technology as a "social media advisor". Another woman, who celebrated Lankesh's death, was allegedly a journalist with national television channels.
The invectives and expletives thrown around about Lankesh by these defenders of the Right were threaded together by a common accusation: her close involvement with Naxalites, which, by their warped logic, was tantamount to her being a sympathiser.
Whoever has read Lankesh's journalism, in English or in Kannada, would be aware of her anti-religious and anti-caste views, her sympathy for the downtrodden and relentless fight to bring justice to the socially and politically disenfranchised. In this mission, she was no different from her father P Lankesh, a poet who took to journalism and published one of the most influential news magazines in Kannada, Lankesh Patrike.
After his death in 2000, Gauri would take up his mantle for a few years, but was forced to start her own journal, Gauri Lankesh Patrike, after a severe disagreement with her brother and collaborator, Indrajit. Interesting, their falling out involved Gauri publishing an interview with a Naxal leader, an editorial call that her brother firmly opposed. The incident led to a vicious spat. Indrajit accused Gauri of turning the magazine into a Naxalite platform, while Gauri allegedly said he had threatened her by pointing a gun at her. True journalism, as many would agree, involves hearing every party impartially instead of holding up the status quo.
For the last several years, Gauri actively worked in rehabilitating Naxalites to the mainstream. Several of them, including former Naxal leader Sirimane Nagaraj surrendered to the state in December 2015, thanks to her tireless efforts — as did others like Rizwana Begum, Parashuram, Padmanabha, Chennamma, Shivu, Bharathi and Kanyakumari, before the Chikmagalur district administration.
It may be news to the troll brigade on social media, but by working with former Naxals, Lankesh was only taking forward the Central government's policy to rehabilitate extremists who wanted a second chance.
In 2014, the Narendra Modi government introduced a rehabilitation package to bring left-wing extremists into the mainstream. The state governments also have their own surrender and rehabilitation policies for such former militants under this scheme.
"The rehabilitation package in the revised policy, inter-alia, includes an immediate grant of ₹2.5 lakh for higher ranked LWE cadres and ₹1.5 lakh for middle/lower ranked LWE cadres who surrender before the State Government concerned," the terms of the package state, adding that "these surrenderees would be provided a monthly stipend of ₹4000/- for a period of three years for vocational training." Further, there are special incentives given by the Central and state for the surrender of weapons and other ammunition under this scheme.
Since 2014, as a ministry of home affairs press release dated 22 March 2017 points out, the number of Naxal cadre to have surrendered before the State has gone up significantly: from 676 in 2014 to 1442 in 2017. The credit for such a rise should go to people like Lankesh, who helped the former revolutionaries forge a link between their erstwhile politics and re-entry into civil society.
Without trusted intermediaries like her, who were known for their left-leaning politics, it is unlikely that former members of ultra-left outfits would willingly surrender to the custodians of a State run by a right-wing government. But then, it's hard to appreciate such nuance for those who are blind-sided by bigotry.