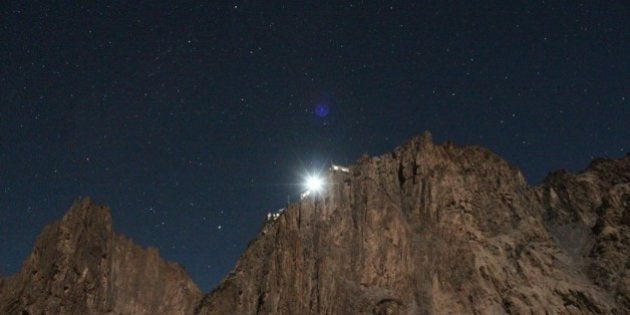 For three years, Global Himalayan Expedition (GHE), a group that promotes 'impact' tourism, has been bringing solar-powered light to desperate villages that dot the more remote areas of Ladakh. They have influenced approximately 2,000 lives with almost zero percent carbon footprint.
Last year the team help bring solar-powered electricity to Shingo, a village in the Hemis national Park region situated at a trekking distance of 40 miles from the nearest motor-able road. "The village comprises 30 rooms and 60 residents (male and female). The villagers had been sending applications and requests for over 10 years to the local authorities, but to no avail," Paras Loomba, founder of GHE, told HuffPost India.
"Today, it hosts 3 DC (ensuring zero electrical loss as there is no conversion to AC) solar Microgrids, 70 3W LED bulbs, 3 number of 20W street lights, and a DC LED TV (the first in the region). They also 'electrified' Lankarchey Brok, a Kargil village that has been surviving without electricity for 68 years in a quick turnaround period of two days.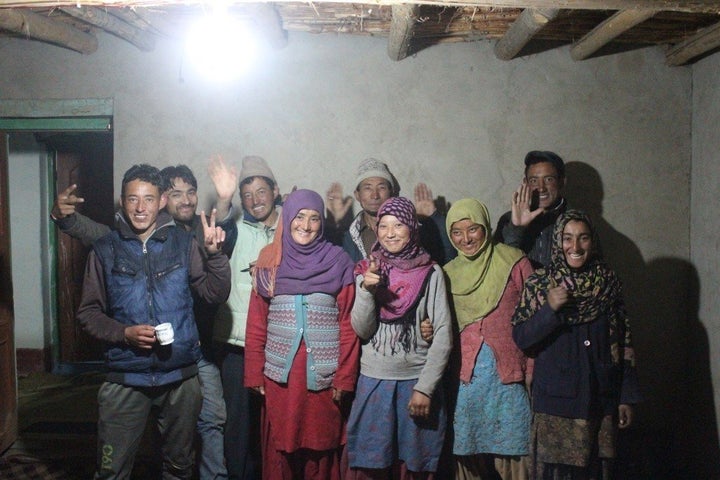 Ecstatic villagers at Lankarchey Brok, a Kargil village that had been surviving without electricity for 68 years
In 2014, they set up solar Microgrids in an 11th century village called Sumda Chemo in the Zanskar valley. Loomba claimed that GHE's solar Microgrids provide homes with up to 10 hours of electricity per day with a backup of two days, and can run uninterrupted for 5 years as compared to generic solar lanterns that would typically supply 3-4 hours of electricity and last for a year or two at most.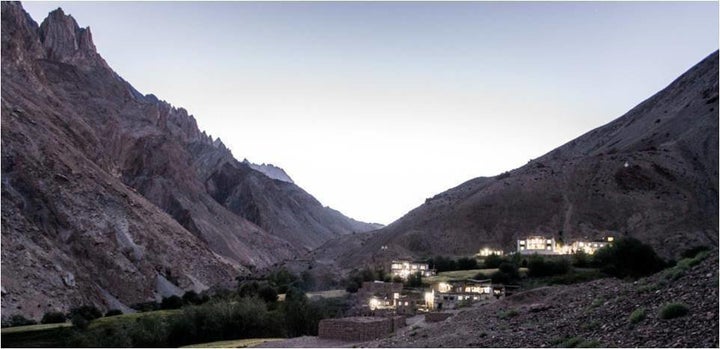 A village GHE brought light to in 2014
After a year, an on-ground analysis by GHE showed that the Microgrids had completely eliminated usage of 1,600 litres of kerosene (approximately 4000kgs of CO2), relieving villagers from poisonous fumes generated through oil lamps use for lighting and cooking. It also allowed them to work for four additional hours, and contributed an income increase by at least Rs 2,00,000 (annually).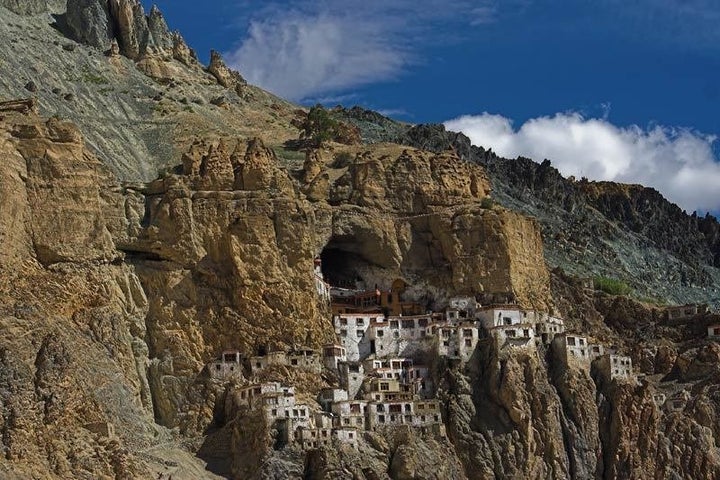 A look at one of the 40 villages that GHE plans to light up this year
"Located at 14,000 feet, the village is a two-day trek from the nearest sign of civilisation, and was an outpost during the ancient silk route, but had never seen light in its 1,000 years of existence," said Loomba, who hails from an army background, and spent a decent amount of his childhood in the Himalayas.
An ex-engineer, Loomba quit his corporate job in 2012 after completing an International Antarctica Expedition in 2012. Inspired by the programme led by Robert Swan, he claimed to have received a first-hand experience in climate change issues affecting the world. "I came back to India to create a similar experience involving a social impact through a global audience in the Himalayan region)," he said.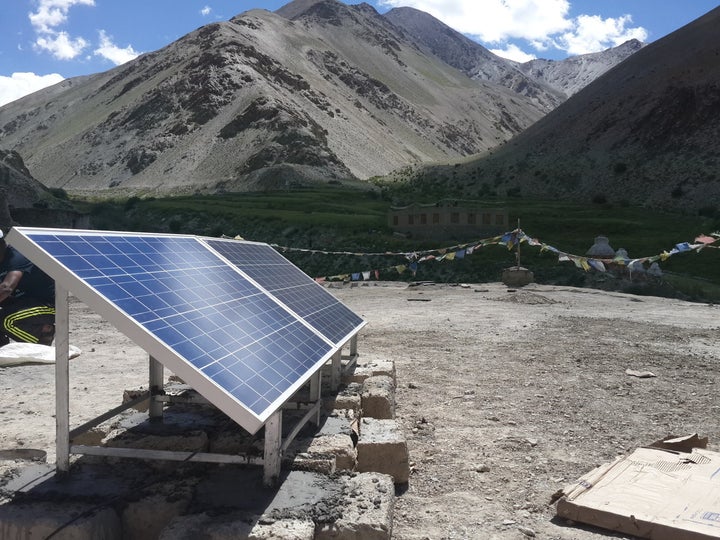 Solar panels after installation
On discovering the excellent potential of the region for solar energy (Ladakh receives 300 days of bright sunlight every year) -- Loomba and his core team who had immersed themselves in the study of renewable energy started to set up affordable, renewable systems. This involved a detailed study of the region and its topography.
"The 2010 flash floods, lack of basic amenities and infrastructure, falling education standards, growing pollution, and migration to bigger cities was a testimony to the fact that the region needed attention. Hence, we identified Ladakh not only as a region to conduct our first expedition but also implement sustainable technological solutions for the remote communities facing the brunt of climate change for years," he said.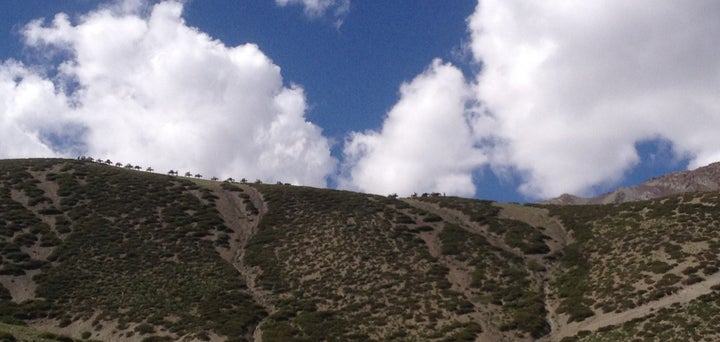 Horses carrying solar equipment cross a mountain pass
Every year, GHE invites 20 participants from across the world – they have been receiving 800 – 1,000 applications annually – after a stringent screening process to be a part of the expedition team. Most of the funding for the projects is derived from the registration fees, in addition to subsidies and sponsors. "It's very important to know the passion of the applicant for the cause because it's not easy to trek 80-90 kilometres in such harsh climatic conditions in the world, criss-crossing routes marred with rains, narrow trails, -3 degree wind chills with heavy solar kits and other equipment with absolutely no communication and very limited medical facility."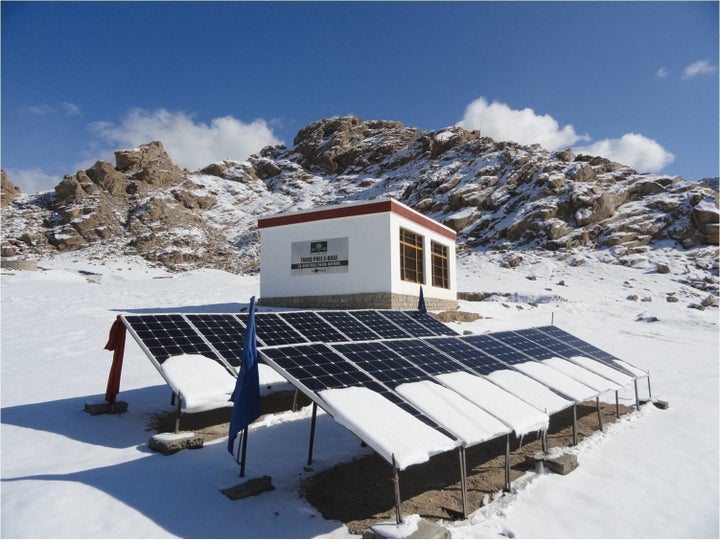 The Leh-based 3rd Pole Education Base covered in snow
Once the villages have been 'electrified' as Loomba puts it, GHE promotes home-stays in these areas through an online booking portal, www.greenhimalayanvillages.com. "This provides an additional source of income for GHE operations and direct income for the villagers running these home-stays," said Loomba. In addition to developing specialised electrical energy efficient products for himalayan rural markets, and designing low power DC high Lumen LED lights to assist the project, the company also runs an Education Base powered completely by solar energy that encourages young blood to ideate and develop programmes around various themes of sustainability. "The Leh-based 3rd Pole Base (one of 3 E-Bases in the world) has impacted over 800 students in the last three years," shared Loomba proudly, adding that they had also opened a robotics lab and a Disney playroom for the students.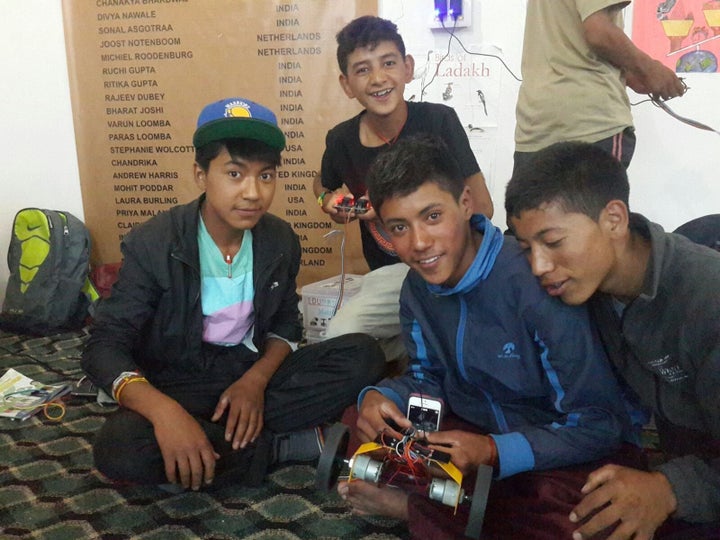 Children tinker at the robotics lab
The team also created a world record by successfully traveling from Khardung la to Leh (the world's highest motor-able road) on two electric bikes (sourced from Ahmedabad, and modified) charged exclusively through solar energy. "If clean tech solutions can work here, they can work anywhere in the world," said Loomba.
This year, GHE aims to light up a 2,500-year-old cave monastery in Phutkal, in addition to 40 other villages, with an ultimate vision to bring light to 50 million people by 2025.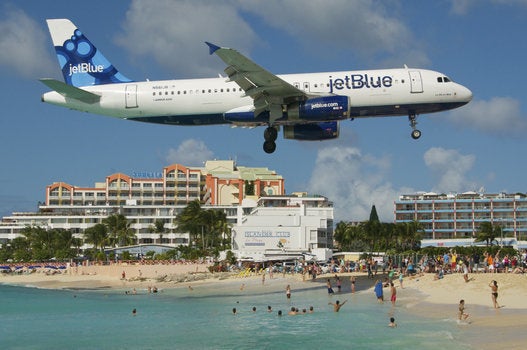 Unique Airports In The World
Popular in the Community