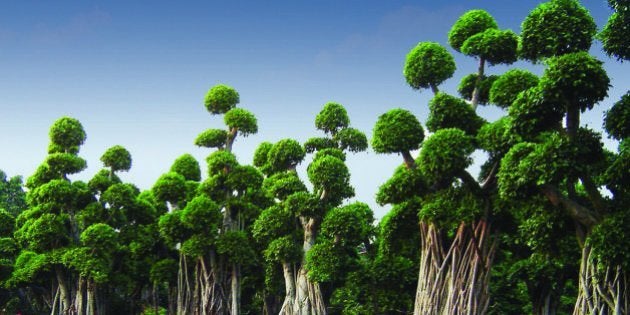 Three years ago, Hyderabad-based entrepreneur Ramdev Rao who always had an interest in trees, decided to bring exotic and rare trees to India for people who matched his enthusiasm. Today, his trees dot most celebrity homes — from Shah Rukh Khan's Mannat (that houses 80-100 year-old Lucky Ficus Multi stems from Vietnam) — to the sprawling interiors of GVK's Mumbai airport (that boasts towering old Topiary Ficus trees).
"These trees are aged from anywhere between 10 to 800 years," says Rao. "And they can cost from anywhere between Rs 5,000 onwards (the trees featured below vary between Rs 5 lakh to Rs 10 lakh).
Rao also said most corporate houses and celebrities in India allocate as much as 10 – 15 per cent of their architectural budgets for landscaping. His company Unique Trees specialises in growing over 20 varieties of rare trees that are easy to maintain in India, including the cherished and hardy Olive tree that's more than 600 years old, as well as big Pheonix Canariansis which are extremely difficult to procure.
Rao also plans to double the size of his nursery and create a large garden within Hyderabad to "become a one-stop shop for all garden-related products and services for garden enthusiasts."
Here are some of the rarer breeds that are now available in the country.