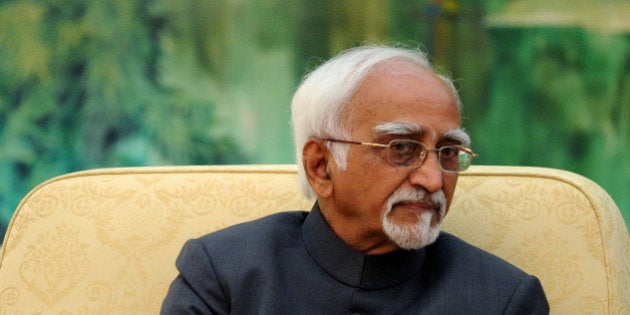 The government on Monday apologised for BJP leader Ram Madhav's criticism of Vice-President Hamid Ansari's absence at the Yoga Day celebrations here over which the Congress accused it of playing "divisive" politics.
Union minister Shripad Naik cited protocol to say that the Vice-President can't be invited to an event where the Prime Minister is chief guest amid reports that the government is upset with the needless controversy triggered by Madhav's tweets.
"Unknowingly something happens, we apologise for that. It should have been avoided. It's a mistake, he (Madhav) agrees, he apologized. He withdrew his statement," Naik said when asked to comment on Madhav's controversial tweets on Sunday.
About the warrant of precedence, Naik said, "When the Prime Minister is chief guest, then inviting the Vice-President is not proper. That is protocol. That's why we did not send the invite to him. President and Vice-President are above the Prime Minister as per order of precedence and we cannot invite them accordingly."
Naik is the minister of state for AYUSH — the ministry that organized the International Day of Yoga event at Rajpath.
Asked about the controversy and the accusation he was "targeting" the Vice-President, Madhav said, "As far as the tweet is concerned, it was withdrawn and the matter is closed there and ends there."
Madhav, who was deputed by the RSS last July to work with the BJP, said there is no further discussion on the issue from his side.
"I want the Yoga event to be remembered for millions and millions of people who have participated in it. I do not want any further controversy over it or any issue," he told reporters in Jammu.
The Vice-President's Office said the matter is closed for them as Naik's statement "seems logical".
"For us that's the end of the matter," it said
Congress accused BJP of playing "divisive politics" on the International Day of Yoga by targeting Ansari and demanded that Madhav tender an apology.
"The Vice-President has been targeted on International Yoga Day. While yoga is all inclusive, BJP has showed its divisive politics by such an action. Ram Madhav should apologize," party spokesperson RPN Singh told reporters.
Meanwhile, in a veiled dig at Prime Minister Narendra Modi, BJP patriarch LK Advani has said that several senior leaders of the party had made "great contribution" to yoga which is an age old "concept".
"The hypothesis/concept of yoga is not of today. The Jan Sangh, Rashtriya Swayamsevak Sangh and senior leaders of BJP made great contribution to it," Advani said at a yoga event in Palampur in Himachal Pradesh on Sunday.



Popular in the Community